Why People Are Stealing McDonald's Travis Scott Posters
Travis Scott fans will do anything to get their hands on memorabilia related to McDonald's collaboration with the Houston hip-hop star. The new Travis Scott meal, featuring a Quarter Pounder with added bacon and lettuce, is a hot ticket at McDonald's drive-thrus. A strange way of ordering the meal has gone viral on TikTok, as seen in a YouTube compilation. Customers pull up and simply say, "I think you know why we're here." 
Dozens of items of Travis Scott/McDonald's merchandise available on Travis Scott's online store – everything from T-shirts to a giant Chicken McNugget body pillow – have all sold out. Basically, if it's not glued down, Scott fans are grabbing it. Wait – we take that back. Gluing stuff down is no obstacle for the rap artist's fans. At least one of them was caught on video ripping a promotional poster for the Travis Scott meal right off the window of a McDonald's restaurant. Twitter user @331DES posted the video, which has been viewed 2.2 million times.
This one bandit might have acted alone, but he wasn't the only one coveting the posters, which show the Quarter Pounder with a side of fries with barbecue dipping sauce, and a Sprite. They also feature Travis Scott's name, which is no doubt a big part of their appeal. Dozens of them have been put up for auction on eBay, some more crinkled than others. Prices range from $20 to more than $1,000.
Travis Scott fans are even trying to make money off McDonald's receipts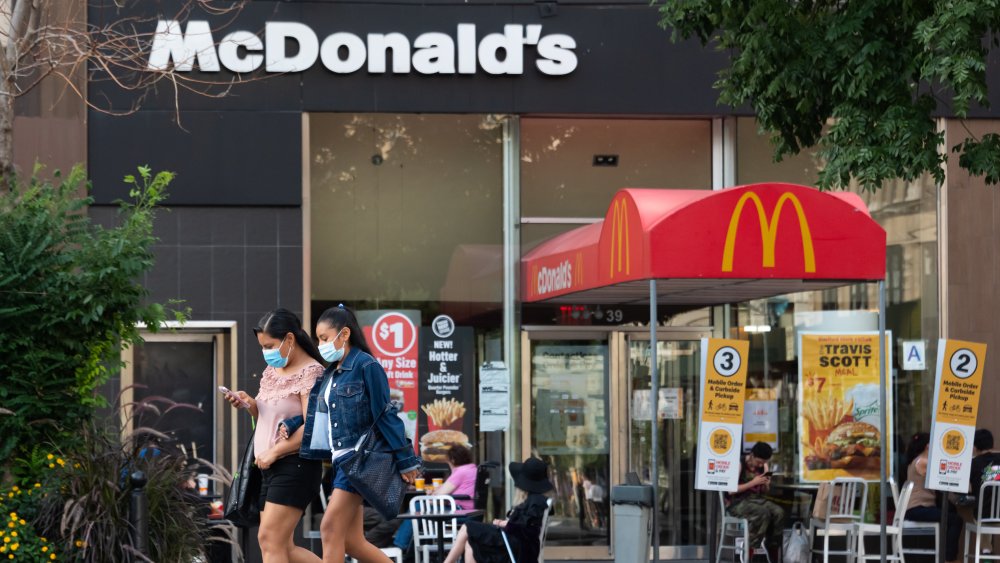 Noam Galai/Getty Images
If you think $1,000 for a McDonald's poster is over the top, then check this out: Twitter user @asanabria commented under @331DES's video, showing a screenshot of a Travis Scott meal receipt and empty Quarter Pounder box up for sale, for $700. Other commenters bragged about pilfering their own Travis Scott posters from their local McDonald's. One Twitter user put on a green and orange safety vest so he wouldn't arouse suspicion. Another paid a homeless person $20, plus anything off the McDonald's menu, to grab the poster for him.
McDonald's didn't respond with a comment on the poster-theft problem when Fox News contacted them. Maybe they wouldn't admit it, but the suits at McDonald's are probably happy their partnership with Scott has proven to be so popular. We don't think there was such a big run on McJordan Special posters when McDonald's offered the Michael Jordan meal back in 1992. For one thing, eBay hadn't been invented yet, so how would the poster thieves have turned a profit?
That said, Jordan's name apparently still sells almost 30 years later. Heritage Auctions is putting a 14-foot-long McDonald's promotional banner for the McJordan Special on the block. The auction house doesn't offer any pricing information, but the banner's owner clearly decided this piece of Michael Jordan and McDonald's history was too good for eBay.