McDonald's Has Bad News For Cactus Jack Fans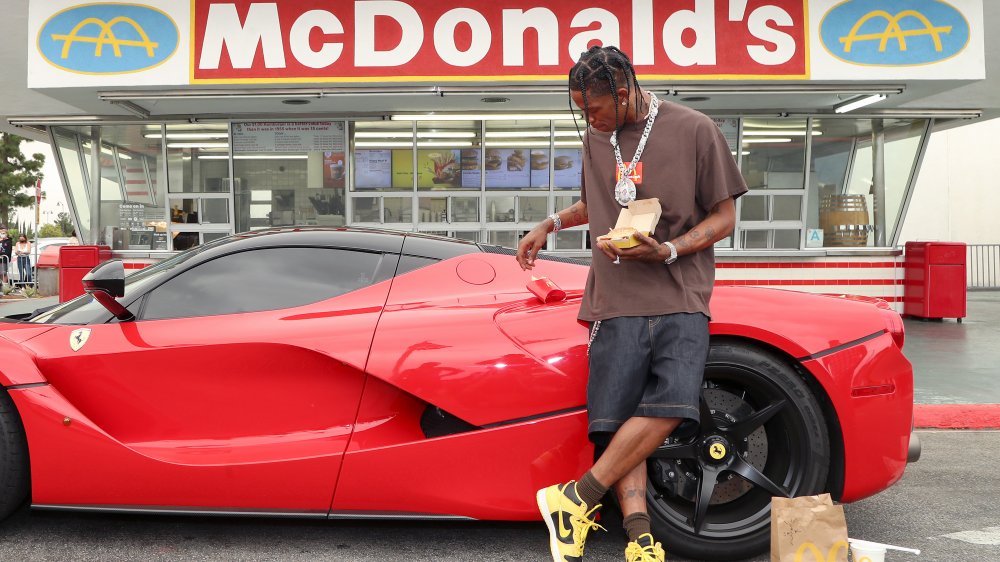 Jerritt Clark/Getty Images
The spread of the pandemic caused Wendy's to temporarily run out of beef a few months ago, but that seemingly wasn't the problem for McDonald's. Instead, the chain's insanely popular promotion with superstar hip-hop artist Travis Scott is the reason McDonald's faces shortages now. Pull up to the drive-thru window at your local Golden Arches, and the Travis Scott meal just might be sold out.
The Travis Scott meal, aka the Cactus Jack, has proven so popular that McDonald's has run out of key ingredients for the custom Quarter Pounder Scott enjoyed growing up in Houston. In response, McDonald's is controlling the supply chain of the $6 meal deal. The meal includes a Quarter Pounder with cheese, plus bacon and lettuce, along with medium fries, barbecue dipping sauce, and a Sprite. According to CNBC, McDonald's is directing the distribution of certain ingredients in the meal — specifically beef, bacon, slivered onions, and shredded lettuce. Rather than fulfilling requests for these ingredients from individual franchisees, McDonald's will distribute them according to its own calculations, CNBC reported.
Rapper Travis Scott scores another hit with McDonald's meal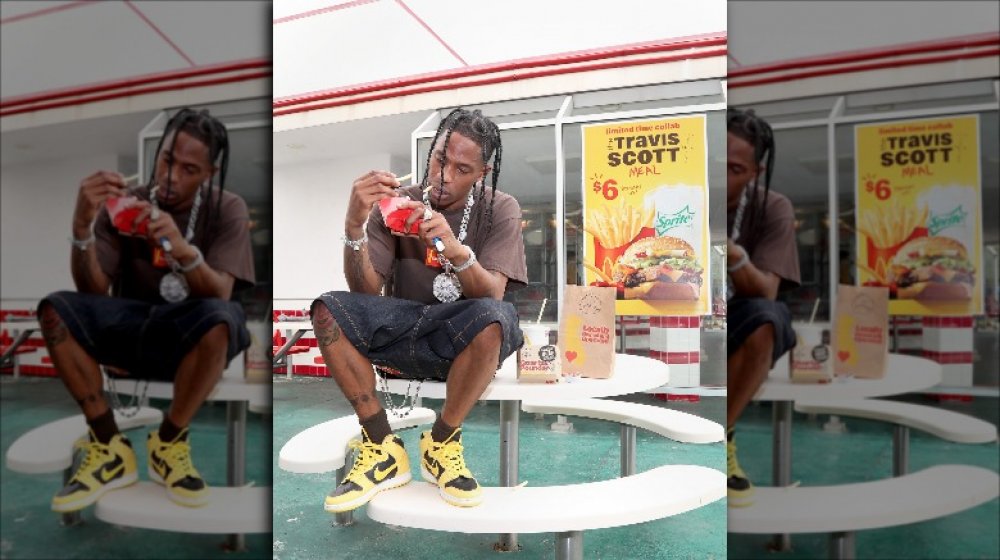 Jerritt Clark/Getty Images
It comes as no surprise that the Cactus Jack is selling out. When it comes to selling things, Scott apparently can't miss. He accomplished the rare feat of selling out all three of his shows at The Forum in Los Angeles during his recent Astroworld tour (via Revolt). A $50 box of Reese's Puffs cereal Scott designed for General Mills sold out in 30 seconds (via USA Today). Scott fans also decided they really needed a $90, 3-foot-long chicken McNugget body pillow. That odd piece of McDonald's-Travis Scott merchandise also sold out, along with dozens of T shirts, hats, and other merch Scott sold online as part of his partnership with McDonald's. "Stay tuned and don't worry, we've got more surprises from Cactus Jack coming soon," McDonald's promised in a statement to CNBC.
McDonald's is having a busy month. The chain debuted for the first time ever a new chicken McNugget flavor other than the original: Spicy Chicken McNuggets, and a new dipping sauce, Mighty Hot Sauce. Meanwhile, the Travis Scott meal deal ends on October 4, assuming McDonald's has enough beef and bacon to last that long.