The Reason Travis Scott Just Got Fined For Visiting A McDonald's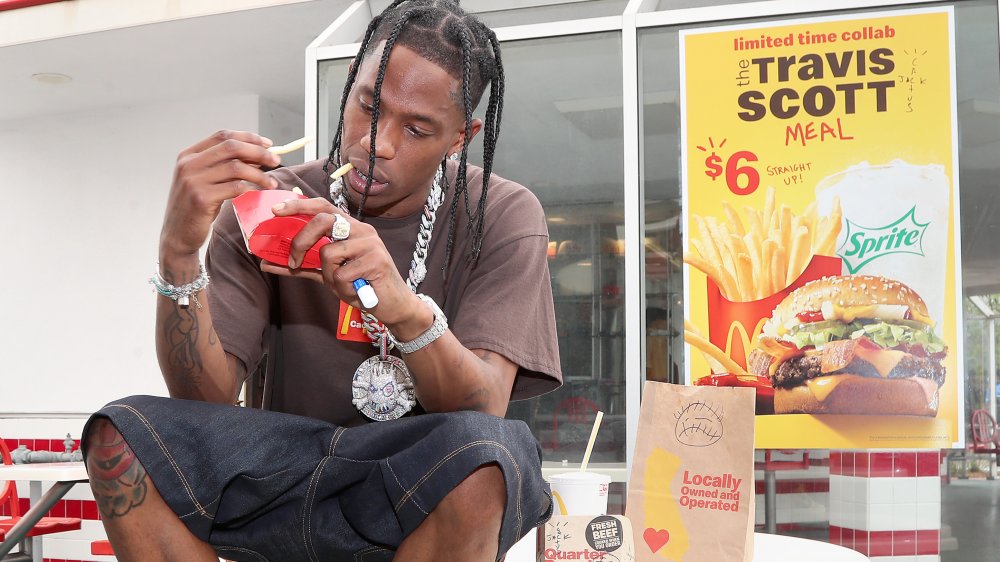 Jerritt Clark/Getty Images
Travis Scott fans pay good money to see the Houston-born rapper perform at his sold-out shows, so who can blame them for converging on a McDonald's in Downey, California when Scott dropped by for a surprise visit? On September 8th, Scott fans lined up at the oldest existing McDonald's in America (via Eater) to order the new Travis Scott meal, which was making its debut that day. It's hard to say how the crowd could have known Scott was going to show up, as the rapper didn't announce anything in advance. Even so, Downey police say about 500 people filled the parking lot. According to TMZ, the police also declared the gathering to be illegal, issuing fines to both Scott and McDonald's.
Scott made quite the entrance, rolling up in a bright red Ferrari and appearing to have trouble getting past a mob of fans, as seen in a video reposted on Instagram by RapTV. Once he got settled, another video shows Scott hopping onto the hood of an SUV to greet fans and sign autographs, and even spending some time working the drive-thru window. The video also includes footage of the scene Scott filmed himself for Instagram Live. 
The impromptu event was Scott's way of celebrating his collaboration with McDonald's on the new $6 Cactus Jack meal — a Quarter Pounder with cheese, added bacon and lettuce, plus fries, barbecue sauce, and a Sprite. Sounds like everyone was having a lot of fun, at least until the police showed up.
Police fined Travis Scott for holding an event without a permit
After they arrived, the Downey police didn't make the crowd disperse or otherwise try to spoil the fun, as a city spokesperson told TMZ several officers showed up just to make sure everyone stayed safe. No one was injured or arrested, although many people in the crowd, pressed shoulder to shoulder, weren't wearing face masks and or even attempting to social distance. The police did, however, find that a couple rules had been broken, and cited both Travis Scott and McDonald's for failing to get permits to film and to hold an event with more than 200 people. (We wonder: Does Instagram Live really count as filming?) Each ticket comes with a $100 fine, so the McDonald's location and Scott are expected to pay $200 each to the city of Downey.
Given the huge success of the Scott-McDonald's partnership, we expect both of them can afford it. The Cactus Jack meal is so popular it has already sold out at some McDonald's locations. If you can find it, the meal is still available at McDonald's restaurants through October 4th. We're guessing Scott will be avoiding any more tickets by having all future Cactus Jack meals delivered.