This Is Taco Bell's Most Underrated Menu Item
Ethan Miller/Getty Images
Taco Bell has over 7,000 restaurants in the U.S. that serve over 40 million Tex-Mex food lovers each week (per Yum). In 2018, the South of the Border fast-food chain received the honor of America's favorite Mexican restaurant, per a Harris Poll. And honestly, it's hard to find someone who doesn't love this taco joint. Its menu offers both variety and affordability. And it seems like they are always doing things, just a little bit differently than their competitors. There's even a Taco Bell in Las Vegas where you can say your "I do's" and then head to the counter to order up your wedding feast and use some of the hot sauce that makes up the bride's wedding garter to spice up your meal. 
Taco Bell has basically got you covered. From the Cheesy Gordita Crunch to the Doritos Locos Tacos to the Crunchwrap Supreme to burritos and everything in between, Taco Bell keeps you coming back for more. But with all the hype around new menu items that receive amped up attention because of great marketing, some of the tried and true go-to menu options can get lost in the shuffle or pushed aside for the innovation of these latest and greatest menu items. But don't be tempted solely by their siren song. Taco Bell's no-frills food items are equally delectable. In fact, do you know what the most underrated menu item at Taco Bell is?
Taco Bell Bean Burritos are the most underrated menu item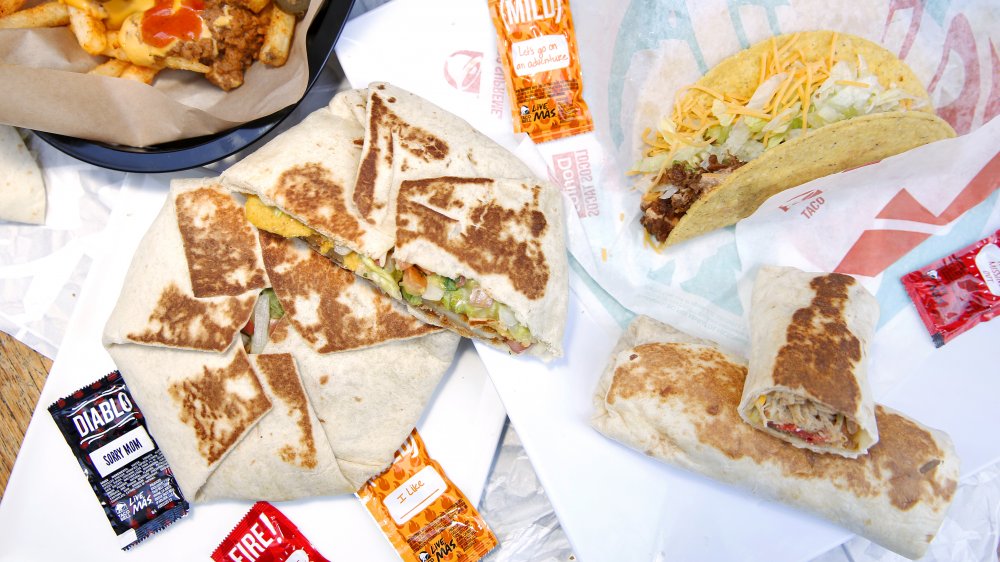 Rachel Murray/Getty Images
In 2019, Delish described the  Bean Burrito as "quite possibly the most overlooked (yet underrated) item on the Taco Bell menu," arguing that "it's the perfect thing for those who don't love super spicy foods or for those who want a little something extra along with their normal order." It's simple, for sure, but that what makes it so perfect. The Bean Burrito is inexpensive and can be customized and dressed up or down with all the additional toppings the Bell offers. Clocking in at 350 calories per burrito and providing 13 grams of your daily protein needs (via Taco Bell), it is also one of the healthier choices at this fast-food stop. And what could be better than a warm, soft tortilla filled with hot refried beans, cheese, and onions, and smeared with your favorite Taco Bell hot sauce? The answer is nothing. 
You may find plenty of people who have jumped on the bandwagon of the trendy menu options du jour or petitioning to save the chain's Mexican Pizza, but the true Taco Bell lover is the one who also reveres the more classic menu items and can appreciate the simpler foods. So, the next time you are at Taco Bell, skip all the fancy food options and order something that is a little truer to the fast-food chain's roots: a Bean Burrito.