How To Rescue Overcooked Vegetables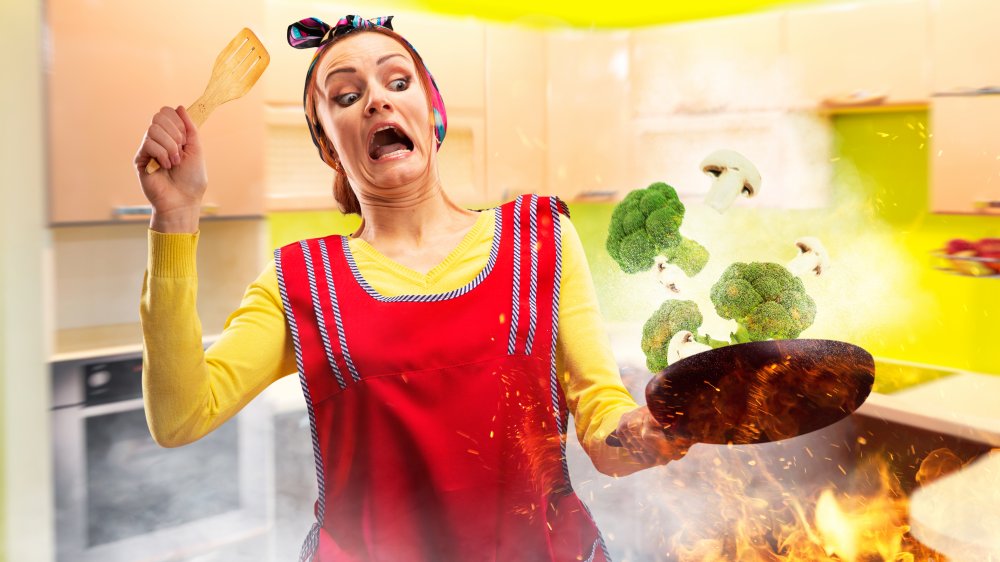 Shutterstock
Is there anything more disappointing in the kitchen than overcooked vegetables? You set out with good intentions, feeling great about making healthy choices, and then in a matter of minutes your vegetable hopes and dreams are reduced to a sad, mushy mess. Listen — life happens, and staying focused on the task at hand isn't always possible, no matter how many mindfulness apps we download. Whether you're roasting cauliflower, sautéing zucchini, boiling broccoli, or steaming asparagus, a few minutes of interruption can easily lead to disaster. Since there's little chance of eliminating all distractions in life, let's take a look at how to rescue overcooked vegetables instead.
There are certain circumstances where a quick plunge into ice water can help bring your veggies back from the point of no return. She Knows says transferring overcooked vegetables to an ice bath will stop the cooking process and even firm the vegetables up a bit. This method will likely work best for steamed or boiled veggies, rather than sautéed or roasted ones. If your vegetables are already too far gone to be revived by a cold plunge, don't worry, you still have a few options.
Turn overcooked vegetables into soup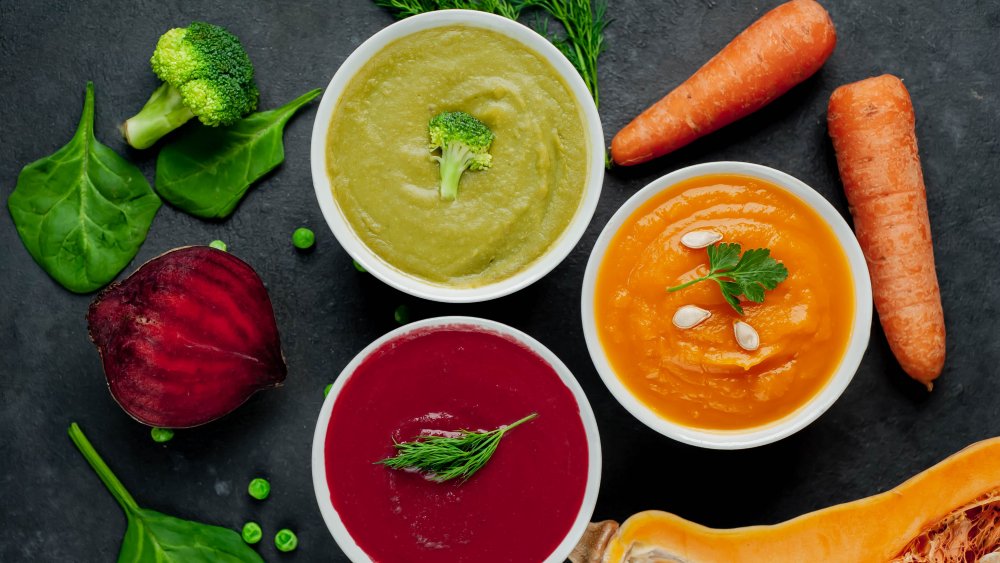 Shutterstock
When you're staring down a sheet pan of overdone squash or a pot of soggy broccoli, it's tempting to throw a tiny tantrum, curse your mistake, and toss it in the trash. In that moment, take a deep breath and turn to a much more helpful four-letter word: soup. According to My Recipes, overcooked vegetables can become something just as delicious (or maybe even better) than the dish you'd originally planned. Simply transfer your overdone vegetables to a blender and add about half a cup of water or stock for every two cups of vegetables. Add in sautéed onion, shallot, or garlic for extra flavor if you like and puree the whole thing until smooth, seasoning with salt and pepper to taste. Finally, consider some extra add-ins to really send that soup over the top.
Cream will add nice body to your celery root or parsnip soup while a squeeze of lemon juice will bring a bright, acidic note to greens — and don't forget, spices are your friends! Crushed red pepper and ginger will bring heat and warmth to squash or carrot soup. Food & Wine recommends adding cumin seeds and curry powder to cauliflower soup. Ladle your finished soup into bowls, garnish with fresh herbs or cheese, and serve as though those overcooked vegetables were part of your plan all along. If soup isn't your style and you're seeking a slightly more substantial use for overdone veggies, consider a gratin.
Transform overcooked vegetables into a gratin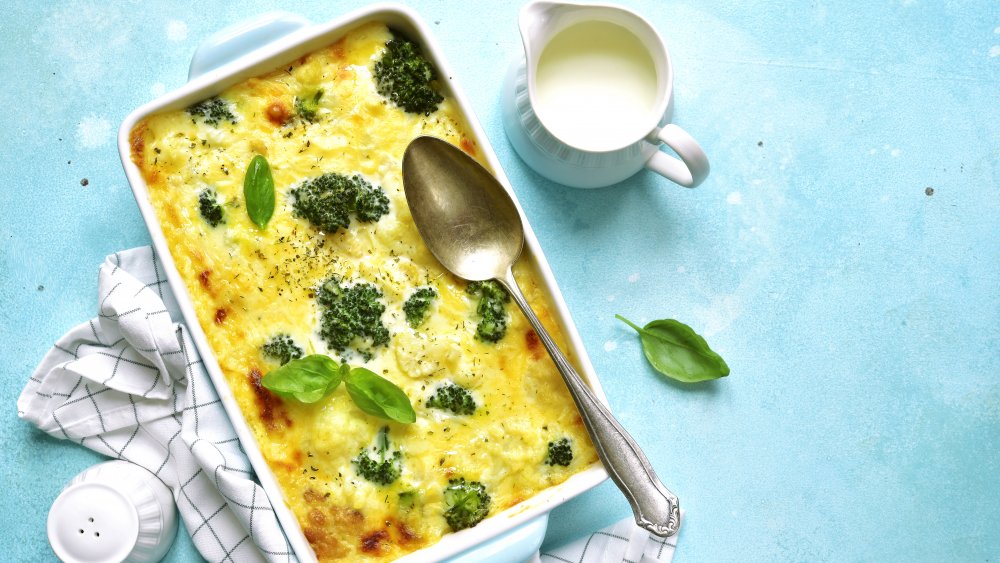 Shutterstock
There are few things a little heavy cream, cheese, and breadcrumbs can't fix, and overcooked vegetables are no exception. These heavenly ingredients are the building blocks of a gratin — a dish that offers tasty salvation to soggy brussels sprouts, limp green beans, mushy potatoes, and more. According to Today, you can begin this vegetable rescue by preheating your broiler and buttering a casserole dish. Transfer your overcooked vegetables to the dish and pour in half a cup of cream for every pound of vegetables. If you'd like to turn this vegetable dish into a meaty main course, gratins happen to be a very hospitable environment for salty prosciutto and ham, so feel free to toss some in at this point. 
Next, top the whole thing with half a cup of grated cheese (something yummy and rich like Gruyere) and sprinkle a quarter cup of breadcrumbs over top. Slide the dish under the broiler for four minutes or so, until those breadcrumbs are crispy and the cheese is bubbly, and you're done! With very little effort, your overcooked vegetables have been transformed into an impressive dish that no one will ever suspect began in disaster.