The Stars Of Breaking Bad Are Delivering Booze Straight To Your Door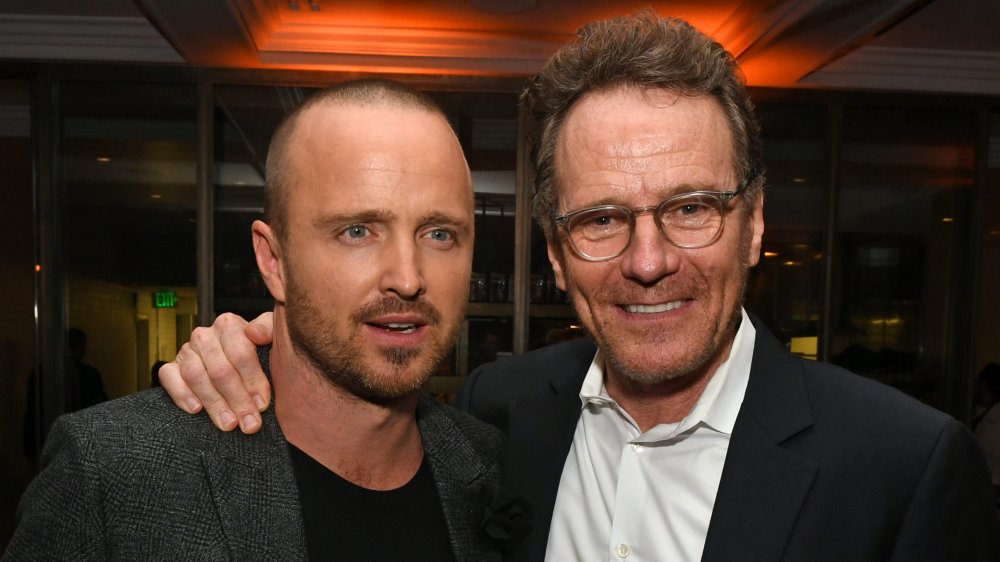 Kevin Winter/Getty Images
What if Aaron Paul and Bryan Cranston, the lead actors from Breaking Bad, showed up at your birthday party? How cool would that be? Birthday parties are more subdued affairs these days, thanks to COVID-19, and we're guessing the two actors and entrepreneurs would want to keep their social distance. That still hasn't stopped them from crashing a few recent birthday parties, and they even brought gifts. After all, Paul and Cranston have some mezcal to peddle.
In a very pandemic-appropriate move, Paul and Cranston are dropping in on birthday parties virtually, on video screens attached to robots on wheels. Joining them is a crew from Drizly, the alcohol delivery service, bringing bottles of Dos Hombres mezcal. Dos Hombres is the brainchild of Paul and Cranston, who became close friends while portraying Jesse Pinkman and Walter White in Breaking Bad.
The duo wanted to do something together after the show wrapped. Knowing they couldn't pair up onscreen because everyone still associated them with their meth-cooking characters on the AMC TV series, they decided to go into business together — kinda like on the TV show, but more above-board (via Forbes). Mezcal was most likely Paul's idea. In an interview with Cigar & Spirits magazine on YouTube, Paul professed his love for mezcal. "I just love drinking. Always have. Always will," Paul told Vine Pair.
Breaking Bad stars lend their names to a celebrity mezcal
The robot versions of Paul and Cranston can be seen in a humorous video both actors posted to their Instagram accounts. "Hello, we can't knock on the door! We don't have arms!" Paul yells through his robot's speaker. Comments on their posts expressed either appreciation for how cool the idea was, or jealousy that the famous partners in crime (and legal business activity, in real life) didn't show up for their birthday.
"This is one of the best things I have seen in forever! Thank you! You are incredible and this made me so happy," Jenny Appel commented under Paul's post. Under Cranston's post, a Breaking Bad fan named Shounak Sengupta made an insider reference to a famous Walter White quote: "What a legend, after all these years he's still the one who knocks."
Paul and Cranston join a long line of celebrities getting into the booze business. Singer and actor Nick Jonas recently launched a line of tequila. George Clooney and his partners sold their tequila brand, Casamigos, in 2017 (via The New York Times). How does Dos Hombres rate as a mezcal? Paul and Cranston's creation earned a modest two out of five stars on Mezcal Reviews. "Celebrity mezcals always seem to be overpriced and underwhelming. That said, it is better than Casamigos," one reviewer wrote.