This Is The Best Steakhouse In New York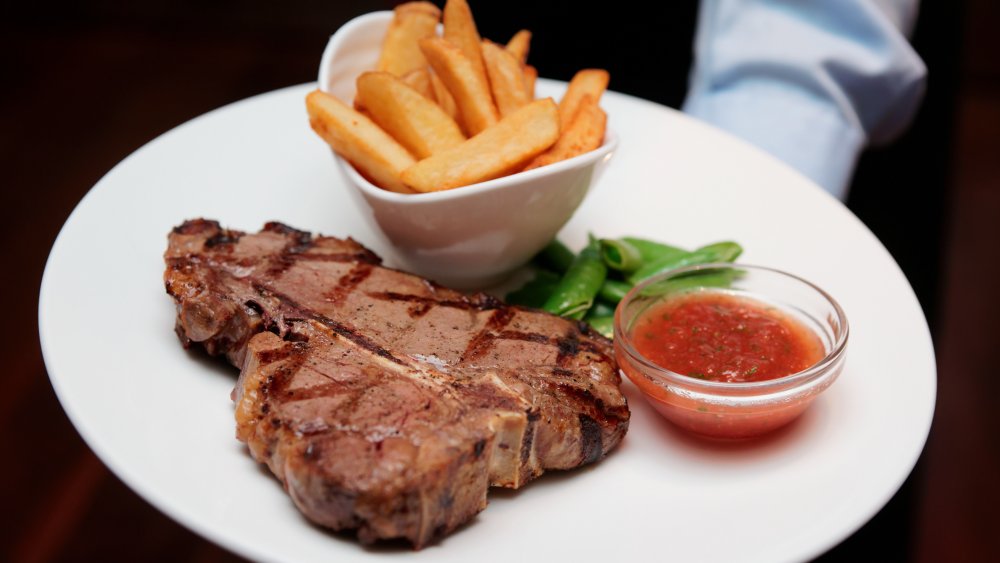 Shutterstock
The best steakhouse in New York isn't the one you're probably thinking of. If a restaurant could make such a claim based on reputation alone, then the crown might go to Peter Luger in Brooklyn. The Infatuation says Peter Luger should be on everyone's New York City bucket list, not just for the food but for the experience – including the bow-tied bartender and the chocolate gold coins that come with the check. New York Times food critic Pete Wells said Peter Luger is more than a restaurant. It's an "affirmation of life," and other steakhouses aren't in the same category.
Even with this level of praise, the Times' food critic ended up bursting Peter Luger's bubble. The service, which was always gruff in a charming way, is now just gruff. The sides and salads are disappointing, and Peter Luger's signature porterhouse steak is just so-so. Wells' review affirmed the opinions of New York Times readers who long wondered what the fuss was about.
If, as Wells wrote, there are plenty of other places in New York where the steaks are better, then which steakhouse is No. 1? You can find a short-list of finalists in a few different places. The New York Times and Thrillist both published lists of good steakhouses not named Peter Luger. Earlier this year, the Michelin Guide recognized eight steak places in New York, awarding its coveted star to two – Peter Luger and Cote.
Just about any cut of steak is good at Keens
We're going to go with a New York steakhouse that appears on all of the lists mentioned above: Keens. Keens Steakhouse in midtown Manhattan opened in 1885 and has all the history and then some of its two-year-younger rival, Peter Luger. The Infatuation says Keens is more of a museum than a restaurant, with thousands of smoking pipes on display that had been used by the likes of Babe Ruth, Teddy Roosevelt, and Albert Einstein. Still, the historic site's main attraction is the meat.
Keens is famous for its mutton, which nowadays is really lamb, but a lot of reviewers recommend Keens for its steaks (via The New York Times). New York magazine suggests the KIng's Cut rib chop. Condé Nast Traveler declares Keens' filet mignon to be "fabulous." The Infatuation recommends the dry-aged porterhouse, saying it could go toe-to-toe with Peter Luger's version any day.
In the end, we give Keens the nod over other New York steakhouses because of a recent Reddit thread. The user schottgun93 asked how much cash to bring to Peter Luger, since the restaurant doesn't accept credit cards. The responses were telling. "It's not worth it. There's better spots in the city," HotTostones said. "Go to Keens Steakhouse, much better," dechidus said. "Keens steakhouse! I highly recommend the King's Cut prime rib and porterhouse. ... and Keens accepts credit cards!" pookiecake wrote. Finally, yet another response sounded like a ringing endorsement: "Keens Keens Keens."