The Important Reason Panera Is Changing Its Food Labels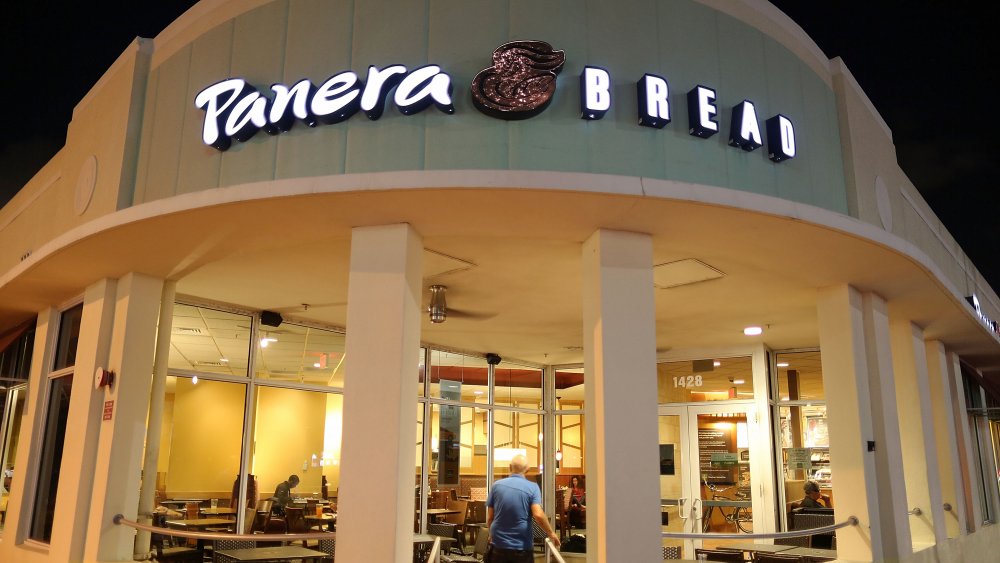 Joe Raedle/Getty Images
By now we're all used to seeing calorie counts listed on menus, at least at chain restaurants, as this has been required by law since 2018 (via QSR). Some chains, however, were disclosing nutritional information long before it was mandated, and the first nationwide chain to do so was everyone's favorite soup slinger, Panera Bread (via Reuters). Panera, which has always been on the hipster-ish end of the fast food spectrum, is now taking one step further into that territory, emulating those farm-to-table restaurants that provide an entire backstory for each and every ingredient (though these are frequently more fiction than fact).
According to a Fox Business interview with Panera Bread CEO Niren Chaudhary, that restaurant is set to be the "first national brand to be transparent on a carbon footprint." They will do so by introducing a menu badge called "Cool Food Meal" that will be used to label any items whose ingredients altogether have a carbon footprint lower than 5.38 kilograms. Chaudhary says this badge is intended to raise awareness about the connection that exists between food production and greenhouse gas emissions so Panera's customers can make better-informed decisions regarding their menu choices.
Panera isn't the only chain going green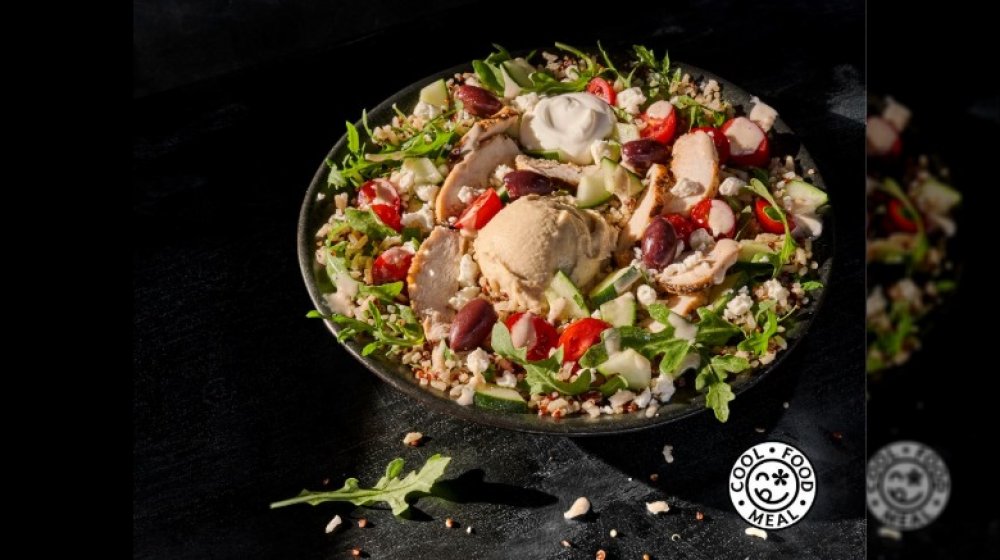 Panera
Just Salad, a chain with locations in only six states (plus Dubai), beat Panera to the punch with labeling its menu items. Unlike Panera, they give the exact carbon footprint for each salad, and you can also search for "climatarian" options such as the Thai Chicken Crunch (just 0.5 kilograms of carbon dioxide). Starbucks, according to CNBC, has also announced plans to reduce its own carbon emissions by half within the next decade. They will do so, in part, by adding more plant-based items to the menu.
While Panera's goals may be smaller, Chaudhary did say they're on track to reduce their own emissions by 15 percent per square foot within the next two years. The "Cool Food" label alone won't add to the numbers unless it drives an increase in lower-carbon purchases, but it's still an important step in the right direction. After all, that calorie-count labeling thing caught on, and according to healthcare information provider Cochrane, this information tends to reduce calorie consumption by about 12 percent per meal. If we see a similar decrease in consumers ordering menu items with a heavy carbon footprint, this alone won't make the planet into a pristine paradise, but when it comes to helping out our ailing environment, every little bit helps. The most climate-friendly option of all, though (via Brighter Planet) may involve making copycat versions of your Panera faves (broccoli cheddar, anyone? or how about chicken noodle, or maybe mac and cheese?) in your own kitchen.