The Creative Way People Are Using Aldi's Pumpkins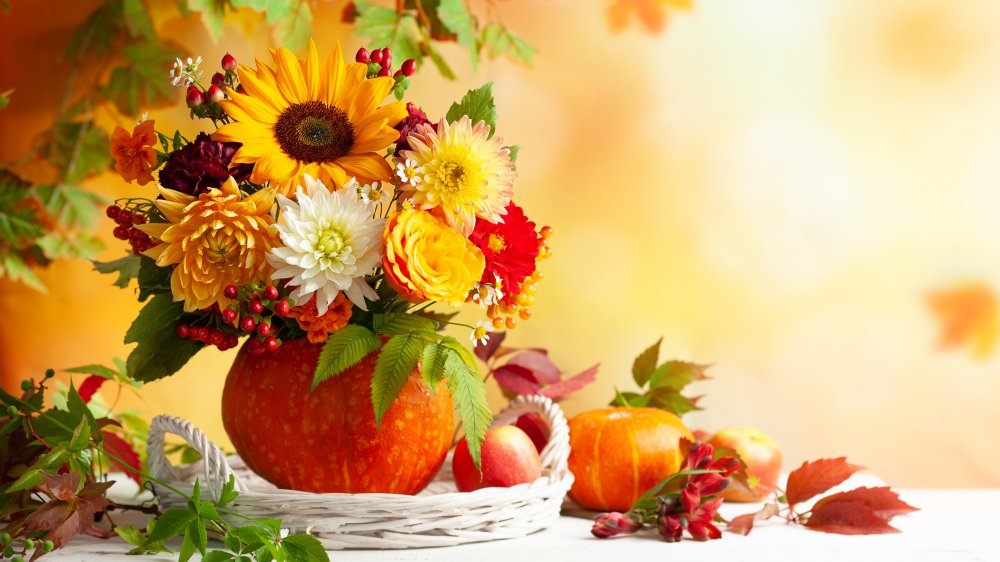 Shutterstock
Aldi has you covered this fall with all of its fall products. From Oktoberfest German Week finds and fall-flavored treats to fall produce like squash and pumpkins, the budget grocery store hasn't missed a thing. Though a lot of people mainly like to pick up a few pumpkins to set on the doorstep or to paint or carve, it seems people are getting even more creative this year. More and more ways to use the whole pumpkin, aside from decoration, seem to be springing up. As delicious as the Food & Wine whole-roasted pumpkin recipe sounds, the creative way others are using their Aldi pumpkins calls for a little less work. 
The latest trend for pumpkins is to turn them into perfect autumn-themed flower vases. Instead of scooping out the inside of the pumpkin to carve a spooky or cute pattern out of the wall, some people are placing floral arrangements within a hollowed-out pumpkin (via House Beautiful). Most are using bright, colorful flowers in pinks, oranges, yellows, and reds along with foliage to round out the look (via The Sun). However, you might be able to stick to classic fall flowers like mums if your pumpkin is large enough.
Pumpkins make great flower vases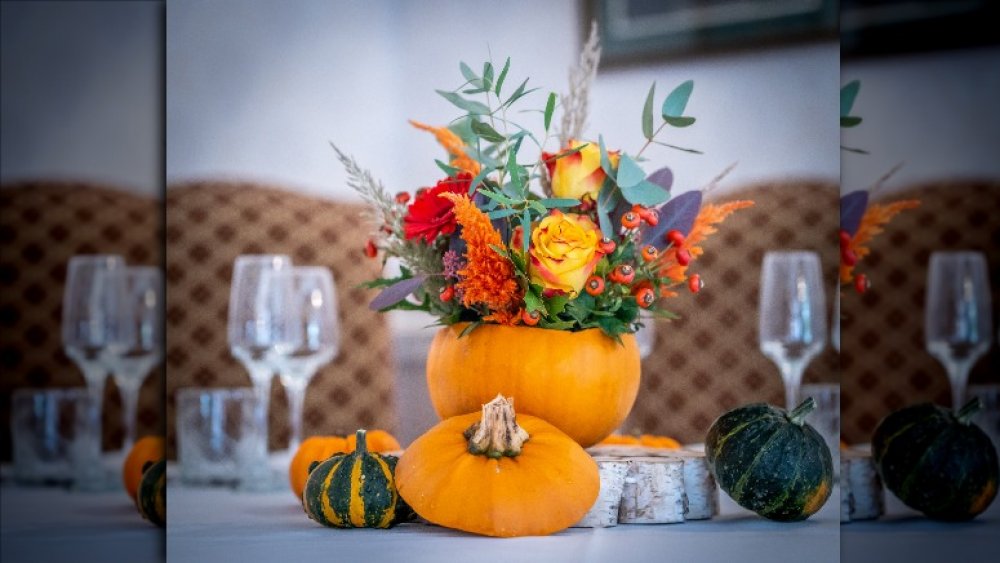 Shutterstock
As great as pumpkin flower vases look, they're even simpler to make. All you have to do after you cut a hole in the top of the pumpkin and scoop out the insides is place an old jar inside. Fill the jar with water to keep the flowers fresh, then place the flowers in the jar inside the pumpkin.
One woman who made a pumpkin flower vase in the United Kingdom posted her creation. It went viral with thousands of likes and tons of comments, according to The Sun. People complimented her on her creativity and even decided to copy the idea themselves at home. The best part of all for her was that the whole thing was super cheap to make.
Even here in the United States, Aldi's pumpkins are a steal. At $3.99 each, you can definitely afford to pick up a few pumpkins to turn into flower vases (via Passionate Penny Pincher). So swing by your local store and try it yourself.