Here's What You Can Substitute For Old Bay Seasoning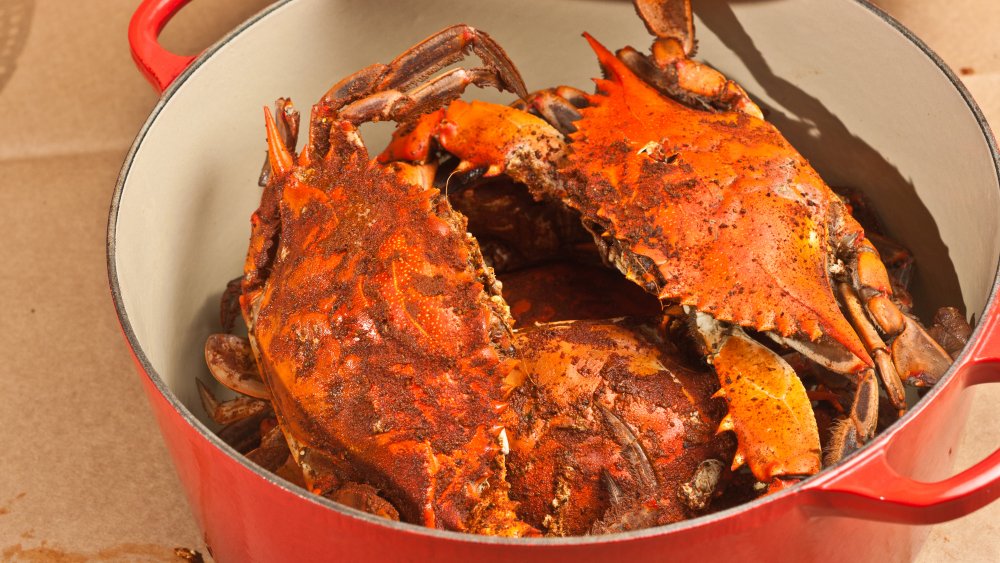 Shutterstock
Touted as the "perfect" flavoring for seafood, the classic Old Bay Seasoning isn't just fabulous on fish — it reigns supreme on just about anything, including chicken, steak, burgers, potatoes, rice, pasta, and homemade snacks (via Old Bay). Perhaps what makes Old Bay so unique and suitable for a variety of foods — from surf to turf — is their beloved blend of 18 herbs and spices, apparently created somewhere along the Chesapeake Bay over 75 years ago.
So, if Old Bay has the flawless composite down, let's ask the obvious question: Why even try to recreate it? First, because you can. And second, when you're in control of the ingredients, you can tweak a little here, and swap a little there, and end up with the perfect ratio for you. For example, if you're watching sodium, you can make a salt-free version, which is good to know, since one teaspoon of Old Bay seasoning has 560 milligrams of sodium: more than one third of your recommended daily allotment (via the American Heart Association). Yes, according to Old Bay, one fourth of a teaspoon is one serving, but who stops there?
And, let's just say you're allergic to ginger or nutmeg (or don't relish their nuances) — you can leave them out without fear of ruining the final blend.
The magic Old Bay formula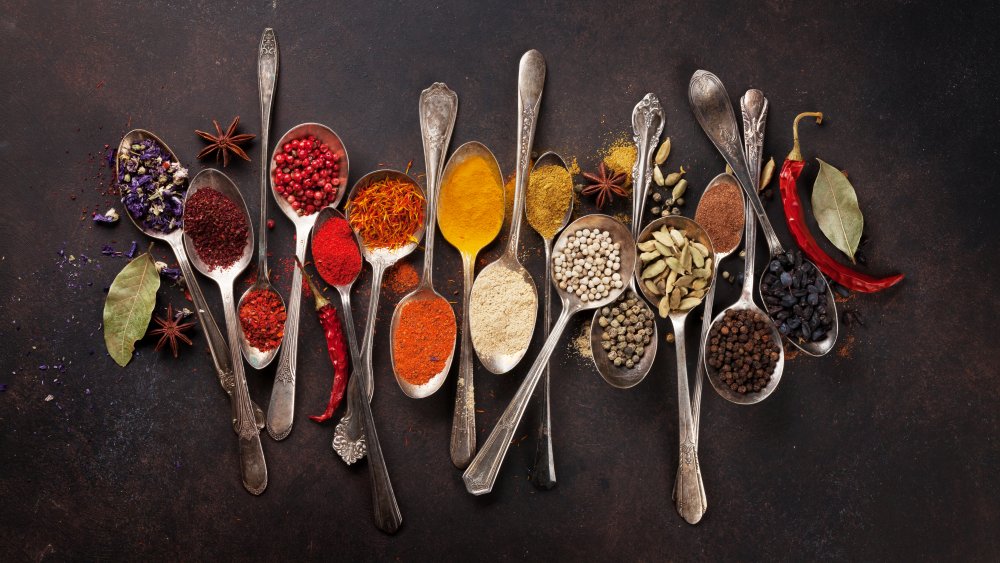 Shutterstock
Get ready to raid your spice rack and have some fun. There's definitely a prescription for the ultimate copycat Old Bay blend, but there are many ways to get there. Feel free to adjust as needed based on salt and allergen needs/preferences.
Note that there's lots of pinching going on in this formula: A "pinch" is about one sixteenth of a teaspoon, or what you'll likely grasp with two fingers (via Taste of Home). And don't worry if you don't have everything on the list. You won't be able to tell the difference if you can incorporate a majority of them (via The Spruce Eats).
Even better news? You can substitute pumpkin pie spice for the nutmeg, cinnamon, cardamom, allspice, cloves, and ginger — bringing the ingredient list down from 11 to five. When substituting pumpkin pie spice for those six ingredients, that means six "pinches," so use about a quarter of a teaspoon.
Old Bay Substitute: Combine all ingredients below and mix well. Store in an airtight container (via Allrecipes).
2 tablespoons celery salt (or for a salt-free version, 3-4 teaspoons ground celery seeds [via GourmetSleuth.com])
1/4 teaspoon paprika
1/8 teaspoon ground black pepper
1/8 teaspoon cayenne pepper
Pinch of dry mustard
Pinch of ground nutmeg
Pinch of ground cinnamon
Pinch of ground cardamom
Pinch of ground allspice
Pinch of ground cloves
Pinch of ground ginger
Interested in mimicking Old Bay's Hot and Blackened versions? No problem: For the "hot" version, add more cayenne. For "blackened" seasoning, add 1 teaspoon granulated sugar so the blend caramelizes during cooking (via Science of Cooking).