How Keto-Friendly Is Popeyes?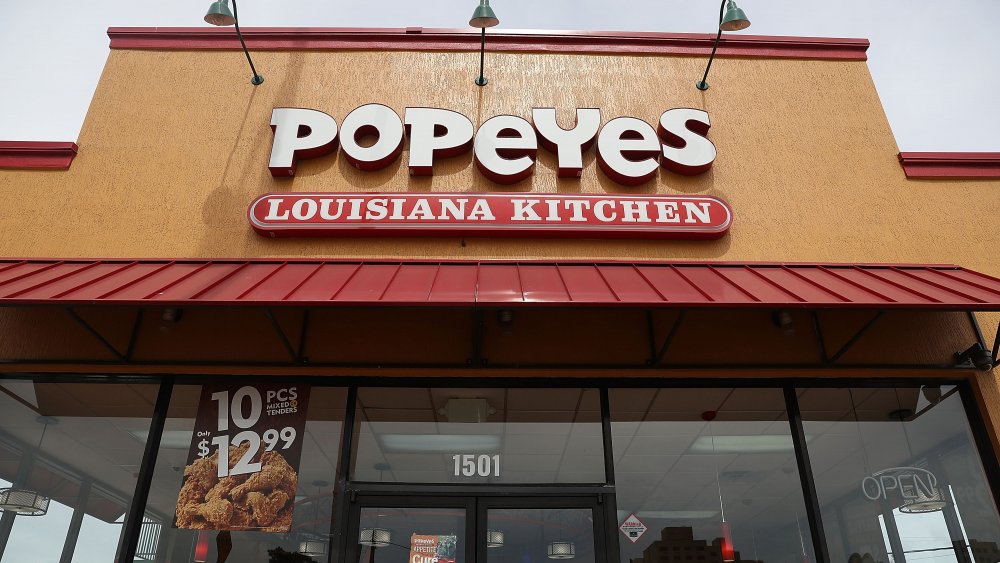 Joe Raedle/Getty Images
Popeyes' origins go back to the 1970s when its founder, Alvin C.Copeland, Sr. decided to serve traditional fried chicken to customers in New Orleans at a place he dubbed Chicken on the Run. While he wasn't able to achieve much success initially, according to the restaurant's official website, things turned around after Copeland decided to tweak things a little. He came back with a bang, changing the name of his restaurant to Popeyes and focusing on serving spicy chicken that reflected the New Orleans' style. 
The brand has come a long way since then and is wildly popular today. Some of its delicious offerings include its famous chicken sandwich, its classic Ghost Pepper Wings, its chicken tenders, delectable biscuits, and more. However, if you've wondered how you're supposed to navigate the menu if you're on a keto diet and cannot eat excessive carbs at a fast food place like Popeyes, here's some guidance.
You have some options
As explained by No Bun Please, Popeyes Louisiana Kitchen can be a bit tricky to navigate for those on the keto diet. Turns out, it's possible to eat there as long as you do a bit of research before going and avoid the high-carb options on the menu. 
The first thing to remember is that breaded chicken breasts and thighs aren't suitable for someone, on the keto diet and the best thing to do is to swap them for blackened tenders. They may seem like the underdogs and not even be on the menu but you should be able to get them at most Popeyes' outlets. In terms of side dishes, your options are quite restricted and you can only order one item: the green beans. 
The good part about blackened tenders? They taste great and are prepared without breading, allowing you to enjoy your meal without feeling guilty. For three tenders, you'd be looking at a total of 170 calories, 2 grams of fat, 2 grams of carbs, and a whopping 26 grams of protein. A regular portion of the green beans is just 55 calories with 2 grams of fat, 7 grams of carbs, and 3 grams of protein. Also, do be mindful of the sauces and make a calculated decision by opting for a safe choice like the Blackened Ranch, which has 118 calories and has 13 grams of fat with just 2 grams of carbs.