You Can Order Your Entire Thanksgiving Dinner Online From These Retailers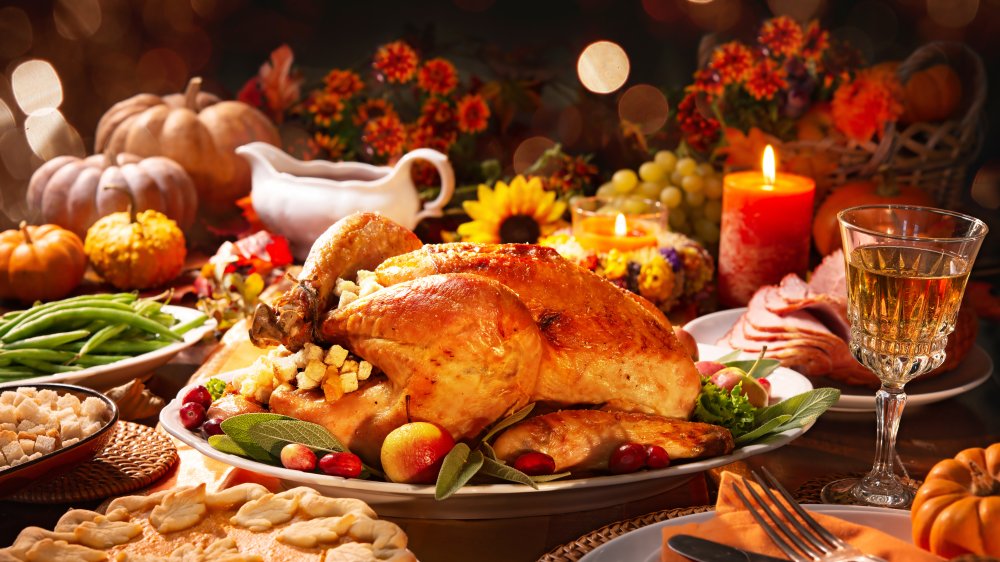 Shutterstock
Thanksgiving Day is one of the most beloved holidays in America. It's a secular holiday wherein people of all faiths or no faith, from all backgrounds — whether a seventh-generation American family or immigrants in their first year living in the United States — and from all walks of life take a day to reflect on and appreciate all they have, with family and friends at the center of the celebration.
During most normal years, hosting a Thanksgiving dinner party means bringing together a large group of those dear to you and plying them with plate after plate of food, glass after glass of wine, slice after slice of pie, and then watching as most attendees slip into a blissful food coma. This year, however, is no normal year: with the COVID-19 pandemic still in full swing as the holiday season approaches, the group gathered around your table may be a bit tinier, the turkey may be smaller, but you still need to provide a fine feast.
Preparing said Thanksgiving feast usually means an epic shopping trip, but with many Americans wisely keeping away from shops as much as possible to limit the chance of catching or spreading the coronavirus, this year a Thanksgiving dinner you can order online for home delivery is the way to go for many households. Fortunately, while 2020 has offered no shortage of miseries, it's also a year in which ordering Thanksgiving dinner online is remarkably convenient. The only real problem? Choosing between ham or turkey. (Pro tip: order both.)
Harry & David's Gourmet Ham Dinner comes with 3 sides, a cheesecake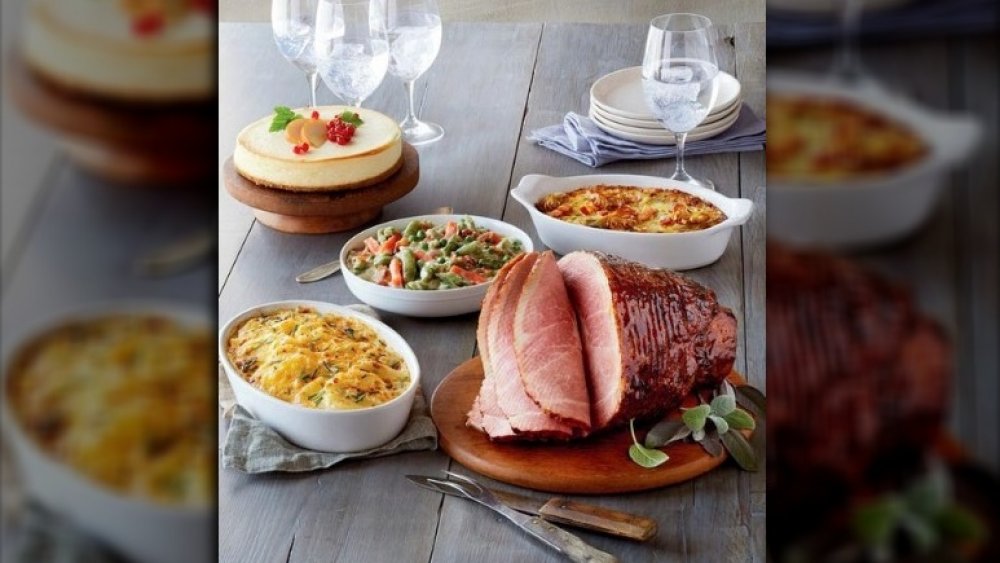 Harry & David
Thought Harry & David was all about the fresh pears, gift towers, wine baskets, and chocolates, ey? Well, they are, but that's hardly all this venerable online food purveyor offers. You can also order an entire Thanksgiving dinner spread from Harry & David, with one of your finest options being their Gourmet Ham Dinner for $220. The savory meal comes with a 7 lb. 8 oz. spiral sliced ham, snap peas with bacon, scalloped potatoes, an artichoke, mushroom, and bacon frittata, a cheesecake, and because this is Harry & David, it's easy to add wine.
You can also try their Prime Rib Feast if your crowd is more of a red meat kind of gang (you can pick two of your own sides with this option, and there are 18 delectable choices), and that can be upgraded with a charming Sleigh Centerpiece to make your table a charming holiday tableau that's the perfect launch to the winter holiday season. (Also you can order flowers to further spruce up the table, gifts for guests, additional bakery items, sweets for dessert, and just about anything else you can think of in the edible and/or table decor realms.)
Create your à la carte Thanksgiving dinner with Goldbelly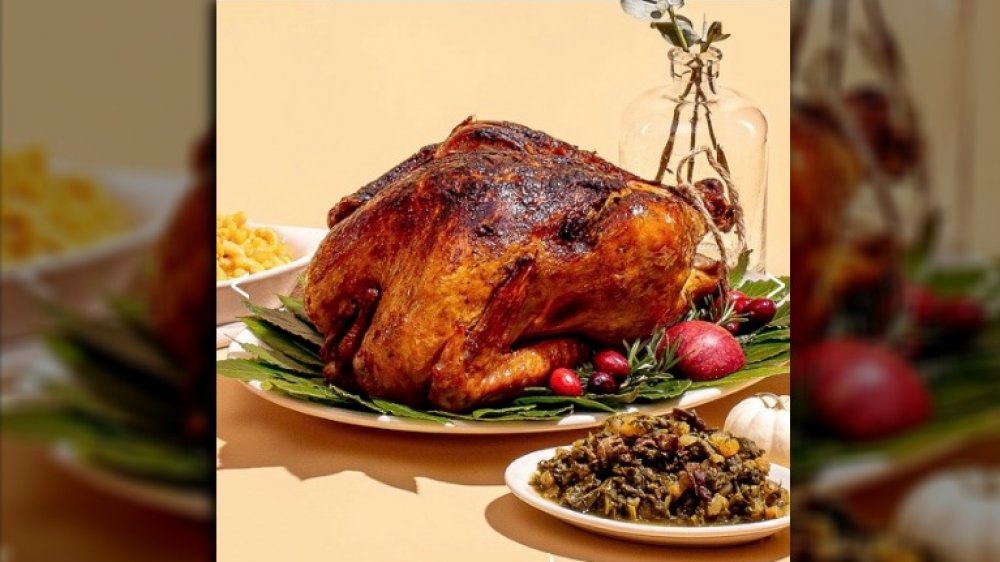 Gold Belly
Want to serve a whole fried turkey from Uncle Ray's in Dallas, TX as the grace note of your Thanksgiving Day feast? Or want to take things up two notches and serve a Turducken from Gourmet Butcher Block in New Orleans? (Yes, that's a turkey stuffed with duck meat and chicken, for the reference of the uninitiated.) And maybe Sour Cream Apple Walnut Pie from the Little Pie Company in the Big Apple, NYC, for dessert? You can source your Thanksgiving dinner foodstuffs from purveyors all around the nation when you order through Gold Belly, an online marketplace for just about any food you can imagine.
Gold Belly is partnered with dozens of farms, bakeries, butchers, and beyond and while ordering your Thanksgiving Day meal via Gold Belly vendors might not be the cheapest way to create the fête, it will be a dinner you and your guests will long remember. Especially if you get the Sweet Potato Casserole from Mighty Quinn's BBQ, the Cream Biscuits with Spreads from Brenda's French Soul Food (there's a brilliant blend of cuisines, no?), and perhaps the Pumpkin Caramel 4-Layer Cake from We Take the Cake out of Fort Lauderdale? Oh and ... You get the picture: you can get just about anything you can think of.
Williams Sonoma can deliver a Thanksgiving feast large enough for a party of 12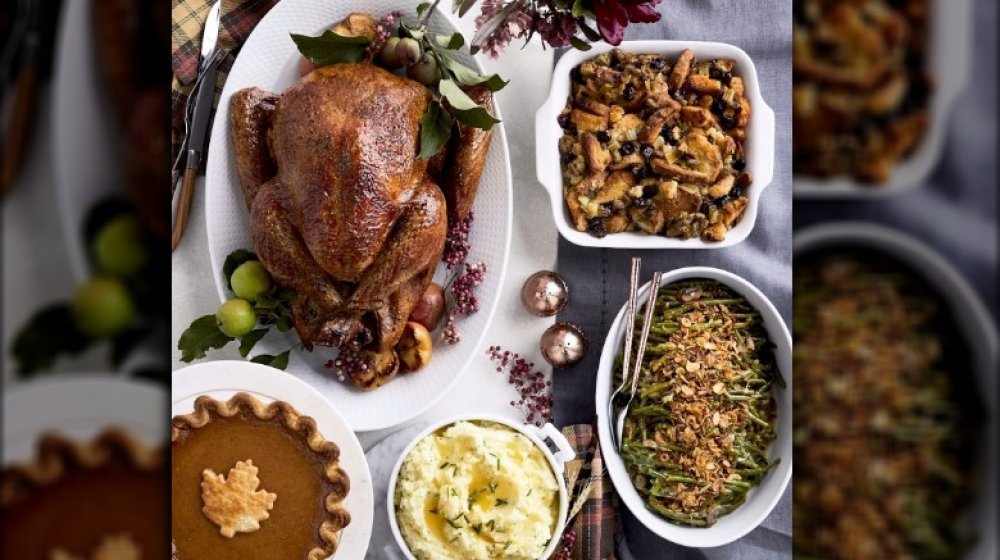 Williams Sonoma
Williams Sonoma might just be the best possible way to do an all-online Thanksgiving, and only partly because of the exceptional food they offer. We'll get to that in a moment. Recall that Williams Sonoma is primarily a purveyor of kitchen and dinnerware, not foodstuffs. So if you want to create a holiday table tableau that will leave as much or more of an impression than the pre-brined organic turkey, shop here for your look. From seasonally-themed napkins and plates to elegant flatware and wine glasses to gorgeous serving vessels and platters, you will be able to create a stunning table for the feast you also order online from Williams Sonoma. And now, to said feast.
A meal fit for 12 will cost you around $400 (a bit less than $400 for the simple free range turkey, a bit more than $400 for the organic turkey, and the pre-brining adds a bit of cash, too), which is really a pretty good price for a feast. Also included will be a Sausage Apple Cranberry Stuffing, a Traditional Green Bean Casserole, Butter Chive Mashed Potatoes, and pumpkin pie for dessert. (Note that their site states the turkey and sides "generously serve 12" while the pie may only serve eight to 10 people, so get some side sweets if you have sweet tooths coming to the table.)
Omaha Steaks delivers a complete turkey dinner for four to your door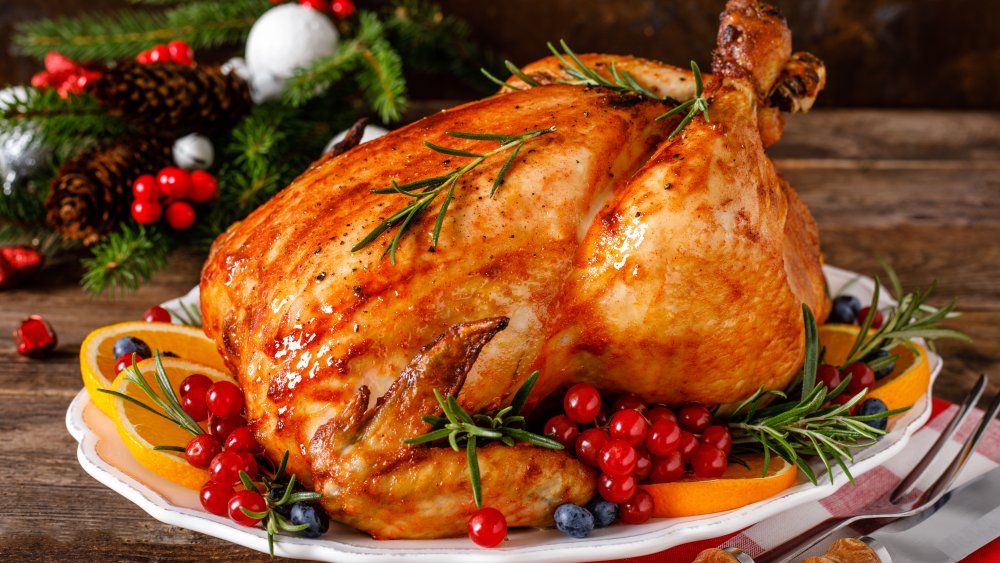 Shutterstock
Omaha Steaks might have gotten their start back in 1917 selling meat out of a small Omaha, NE carpentry shop retrofitted with coolers, but today they are a globally recognized brand whose steaks are a coveted gift suitable for all sorts of occasions. But did you know that Omaha Steaks sells itself short with its own name? Omaha All Sorts of Foods might be a more accurate title. (Though granted, that would be a terrible name.) The company offers steaks, seafood, soups, sides, poultry, pork, desserts, wine, and more. And hey, what do you get when you add meats, sides, soups, dessert, and wine together? Sounds like the makings of a Thanksgiving dinner, no?
Omaha Steaks makes it easy to customize your Thanksgiving dinner order by choosing from one of two options in six different steps. First, you select your "Center of Plate" option, which is either turkey or ham. Then you choose your "Potato Side," which is Roasted Garlic Mashed Potatoes or Whipped Sweet Potatoes. Next comes the "Vegetable Side Dish," where you can select from Green Beans or a Green Bean Casserole. And so on, you get the picture: the foods included are typical American Thanksgiving dinner staples, so you really can't go wrong. The plan costs $160 and will easily feed four or five diners.
SmokeHouse offers complete meals and turkey and ham combos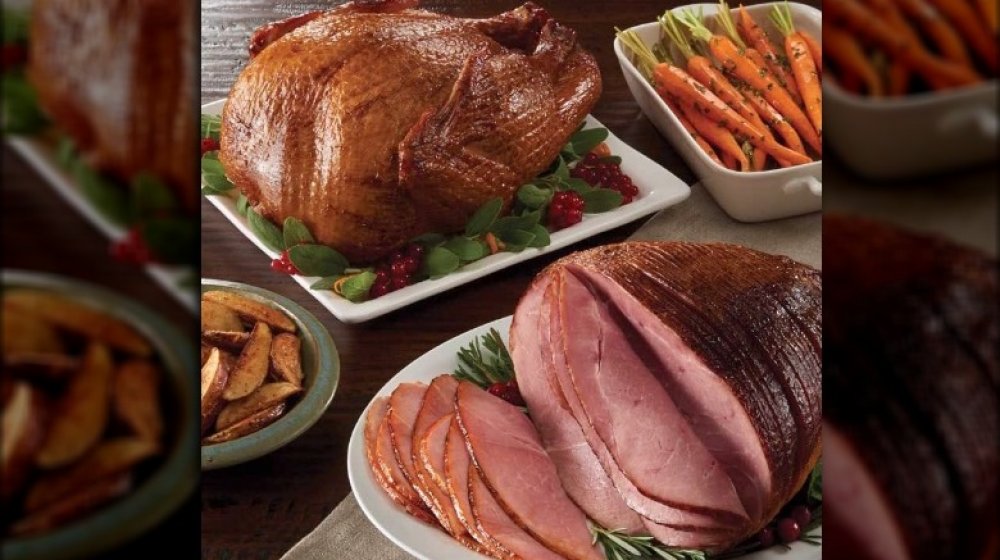 Burgers' Smokehouse
Got a family who can never decide between ham and turkey? Play it safe this Thanksgiving Day and have both on the table. Burgers' Smokehouse "Holiday Feast Combo" comes with  their "award-winning Spiral Sliced City Ham with homemade Honey Ham Glaze and Smoked Turkey, and you can choose either a six to 7.5 pound ham with an eight to 10 pound turkey or the larger option of a 7.5 to 8.5 pound ham with a 10 to 12 pound turkey. For reference, they recommend you provide three quarters of a pound of bone-in meat per person and a half-pound of boneless meat, so you can choose which meat size option based on your numbers.
You can also choose to add a number of other delectable foodstuffs life a broccoli and cheese casserole, country green beans, sweet potato casserole, Yukon Gold mashed potatoes, and varied pies. In other words, you can create your entire Thanksgiving menu on the Burger's Smokehouse website and then have your eats delivered to your door.
Honey Baked Ham offers complete Thanksgiving dinners starting at less than $140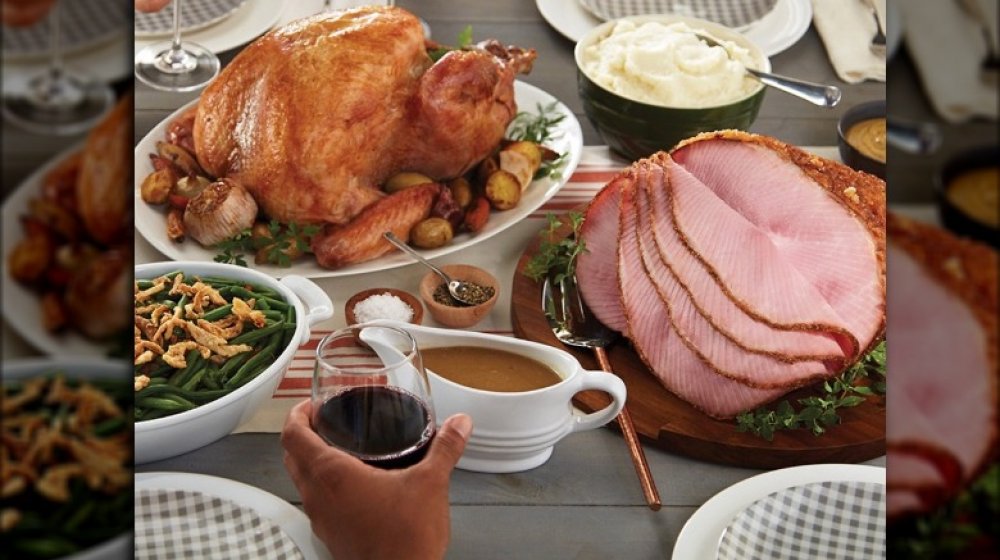 Honey Baked Ham
For a basic but tasty Thanksgiving Dinner at a price just about any group will be able to afford, it's hard to beat Honey Baked Ham. For just under $140, you can get a meal delivered that they claim is fit to serve 12 to 16 diners. Erring more toward 10 or 12 people will ensure no tummies are left still grumbling after the meal, but still, it's an impressive amount of food for the price. Included in the Honey Baked Ham Co.'s Thanksgiving Dinner is a classic Honey Baked Ham (which is a bone-in nine-pound slow smoked half ham with a sweet glaze), a whole roasted turkey (11 to 13 pounds and fully cooked but delivered frozen for safety), a 1.5-pound green bean casserole with mushrooms, red peppers, a cream sauce, and topped with fried onions, 1.5 pounds of creamy Russet mashed potatoes, and plenty of gravy to slather onto everything.
At just four items, again, this is a slightly stripped down meal, but just by adding in some biscuits or bread and a pie at the end, you can fill it out into a legitimate feast-level meal. Maybe toss in some Tuscan-style broccoli, Country Cornbread Stuffing, Maple Sweet Potato Souffle, or any of the other fine "Heat & Serve" sides you can order from Honey Baked Ham, too.
Boston Market delivers Heat-and-Serve Thanksgiving Meals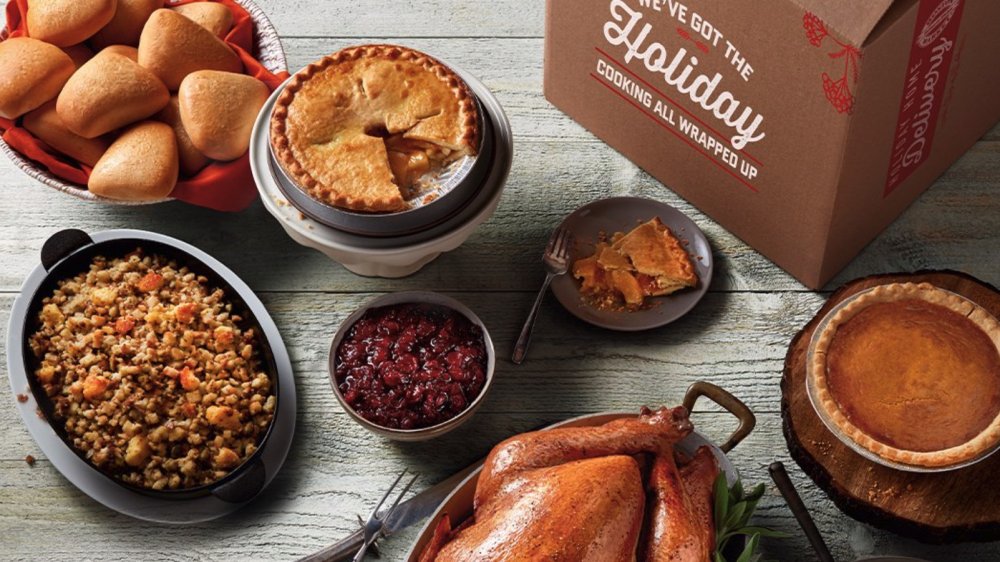 Boston Market
Boston Market has been in the comfort food game for 35 years now, having opened as Boston Chicken in 1985 and re-branding to a name that encompassed their wider food offerings 10 years later in 1995, so it's no surprise they make ordering Thanksgiving dinner online remarkably easy. You can choose from either basic, affordable, but still tasty meals ready to be enlarged with a bit of your own cooking or from more complete meals that won't need much to make a fine feast. In the former category, you have options like the Essential Half Boneless Honey-Glazed Ham Meal that serves four to six and comes with a ham, mashed potatoes and gravy, stuffing, and rolls and costs just $90. In the latter, you have the Whole Roasted Turkey Meal that serves 12 diners and comes with a whole roasted turkey, mashed potatoes and gravy, stuffing, cranberry walnut relish, dinner rolls, and both a pumpkin and apple pie for $140.
One thing you'll notice is that all of the meals offered by Boston Market are rather devoid of vegetables, so it's up to you to prep your own green beans or creamed spinach or chopped salad or what have you, but when it comes to meat and potatoes, they have you covered. With gravy.
Costco delivers a "Thanksgiving Meal in a Box" for about $100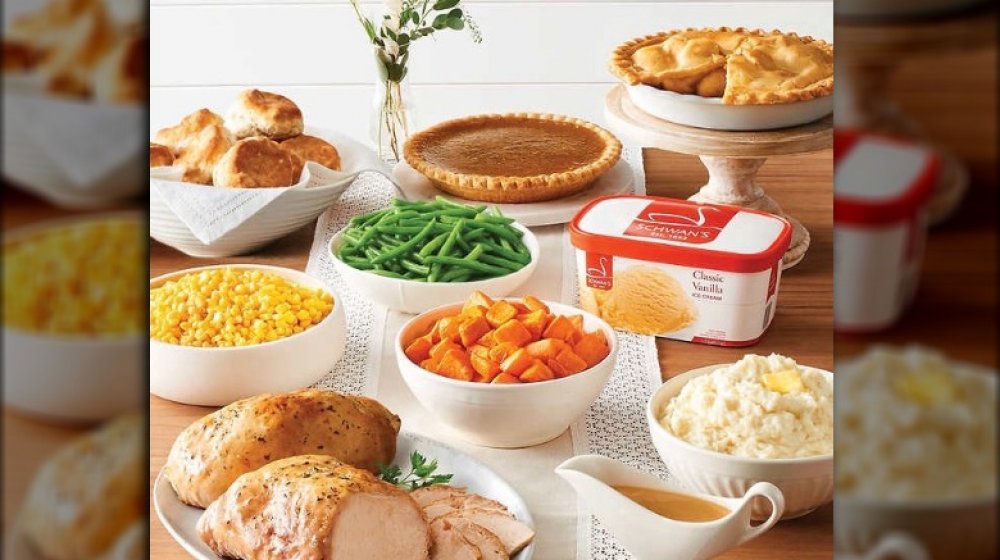 Costco
Leave it to Costco to deliver big on food while staying low on prices. Why? Because that's pretty much their whole business model in a nutshell. This complete Thanksgiving Meal is created and curated by their partner Schwan's, and included in the box are two 2.5-pound turkey breasts (AKA five pounds of white turkey meat), a 2.5-pound serving of mashed potatoes, 28 ounces of gravy, two pounds of roasted sweet potatoes, 36 ounces of green beans, 36 ounces of sweet corn, 18 "Southern Style" biscuits, a pumpkin pie, and apple pie, and even a tub of vanilla ice cream so you can serve said pies à la mode. All told, it's a meal that will serve eight very satisfied diners, and for about a hundred bucks, or less than $15 per head.
And not only does Costco/Schwan's make your Thanksgiving Day dinner affordable, but they also make everything nice and easy. Your foods arrive frozen and do not need to be thawed prior to cooking. You can cook the meal right from frozen and have everything ready to eat in less than two hours and with minimal work. It's a fine traditional menu much like you would have created were you out shopping for foods at the grocery store yourself. 
Bob Evans delivers a "Farmhouse Feast" to your door for Thanksgiving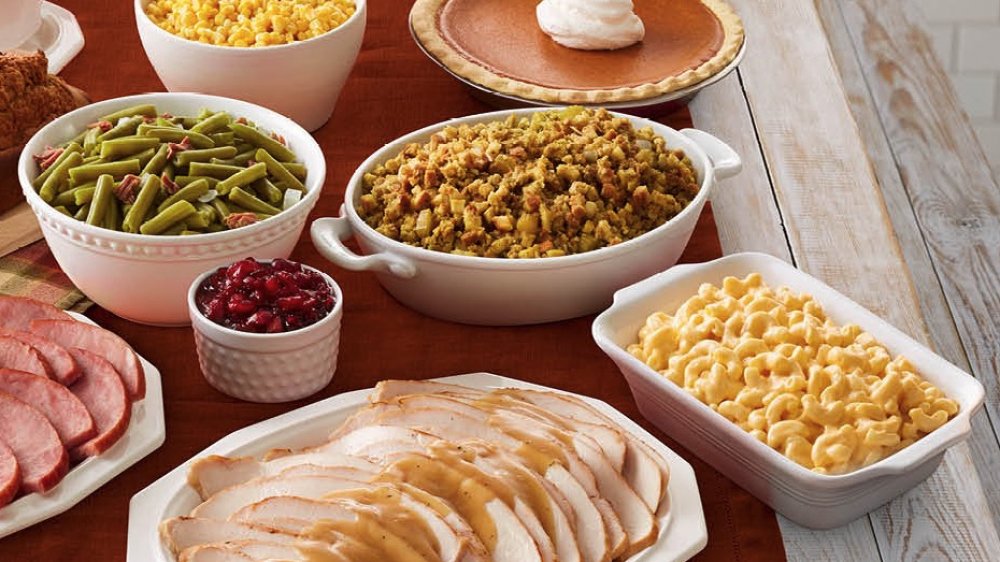 Bob Evans
This Thanksgiving, Bob Evans wants you to let them "do the cooking." And when you look through the menu items on their Farmhouse Feast with Turkey or the Farmhouse Feast with Ham, you may well cancel your own plans to spend hours working away in the kitchen. And as the turkey "Feast" costs just $60 and the ham "Feast" only $55 — with each designed to serve four diners — you may choose to order both. The former comes with slow-roasted turkey, bread and celery stuffing, corn, mashed potatoes with gravy, dinner rolls, green beans with ham, cranberry relish, and Cherry Supreme Pie. The latter is the exact same, save swapping ham in for the turkey.
As for preparing the meal prepared for you by Bob Evans, they make that nice and easy, offering complete instructions on what you'll need (three oven-safe dishes, two small sauce pans, three serving spoons, etc.) and they lay out a precise schedule of heating times and temperature, so there is zero guesswork and thus much less holiday stress involved in getting Thanksgiving dinner on the table. (Note that you will need to be in the range of a Bob Evans store for them to offer delivery!)
If you live near Marie Callender's, pick up a feast on Thanksgiving day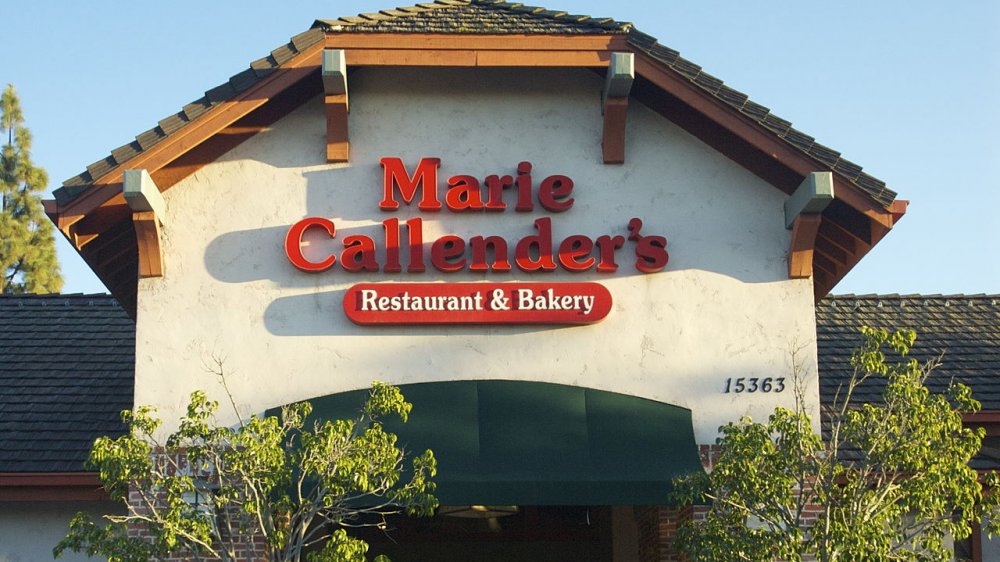 Wikimedia Commons
There aren't as many Marie Callender's restaurants around today as there once were, but if you live in lovely California, you may well be near enough one of the two-dozen-plus locations still going strong. And if so, you can pre-order a Thanksgiving feast that you pick up after noon on that special Thursday and can enjoy at home with minimal effort. The best thing about ordering Thanksgiving dinner from Marie Callender's? Just like you would enjoy in the restaurant, you have a good deal of choice over what you eat. Your starter can be a piece of fresh golden cornbread accompanied by a potato cheese soup, a hearty vegetable soup, or a fresh house salad, your meal comes with seasonal veggies, fire-roasted yams, and mashed potatoes, you can choose between roasted turkey or baked ham, and then end your meal with either apple or pumpkin pie.
The adult Thanksgiving dinner from Marie Callender's costs $23, which is a fine price for a full meal, while the kids' dinner is the real sweet deal: it costs just $8.99 to ply your youngsters with a mighty holiday meal.
Cracker Barrel's "Thanksgiving Heat n' Serve Feast" goes from oven to table in two hours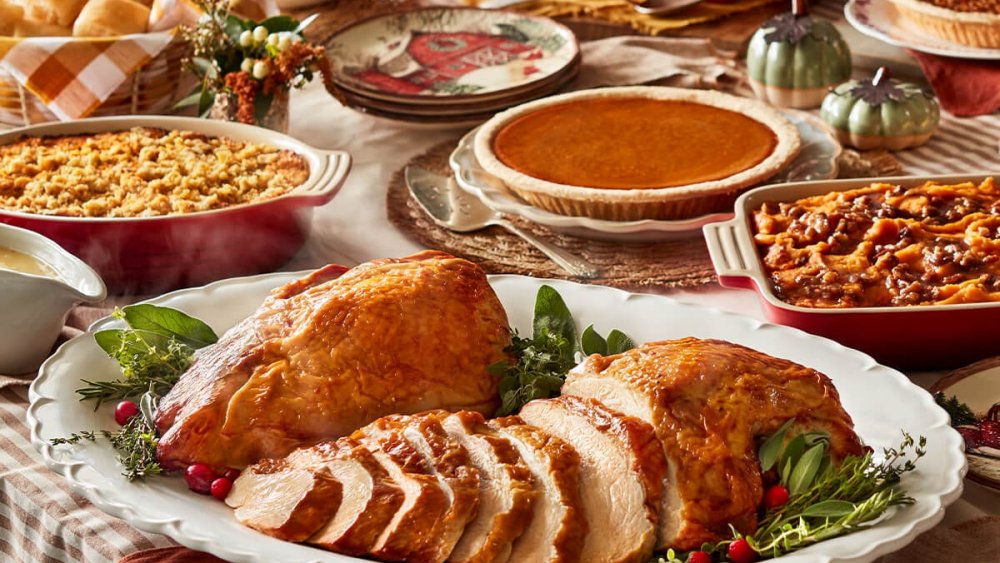 Cracker Barrel
If you don't live within a decent driving distance of a Cracker Barrel restaurant, stop reading now, because you're going to develop dinner envy for those who do. For a veritable steal of a price at $140 for a meal fit for eight to 10 diners, their "Thanksgiving Heat n' Serve Feast" comes with just about everything you could want on your holiday table, largely because you pick your three sides yourself. You can choose from things like macaroni and cheese, sweet potato casserole, mashed potatoes with turkey gravy, green beans (of course), and more — there are a dozen side options in total. 
And those sides accompany two oven-roasted turkey breasts, cornbread dressing, sweet yeast rolls, pumpkin and pecan pie, cranberry relish, and gravy to top it all off. All told, this meal, which heats up and will be ready to serve in just two hours, is about as quintessentially American Thanksgiving dinner as you can get, and really what else would you expect from Cracker Barrel? Aside from wacky interior decorations with all sorts of charmingly odd things hanging on the walls, that is. But it's your home where you'll be dining, so you can decorate the place however you want.