This Is The Best Domino's Pizza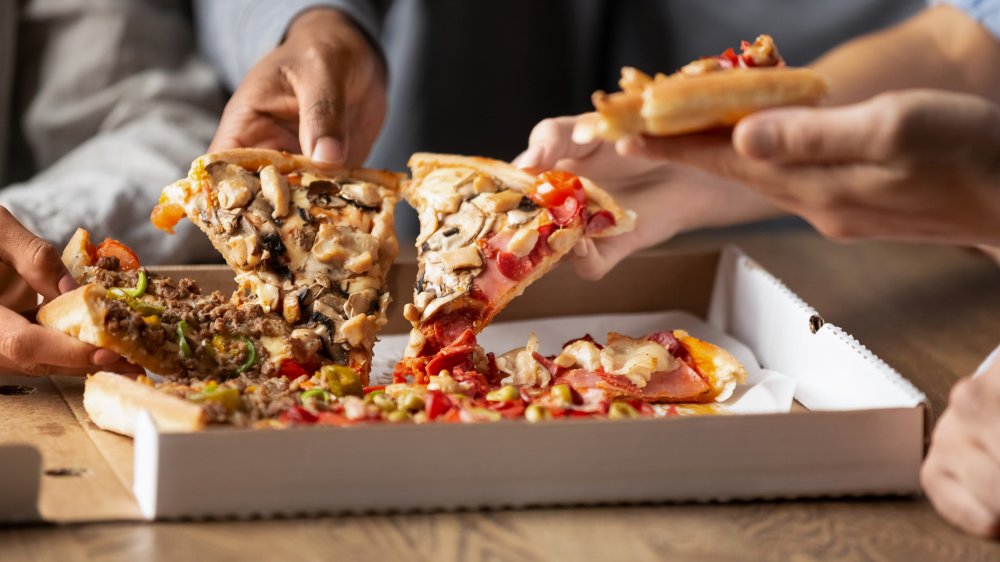 Shutterstock
Best: "of the highest quality, or being the most suitable, pleasing, or effective type of thing or person" (via Cambridge Dictionary). Proclaiming that one pizza from Domino's reigns supreme over all others may seem bold; especially if you consider that food likes and dislikes are rather subjective. And it seems Domino's agrees, asserting on their website that "the best pizza ever is the pizza you enjoy the most."
So how can we declare that one pizza is better than all others on the Domino's menu? Because one prized pie leaves no stone unturned; featuring a chewy-crisp crust (or crust of choice), piled high with a bounty of complimentary ingredients. It's called the ExtravanganZZa, with two capital ZZ's to underscore the fact that this is one extravagant pizza. The ExtravanganZZa is one of Domino's Specialty Pizzas, and it boasts almost a third of every topping available, including pepperoni, ham, Italian sausage, beef, onions, green peppers, mushrooms, black olives, and extra cheese (via Domino's). In some countries, you can also find corn on top. It's essentially a meat lovers pie, loaded with veggies.
Sausage for the win
Clearly, this isn't a pizza for the vegetarians in the crowd, but it's ideal for folks who can't decide which toppings commingle well. And according to Domino's, it's the addition of Italian sausage that really steps up the game. The Italian sausage is made with a savory blend of pork, garlic, fennel, paprika, chili powder, and spices; flavors that have been used in Mediterranean cooking for generations. The flavor is reminiscent of "Mom's spaghetti sauce and Grandma's meatloaf." Put it on a pie and it's like a pizza hug. Plus, according to the pizza chain, Italian sausage is America's second-favorite pizza topping.
According to Business Insider, the ExtravanganZZa is a "beast", and while it can be a bit messy, the toppings work well together, making each slice is "completely delicious" — but let's be clear, the ExtravanganZZa most certainly isn't the best nutritionally. One slice — or 1/5 — of a medium pie clocks in at 440 calories, with 22 grams of fat and 1,080 milligrams of sodium according to the Domino's Nutrition Guide. Let's hope one slice of this toppings heavy pie quells the need for a second.