What You Should Know About Popeyes' New Twisty Wicked Shrimp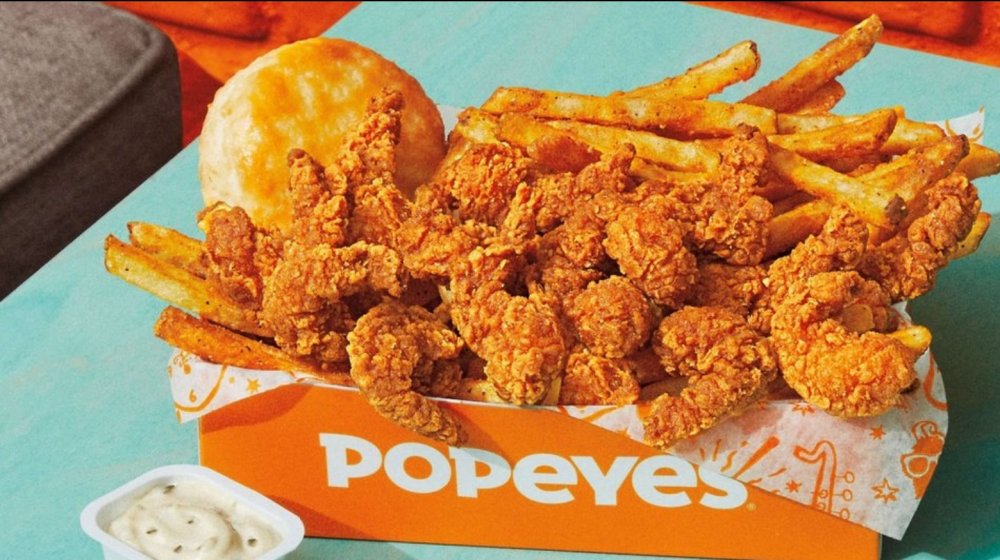 Popeyes
If you're a fan of Popeyes' signature seafood, be sure to hustle on over to your closest location and snatch up their new Twisty Wicked Shrimp. It seems the fast food joint took their favorite crustacean and gave it a facelift — a fiery one at that. According to Chew Boom, the shrimp are marinated in Popeyes' Louisiana-style seasonings, including salt, pepper, onion, garlic, cayenne pepper, and bay leaf  — plus a touch of sriracha for good measure. Next, the little guys are battered and fried with a dusting of Popeyes' southern-style, crispy coating. The result is juicy shrimp with layer upon layer of Cajun flavor, undeniable crunch, and sriracha heat.
What's in Popeyes' seasoning that makes it so delicious? While it's a trade secret, classic Louisiana-style seasoning is a rustic blend of herbs and spices that give homage to Cajun cuisine. There are many variations online, but Cajun seasoning is typically a spicy blend featuring paprika, cayenne, garlic, black pepper, and oregano (via Gimme Some Oven). Popeyes' adds their bayou nuances to the mix, and (in this case) sriracha for even more heat.
What makes Popeyes' shrimp so wicked?
First, there's the addition of sriracha to the chain's popular bite-sized fried shrimp. Then, the crispy crustaceans are offered with Popeyes' new Smoky Garlic Tartar Sauce, a creamy, garlicky dipping sauce that pairs perfectly with the chain's seafood options (via The Fast Food Post). But are the shrimp really all that wicked? Although you might think the name would imply wicked heat, with a higher level of spice than Popeyes' traditional shrimp, Peep THIS Out! says you probably won't need a fire hose to calm the blaze in your mouth. They say the shrimp is tasty and ultra-crispy, but fairly mild in the heat category. Seems you need to add the Smoky Garlic Tartar Sauce to really catapult the new menu item's flavors over the top.
The Twisty Wicked Shrimp are available for a limited time, as part of a combo featuring 14 pieces of shrimp, plus one regular side (like their Cajun fries), a biscuit, and container of the new Smoky Garlic Tartar Sauce. If you're looking to add some land animals, a surf and turf option is also available, according to Chew Boom.