The Newest Jolly Rancher Product Has Nothing To Do With Candy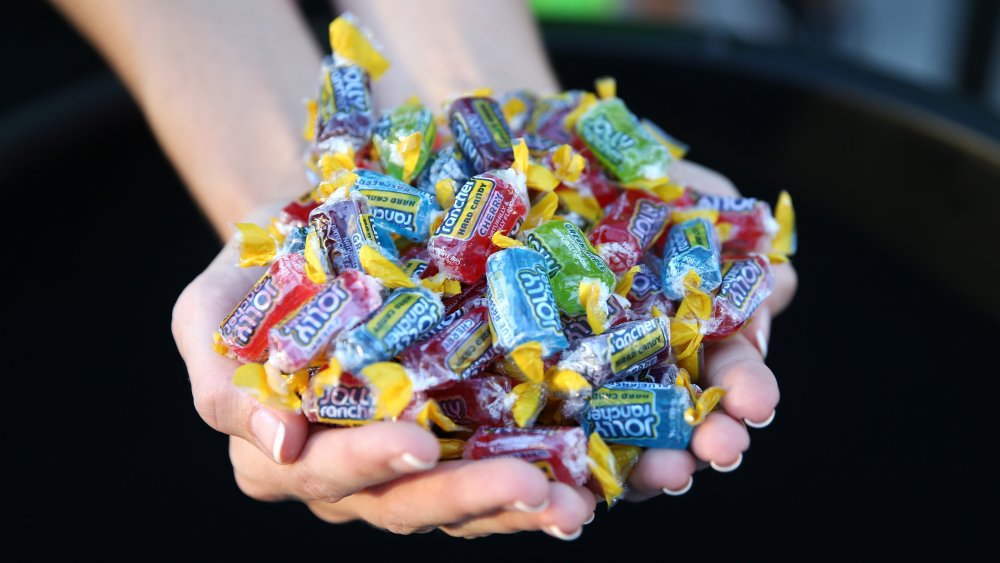 Phil Faraone/mtv1415/Getty Images
If you're a celebrity, oftentimes major endorsement deals are your childhood dreams realized, especially if those dreams were based in your favorite foods and treats. Recording artists Travis Scott and J Balvin both saw their favorite fast food meals growing up become a special offer at McDonald's restaurants across the nation. Scott and Balvin even got to design some McDonald's merch to sell on their websites. Now, basketball star Kawhi Leonard, who has a shoe deal with New Balance, is bringing Jolly Rancher on board for a limited edition, candy-colored New Balance sneaker. The glossy, rainbow-colored shoes dropped on Halloween and sell for $160 (via Sole Collector).
Jolly Rancher is said to be the NBA player's favorite candy, so it probably pleased him to create a shoe that featured the cartoony Jolly Rancher fruit gang sporting Leonard's famous deadpan expression on the shoe's tongue. New Balance is releasing another flavor — er, color —  too, blue raspberry, which will be sold exclusively at Foot Locker stores. This makes sense, since, as the Finish Line blog reports, blue raspberry happens to be Leonard's favorite flavor of Jolly Rancher.
Twitter is divided over the Jolly Rancher basketball shoe
The basketball shoe has Leonard and the rest of the design team showing off their creativity to its fullest, with bright colors, bold designs, and subtle touches meant to evoke Leonard's 1964 classic car. But the Jolly Rancher collab also features a more understated low-top basketball shoe, white with rainbow colors on the sole only, for just $90. The New Balance 200 Slides also burst with color(and those fruity characters), and retailing at $35, may fit better into the budgets of some fans.
Twitter opinions on the signature basketball shoe are mixed. Ryan Monteith reached out to New Balance, Jolly Rancher, and Leonard on Twitter with a proposal: "If you guys send me a pair of those Kawhis in a size 11, I swear to god I'll only give out Jolly Ranchers every year on Halloween until the day I die." Another Twitter user thought the shoe's design was too bold. Shaydawg tweeted, "Could they not make them any uglier? Only Elton John had the wardrobe to wear those." There's truly a style out there for everyone.