What To Expect From Mountain Dew's Surprising New Cookbook
If you do the Dew, you probably know that Mountain Dew is a beloved PepsiCo soda, ranking second among all of the brand's other beverages, according to Sure Dividend. And the Motley Fool ranked Mountain Dew the 4th bestselling soda in 2018, only falling behind the likes of Coke, Pepsi, and Diet Coke. Who knew?! We all probably should have because this drink, which comes in a range of colors and flavors, has developed quite the following since it debuted in the 1940s thanks to the Tennessee beverage bottlers who created it. But now Mountain Dew is giving back to its followers by releasing a cookbook full of recipes that use this beloved soda. You read that right.
Perhaps this Mountain Dew cookbook is a result of all that marketing PepsiCo has engaged in over the years. If you fast-forward to the present, the brand is going strong, thanks in large part to the incredible dollar figure poured into marketing Mountain Dew. Per Statista, PepsiCo spent approximately $120 million on U.S. advertising just for Mountain Dew in 2019. Cha-ching. But Indra Nooyi, CEO of Mountain Dew owner PepsiCo probably summed it up best when she told Buzzfeed in an interview that Mountain Dew is "an attitude. It's a fantastic attitude in a bottle."
Well, the new cookbook which is being released in honor of the brand's 80th birthday, is quite an attitude, too, but what should fans expect?
Fans can expect about 40 Mountain Dew recipes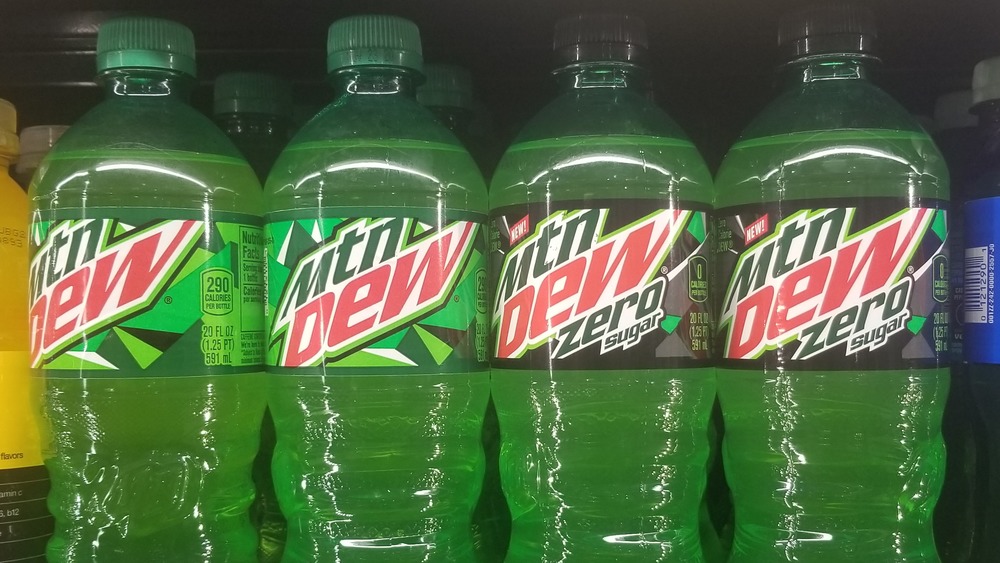 Karen Hart
According to a press release that PepsiCo issued through PRNewswire, in this first-ever cookbook, titled Big Bold Book of MTN DEW Recipes, Mountain Dew enthusiasts are being treated to 40 recipes that feature dishes made and inspired by fans. Some of these recipes will be a piece of cake for the novice while there are a couple of more difficult recipes to entice the expert and seasoned cook. From fluffy green pancakes to Code Red Brisket to jalapeño poppers and Mountain Dew-infused pickles to Mountain Dew Slushies, there is something for everyone in this cookbook. It truly takes doing the Dew to a whole new level.
Nicole Portwood, Vice President, Marketing, Mountain Dew, said in the company's press release, "Our fans have been creating delicious, outrageous, and genuinely mind-blowing recipes with MTN DEW for years. In many ways, this is the long-overdue love letter to those beautiful edible creations and the people behind them. We're honored to share these recipes with the world in our first-ever curated cookbook!" The Mountain Dew cookbook, which will be sold through the new Mountain Dew online store, will go on offer for a limited time for a suggested price of $30 during the week of November 16. The Big Bold Book of MTN DEW Recipes sounds like the perfect gift for all the Dew lovers in your life.