These Unique Oreo Cookies Are The Perfect Stocking Stuffers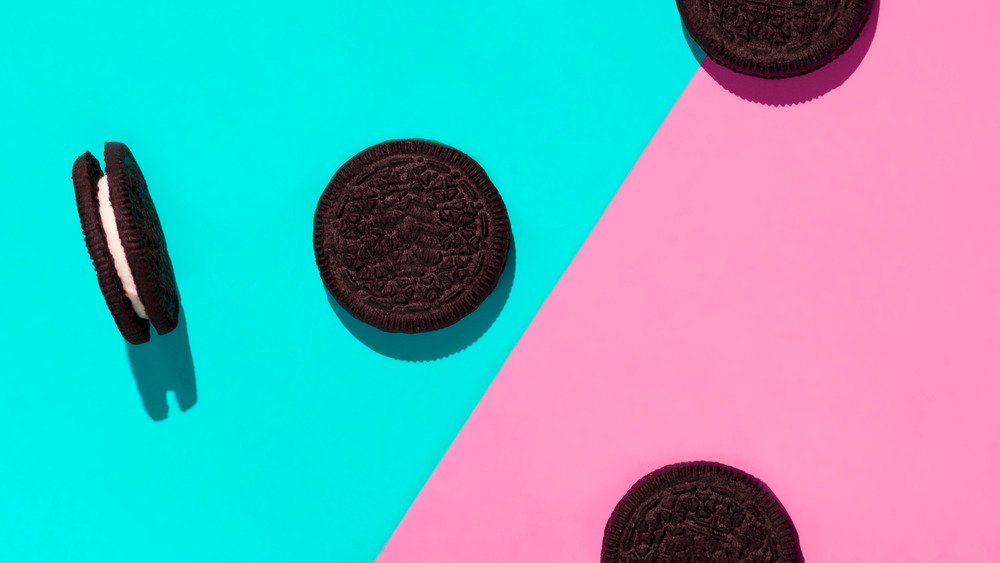 Shutterstock
Oreos have to be one of the most popular cookies out there thanks to their crisp chocolate cookies and vanilla creme filling inside. There's just something so right about dipping them into a cup of milk. Some people live and die by the seasonal Oreo flavors and creme filling colors that pop up throughout the year. Whether or not they're better, kind of like Reese's seasonal candies, is up for debate. But now you can have those colorful creme centers any time of year because you can finally customize your own Oreos (via All Recipes). 
With OREOiD, customers can visit a website that allows them to choose tons of different features for their own pack of Oreos. Sure, the color of the creme filling is a part of that deal, but you can also pick preferences that are highly personal. It brings to mind customizable M&M's, but you can actually fit more on the cookie than you can M&M's. That's why personalized Oreo cookies just might be the best stocking stuffer of the season and there's no holiday baking involved.
Here are your customizable options for OREOiD
When you reach the OREOiD website, you can essentially choose between two levels of customization. The first is "customize everything" and the second is "just the creme color." If you choose the simpler option of only picking a creme color, then you have eight colors to choose from. Those options include red, orange, yellow, green, blue, purple, pink, or white. Whatever color you choose, you have the option to buy 20 two-count packs for $2.50 each, five eight-count boxes for $8.95 each, or a box of 24 cookies for $19.95 (via Delish). However, if you don't meet the minimum for the order, the cost for the two-pack or eight packs will go up.
The second, more elaborate option, "customize everything," lets you create your own cookie. You get to pick one of the eight creme colors, but you also get to decide if you want a dip — available in white or fudge, sprinkles, and what goes on the front of your cookie. You can upload a photo or write text. These cookies go for a minimum order of 20 one-count boxes, five four-count boxes, or a box with 12 or 24 cookies. The options range from $2.50 each to $52.95 for the box of 24 cookies.
Check out the website and have fun designing your own Oreos.