The Specialty Chick-Fil-A Sandwich You Can Only Get At One Location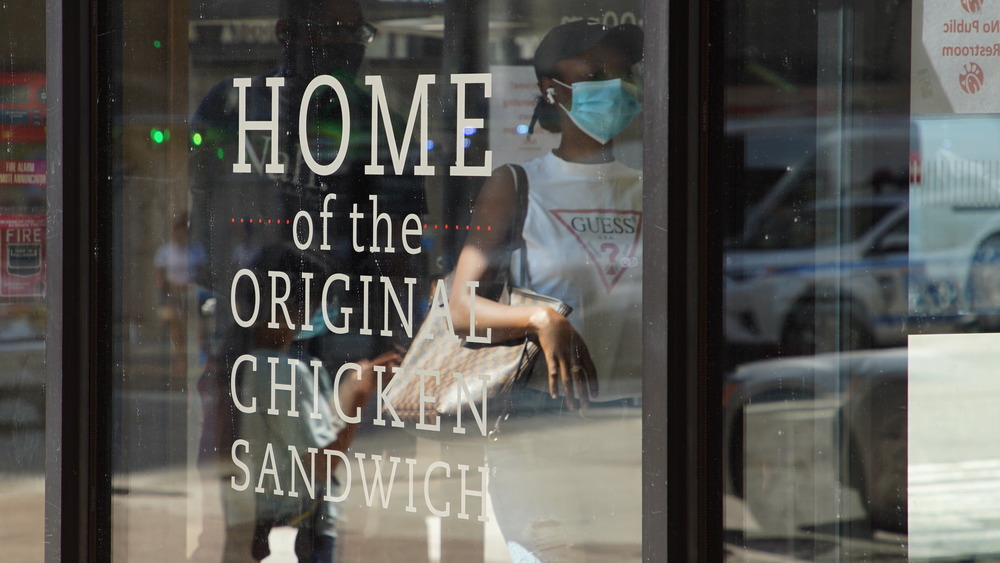 Rob Kim/Getty Images
Chicken nuggets, waffle fries, fresh-squeezed lemonade. The list of things people love about Chick-fil-A goes on and on. But one thing many people don't realize is that not every location of the popular fast-food chain is the same. Not only that, but there are five Chick-fil-A restaurants that are especially out-of-the-ordinary, with their own unique looks and, more importantly, their own unique menu items that can't be found anywhere else. These locations, named after the chain's founder, are known as the S. Truett Cathy Brand restaurants and they each offer a dining experience unlike any other Chick-fil-A.
One of those five S. Truett Cathy Brand restaurants is located in Fayetteville, Georgia. But contrary to what you might expect, the food and atmosphere at the southern location isn't all soul food and down-home cooking. In fact, it's the furthest thing from it. The restaurant that sits just outside of Atlanta actually serves eats from thousands of miles away: It serves Hawaiian cuisine.
The restaurant is Hawaiian-themed—and so is the menu
Named Truett's Luau, the island-themed restaurant first opened back in December 2013 after Cathy Truett visited the Big Island himself and fell in love. According to Chick-fil-A's website, the menu at the Fayetteville dining establishment is "a Southern spin on Hawaiian favorites." While the tropical menu includes plenty of specialty items including pineapple fried rice, Hawaiian bread pudding, and I'a Makana fried Mahi tacos, the real star of the show is the Island Chicken Salad sandwich.
The sandwich, served on your choice of a sweet bun, is just like everyone's favorite but sadly discontinued Chick-fil-A chicken salad sandwich but with pieces of pineapple and red grapes mixed in for some of that authentic Hawaiian flavor. Psst: It's best enjoyed under the palm trees and festive string lights with a tall glass of the frosted pineapple drink and a helping of luau coleslaw on the side, too, for the full experience.