People Can't Stop Talking About Popeyes' Thanksgiving Churkey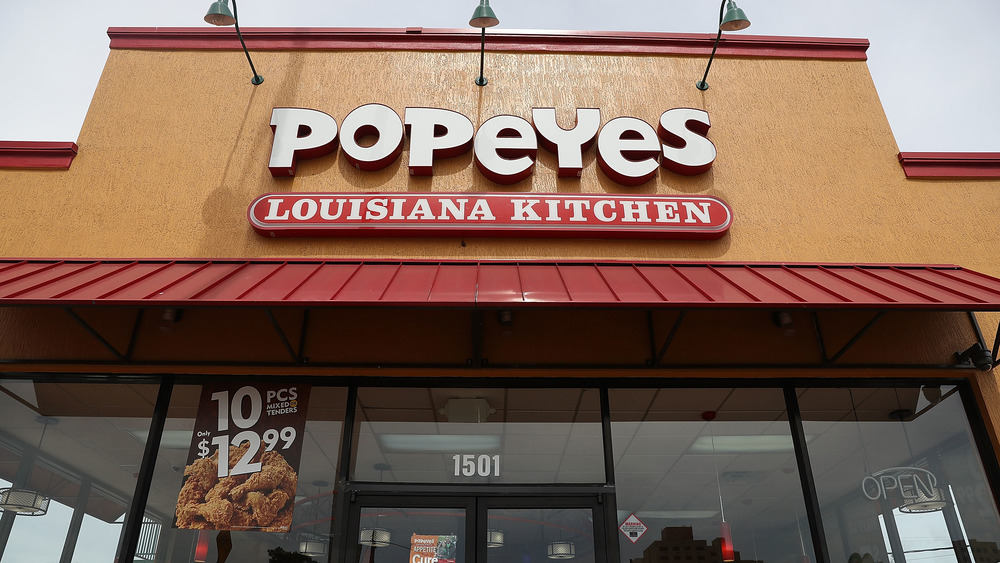 Joe Raedle/Getty Images
Popeyes is trying to keep all its poultry-craving customers happy this Thanksgiving. For turkey lovers, Popeyes offers its traditional Cajun-style turkey, and for those who prefer chicken, Popeyes has them covered too, of course. The fast-food chain is partnering with Uber Eats to offer a "churkey" dinner this holiday season. The eight-piece fried chicken meal, with biscuits and a side, is available on the Uber Eats app for a suggested price of $19.99 (via The U.S. Sun). If you spend $20 or more on your order, Popeyes and Uber Eats will throw in a chicken sandwich combination meal for free.
A couple more things you should know about this offer: For one, it's not strictly a Thanksgiving day thing. The churkey meal is available November 18 to 29 from participating Popeyes. For another thing, the meal deal isn't really the ideal turkey substitute on Thanksgiving day because, as the app coupon tells you, Popeyes restaurants are closed on Thanksgiving (November 26). Finally, don't get too excited about the turkey-shaped container shown in promotional images of the churkey meal. That's because the app coupon also tells us this smart-looking container is not part of the deal.
Popeyes and Uber Eats have both had good years despite COVID-19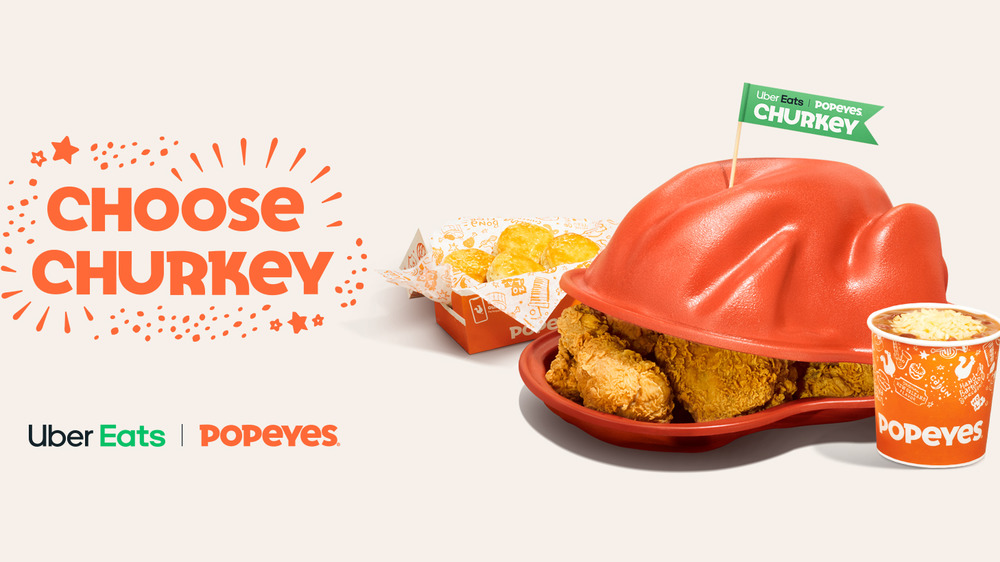 Popeyes
This limited-time Popeyes and Uber Eats offer brings together two brands that have had good years despite — or because of – the COVID-19 pandemic. Uber Eats' business more than doubled this past spring, when much of the U.S. was in lockdown and people turned to the delivery app to bring restaurant meals to them. This was welcome good news for Uber, which saw its rideshare business drop by 73 percent this spring (via Fox Business).
UberEats has been working to boost its business even further by offering special deals, not just with Popeyes but with other restaurant chains, too. For example, people ordering McDonald's through Uber Eats for the first time can get $5 off their order.
Meanwhile, at Popeyes, same-store sales grew 17.4 percent in the months of July, August, and September (via PR Newswire). Just like Uber Eats, Popeyes was the bright spot for its parent company, Restaurant Brands International. The company also owns Burger King, which saw same-store sales decline by 7 percent in the same three-month period. Tim Hortons, Restaurant Brand International's Canadian fast-food chain, performed even worse, with double-digit sales losses.