This Is The Worst Domino's Pizza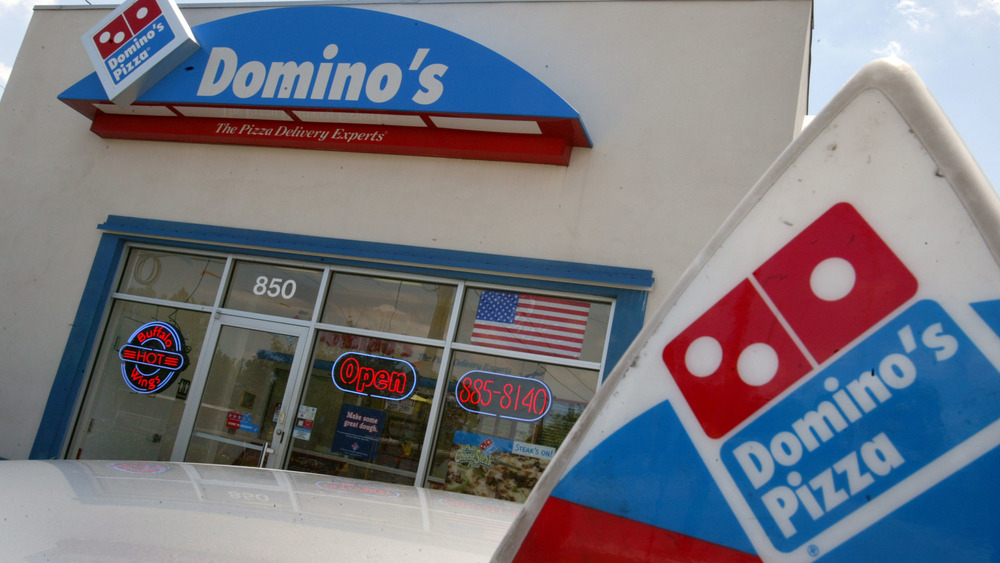 Joe Raedle/Getty Images
It's Friday night, your stomach is growling, and the last thing you feel like doing is slaving away in the kitchen, so pizza it is. There are plenty of tasty options in the world of takeout, but one of the most popular — no matter where you live — is Domino's. The chain has garnered quite the cult following over the years, with fans championing its affordable prices and fast delivery. Plus, as Women's Health reports, you can completely customize your order, so it's easy to find something to fit your diet or preferences.
Every Domino's fan knows that there's a lot more on the menu than just your standard cheese pizza, too. From Philly cheese steak to "Pacific Veggie," there's a pie for every person. However, not all Domino's pizzas are worth ordering. In fact, some are downright disappointing. After ranking some of Domino's most famous pizzas from worst to best, we've determined which one should never be on your Friday night menu.
Domino's Cheeseburger pizza looks delicious — but it's not
Burgers and pizza are delicious on their own, so they must be delicious when they're combined, right? You might think so, but somehow Domino's managed to ruin it with its cheeseburger pizza. Instead of tomato sauce, for instance, the cheeseburger pizza is slathered with a ketchup-mustard sauce (yuck!). If that's not enough of a turn off, the ground beef that's sprinkled on top in a lame attempt at recreating a burger is a big fail. A blogger at The Impulsive Buy who tested it out describes the beef as "standard pre-formed, pre-cooked, straight-from-a-box, hamburger pellet."
If you thought the taste of the cheeseburger pizza was bad, the nutritional information is even worse. While pizza in general is hardly a health food, this one is unhealthier than the average slice, thanks to its processed meat and cheese toppings. According to Domino's nutrition calculator, a slice of cheeseburger pizza contains 380 calories, along with 880 milligrams of sodium, which is nearly half of the recommended daily sodium intake for adults. Each slice also has 19 grams of fat, nine of which are saturated fat. The American Heart Association recommends about 13 grams of saturated fat per day, so just one slice of cheeseburger pizza puts you more than halfway there. Worth it? Probably not.