Lil Yachty's Surprise Update To This Reese's Puff Classic
If you watched Nickelodeon in the early 2000s, you most definitely saw the Reese's Puffs rap commercials. A lot of people who are now college-age still remember the lyrics (via Reddit): "Reese's Puffs Reese's Puffs / Peanut butter chocolate flavor." Rap along, if you know the words: "Reese's Puffs Reese's Puffs / In the a.m. it's the flavor I savor" (via Food Stuff Today).
While the ads lacked star power and didn't exactly win the breakfast cereal songwriters at General Mills any Grammy awards, but they did what they were supposed to do. The lyrics stuck in the heads of a generation of kids so they would ask their parents to buy Reese's Puffs. They could even spell it out for them: "R double E S E S, yes! / P to the U double F S yes!" (via Smule).
Fast-forward five years to today, and the Reese's Puffs rap is being revived, this time with some serious star power.
Lil Yachty performed a new Reese's Puffs jingle at virtual concert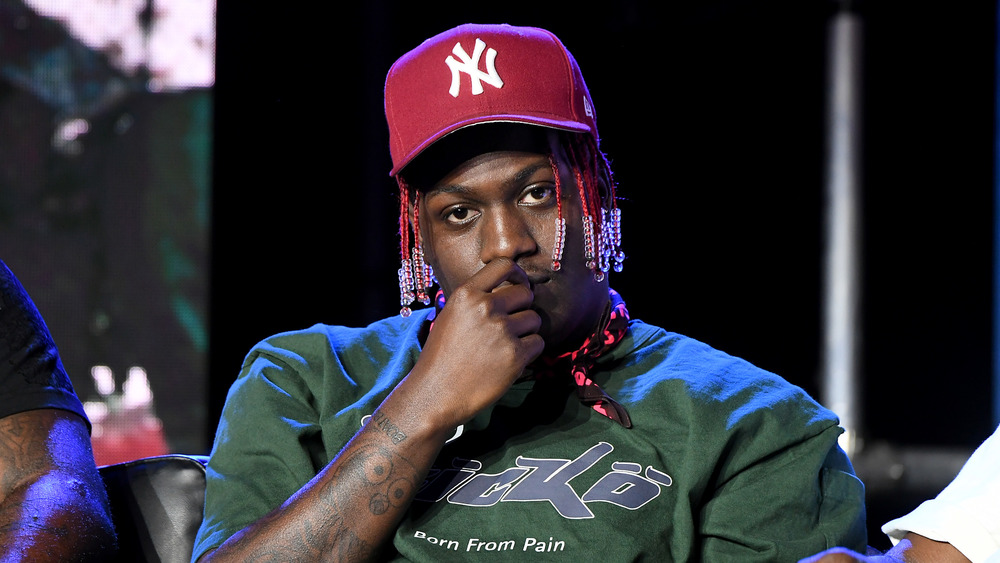 Paras Griffin/Getty Images
Lil Yachty, who even at 23 might still be considered "King of the Teens," debuted the updated Reese's Puffs rap for a new generation of cereal consumers during a virtual live concert that took place on Thursday, November 19th, according to a statement sent to Mashed. The pairing was a perfect match, as the rapper is a big fan of Reese's Puffs cereal, says Mindy Murray, senior marketing communications manager at General Mills. Likely still a teen when the commercials stopped airing, maybe "Young Boat" (as he sometimes calls himself) was inspired by all those Reese's Puffs television ads — just like so many other kids his age.
Yachty's musical style, however, was definitely not borrowed from the old cereal commercials. The original Reese's Puffs rap sounds like some kind of mash-up of artists like Run-DMC and Will Smith, while Yachty's take on the cereal jingle is definitely fresh. Although he's often pigeonholed as a rapper, Yachty's style is more expansive. The pop star even made The New York Times' list of "25 songs that tell us where music is going" for his innovative tunes (via Motown Records).
Lil Yachty's Reese's Puffs rap has fresh lyrics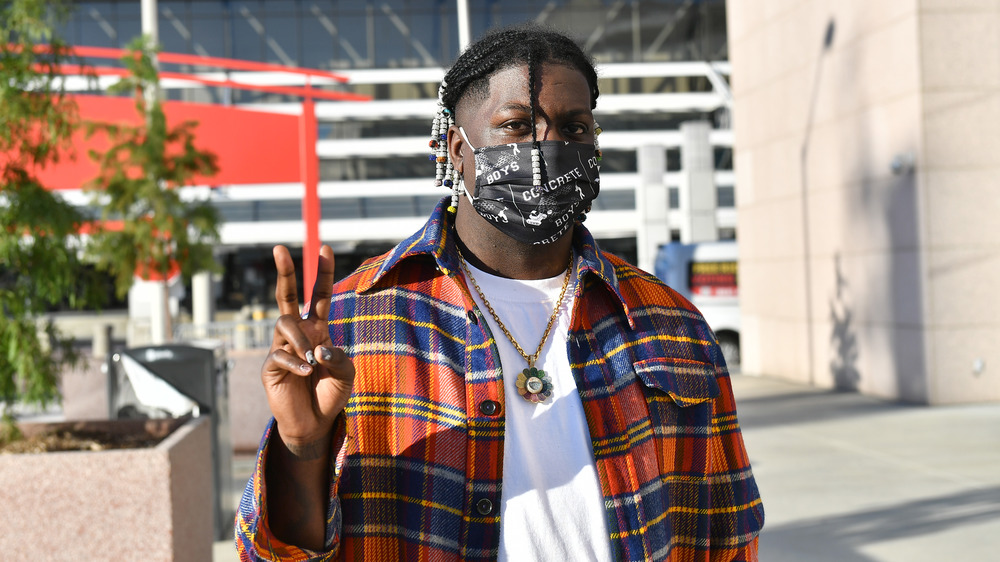 Paras Griffin/Getty Images
You're likely to hear Lil' Yachty's Reese's Puffs remix soon enough, but here's a rundown. Yachty starts by spelling out the name of the cereal, as in one of the old versions of the ad. (Ever since that child spelled out "Oscar Mayer" back in 1973, it seems that spelling has been a go-to advertising technique). The jingle allows the rapper to flex his generosity ("Yes I have more, do you want some?"), a direct appeal to the parents ("Please stop at the store I need more Puffs"), and maybe even a sly wink at the COVID-19 situation ("Oh my they sold out, wow that sucks").
No word from General Mills yet about whether or not Lil' Yachty will appear in Reese's Puffs televisoin ads. If he does, it won't be Yachty's first rodeo — er, regatta — on the commercial airwaves. He helped LeBron James sell Sprite in 2016 and collaborated with pop star Carly Rae Jepsen on a remake of the 1988 hip-hop hit "It Takes Two" for Target (via Vimeo). This will also not be Reese's Puff's first relationship with a famous hip-hop artist. In 2019, Travis Scott collaborated with the brand on a limited-edition cereal box that sold on Scott's website for $50. The cereal sold out in 30 seconds (via ABC7 News).