Chocolate-Dipped Coconut Macaroons Recipe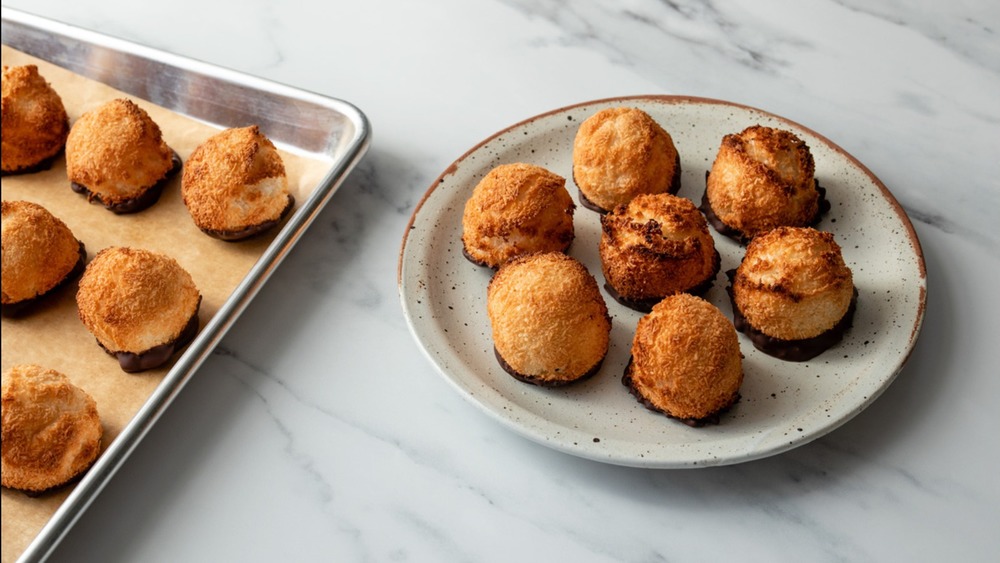 Mark Beahm/Mashed
We may receive a commission on purchases made from links.
When it comes to cookie trends, the last decade has been all about the macaron, those light-as-air pastel-colored, and usually insanely expensive little confections. Much as we appreciate them, the macaron in its ascendance has kind of overshadowed another kind of cookie that's not nearly as difficult to make (and won't run you $5 a bite) — the double-O (licensed to thrill!) macaroon.
Macaroons as we know and love them share the same egg white base as their fancier French cousines, but they are typically made with shredded coconut and are usually shaped into sweet little mounds rather than made into sandwiches. If the macaroon seems kind of plain to you, you can always dress it up with some melted chocolate, as in this recipe from The Sunday Baker's Mark Beahm, who has also authored the cookbook Rustic European Baking. 
Beahm says he chose this recipe because he thinks the macaroon is a cookie that can stand a little improvement. He told us: "A lot of times when I have coconut macaroons they're kind of soggy or they don't really have a great texture," but explains that with the recipe he provided us, "they get really crisp on the outside but they're still soft and fluffy on the inside."
Assemble your macaroon ingredients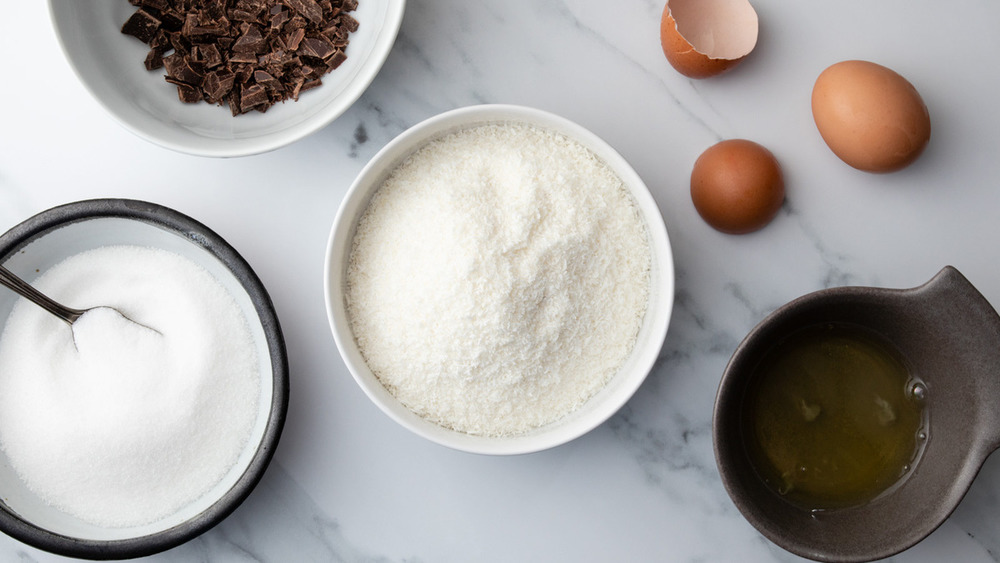 Mark Beahm/Mashed
The first thing you'll need to do, with this, as with any other recipe, is to gather up all the necessaries — nothing worse than getting halfway through a baking project to find out you're missing a key ingredient. This recipe calls for only six ingredients, so it should be fairly easy to make sure you've got everything on hand before you begin.
Beahm says to be sure you're using the right type of coconut. While some macaroon recipes may call for the sweetened flaked coconut you'll find in nearly every supermarket's baking aisle, to give this recipe it's proper texture, "the right kind [of coconut] is unsweetened, dehydrated, and finely shredded."
Prepare your egg whites for the coconut macaroon recipe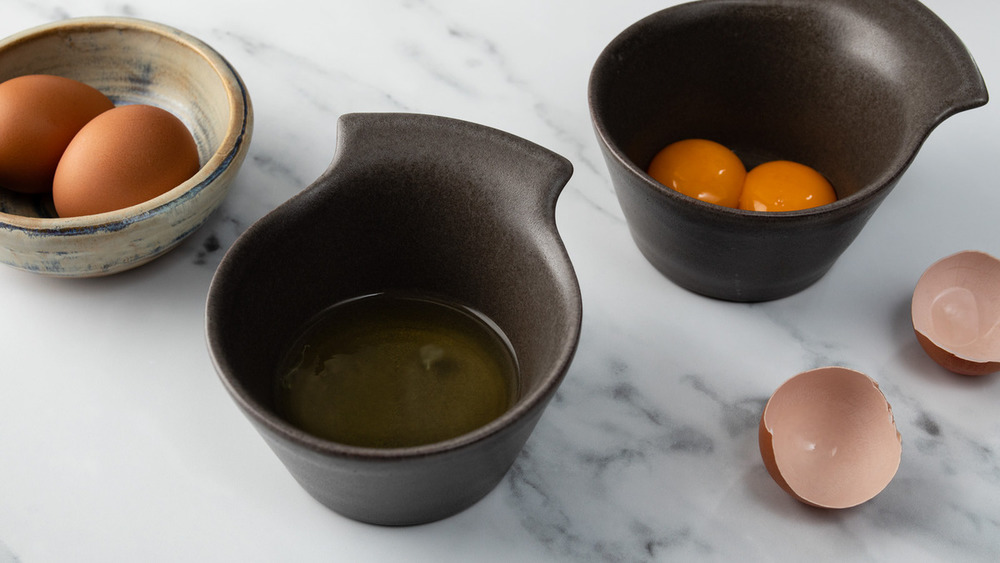 Mark Beahm/Mashed
If the egg whites you'll be using are leftover ones that you've carefully stored and frozen, good for you! But you'll have to plan ahead, since these should be thawed overnight in the fridge. If you're starting with whole eggs, you'll need to separate them, though you don't have to be as careful as you might in a recipe like angel food cake or meringue. Beahm says that "if a little bit of yolk falls in, I don't think it's really going to affect the recipe that much," but does add the caution "I wouldn't throw a whole egg in it because that will mess it up."
Beahm prefers separating eggs the low-tech way, saying: "I hold the yolk in my hands and let the egg white fall through my fingers." If you don't want to separate your eggs by hand you can always use any other method that works for you. Oh, and don't throw out those leftover egg yolks! Even if you don't want to use them for cooking, they also make for great DIY beauty treatments, or you could even whip up a batch of egg tempera paint and go medieval on some poor unsuspecting canvas.
Dig out (or DIY) that double boiler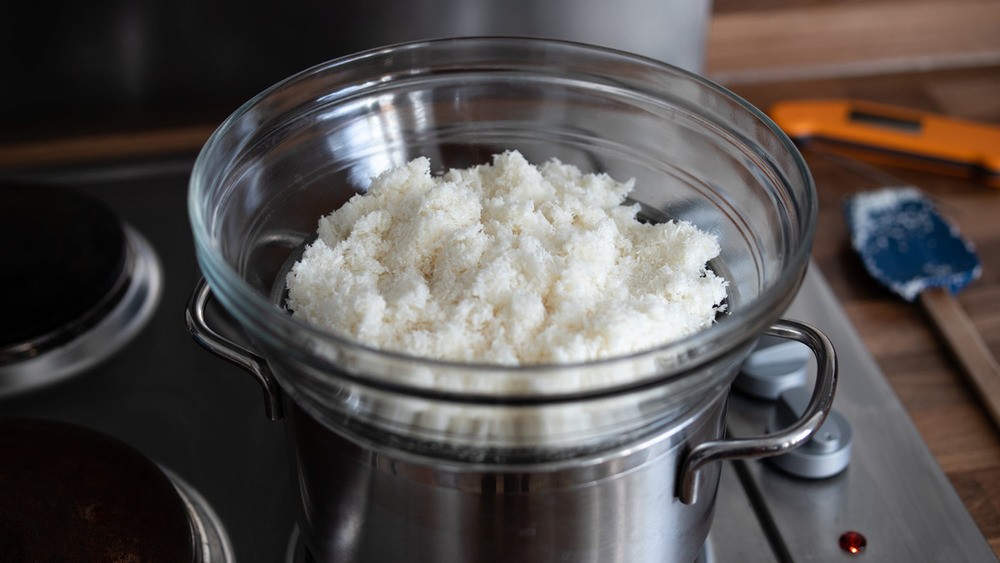 Mark Beahm/Mashed
Do you even own a double boiler? If this particular piece of cooking gear isn't something you have in your kitchen, no need to go out and buy one. Instead, Beahm offers some advice as to how you can put together a serviceable double boiler from a saucepan and a mixing bowl. He says to first fill a medium saucepan with one inch of water, and place it on the stove over medium heat. You'll then need to take a metal or glass mixing bowl and place it over top of the simmering water, but make sure that the bottom of the bowl never quite touches the water — the double boiler method is meant to supply indirect heat for slow, gentle cooking, after all.
Pre-cook your ingredients prior to baking the macaroons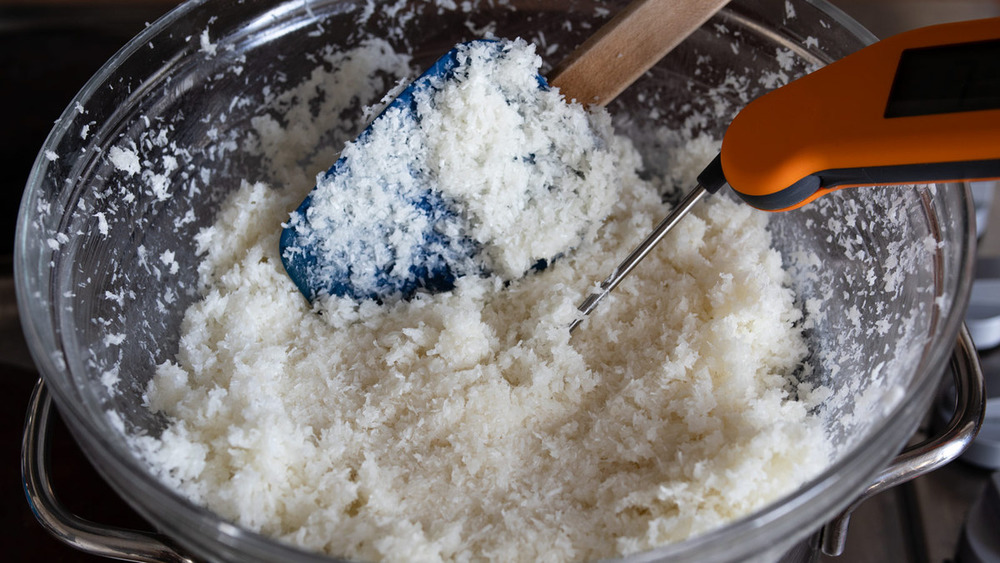 Mark Beahm/Mashed
These macaroons are cooked twice — once in the double boiler, and once in the oven. As to why you should take this extra step of pre-cooking prior to baking, Beahm explains that this allows the batter to "achieve the best texture for macaroons: crisp and toasty on the outside and light and chewy on the inside."
Combine the egg whites (Beahm says there's no need to beat!), coconut, sugar, salt, and vanilla in the top part of your double boiler, be it bowl or pot. Cook, stirring gently but continuously, until the mixture reaches a temperature of 130 degrees on a candy thermometer. Unlike the double boiler, the candy thermometer is one piece of equipment you really can't do without. Beahm says it took him about 10 minutes to get the batter up to temperature, but stoves heat up at different rates so that the 10-minute time frame may not apply to everyone.
While the mixture may seem dry at first, it will moisten as it cooks.
Once the batter is done cooking, remove it from the heat, then take the bowl out of the saucepan and cover the batter with plastic wrap — Boehm says to put the plastic directly on top of the batter, that way it won't be exposed to any air. Place the bowl in the refrigerator for at least two hours, or overnight. According to Boehm, "Letting the batter rest allows the coconut to absorb the moisture in the batter, further improving the texture of the macaroons."
Get ready, get set, bake those macaroons!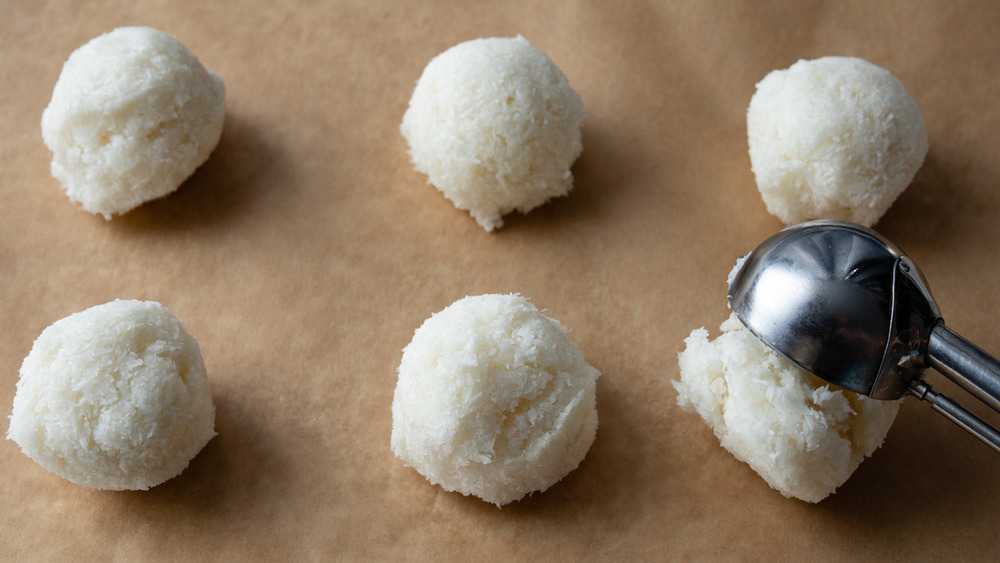 Mark Beahm/Mashed
Once your macaroon batter is well-rested, it's time to get back to work. Start by preheating the oven to 375 degrees — oh, and before the oven gets hot, check to make sure there's a rack positioned right in the middle. (Having to move an oven rack after it gets hot can challenge even the sturdiest of potholders.) As the oven preheats, take out a baking sheet and line it with parchment paper, then scoop up rounded tablespoons of batter and space them evenly apart on the baking sheet.
Bake the macaroons for 15 minutes until they are golden brown, but be sure to rotate the pan halfway through so they will bake evenly despite any hot spots your oven may have. Once the macaroons are done, take them out of the oven and allow them to cool completely on a wire rack before proceeding to the next step.
Melt the chocolate for dipping the macaroons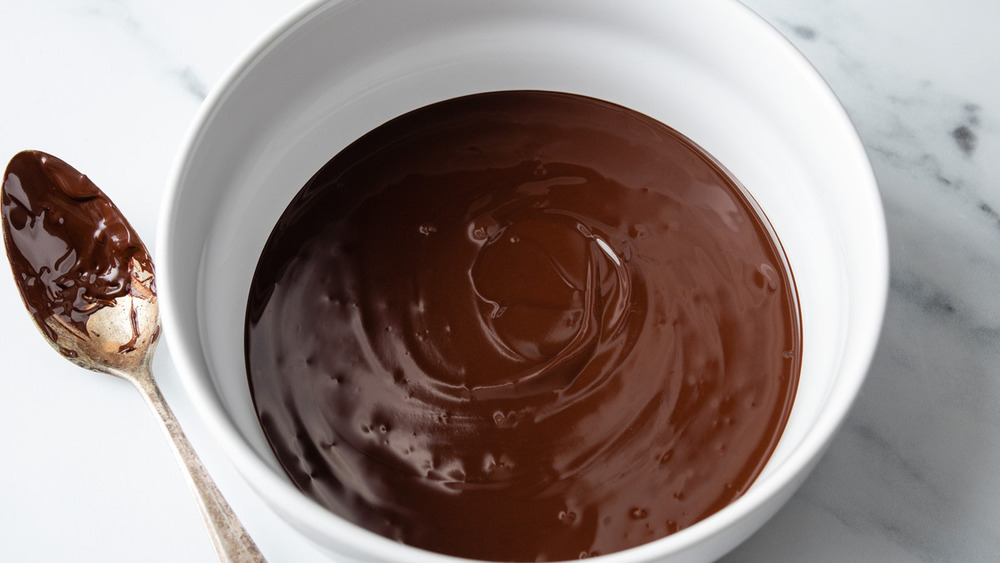 Mark Beahm/Mashed
While you could use semi-sweet chocolate or even milk chocolate to dip the macaroons in if that's your preference, Beahm prefers using bittersweet chocolate because he says "even though I love sweets, I don't like my sweets to be super-sweet." The kind he uses is around maybe 55 to 65 percent cacao, but he says you can "use whatever your favorite chocolate is."
You can melt the chocolate in that same double boiler you used earlier (assuming you've washed it out, of course), or else you could melt the chocolate in a microwave. If you go the microwave route, nuke the chocolate for just 30 seconds at a time. After each 30-minute increment, stir the chocolate even if it doesn't look melted since this will keep the it from burning.
Dip the macaroons in chocolate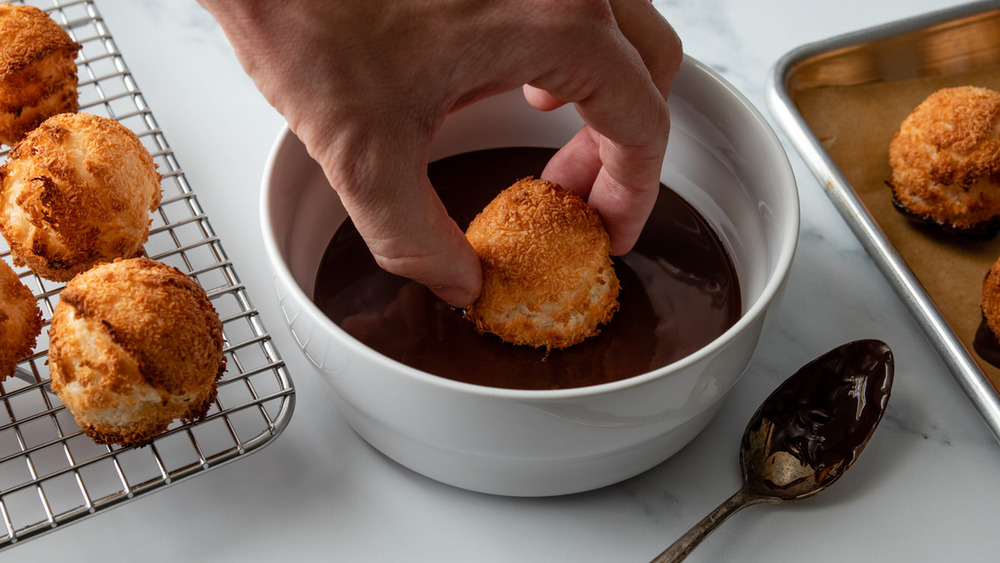 Mark Beahm/Mashed
Once the chocolate is all melted and the macaroons are cooled, now comes time for the fun part: the dipping! Take hold of each macaroon by the top and dip the entire base into the melted chocolate. Set the dipped cookies chocolate-side down on more parchment paper or a cooling rack and let them sit undisturbed until the chocolate has completely hardened.
This recipe should make about 18 macaroons, and Beahm says that these actually don't need to be refrigerated unless your kitchen is warm enough to cause the chocolate to melt. Under normal conditions, though, he says "they should be fine just in an airtight container on the counter," and advises they will keep for a few days (if you can manage to make them last that long).
Chocolate-Dipped Coconut Macaroons Recipe
Our version of macaroons is crisp on the outside, fluffy on the inside, and dipped in chocolate for a special touch. Give them a try.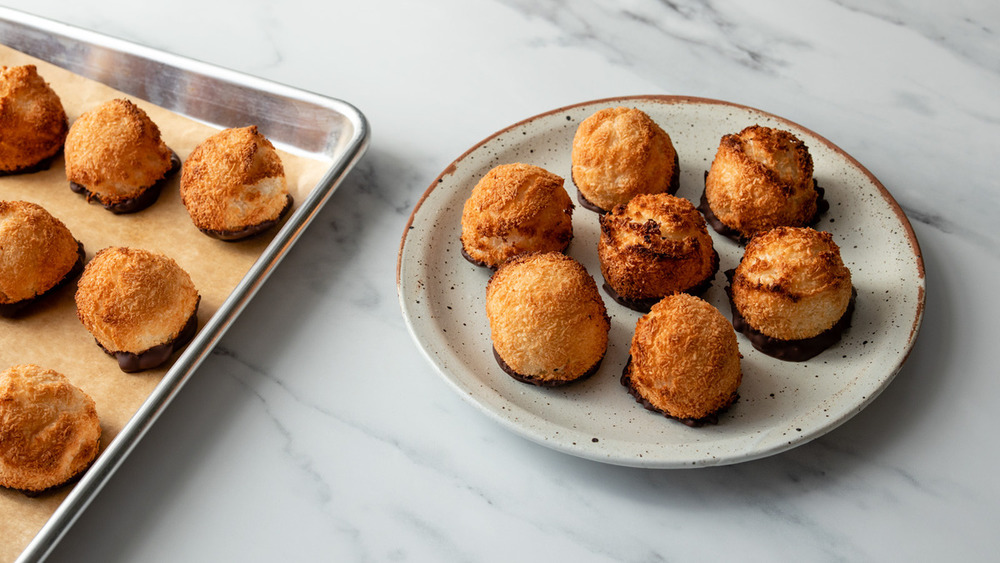 Ingredients
4 egg whites
1 cup sugar
2 ⅔ cup unsweetened shredded coconut
1 teaspoon vanilla extract
¼ teaspoon salt
4 ounces bittersweet chocolate
Directions
Set up a double boiler by filling a medium saucepan with an inch of water and placing it on the stove over medium heat.
Combine all of the ingredients except for the chocolate in a metal or glass mixing bowl. Place the bowl on top of the saucepan, making sure the bottom of the bowl doesn't touch the water. Cook on low heat, stirring continuously, until a temperature of 130 degrees Fahrenheit is reached on a candy thermometer. The mixture will seem dry at first, but as it cooks it will moisten.
Remove from the heat, take the bowl off of the saucepan, and dry the bottom of the bowl. Place a piece of plastic wrap directly on the macaroon batter in the bowl so that it is not exposed to air. Refrigerate the batter for at least 2 hours, or overnight.
Preheat the oven to 375 degrees Fahrenheit and arrange a rack in the middle of the oven.
Line a baking sheet with parchment paper and scoop the batter into rounded tablespoons onto the lined baking sheet, evenly spaced.
Bake the macaroons for 15 minutes, until golden brown, rotating the pan halfway through baking.
Remove from the oven and cool completely on a wire rack.
Meanwhile, melt the chocolate in top of a double boiler or in the microwave. If using a microwave, microwave the chocolate 30 seconds at a time, stirring each time, even if the chocolate doesn't look melted. This prevents the chocolate from burning.
Dip the base of each cooled macaroon into the chocolate and set them chocolate-side down on parchment paper. Let the chocolate cool and harden completely.
Nutrition
| | |
| --- | --- |
| Calories per Serving | 160 |
| Total Fat | 10.0 g |
| Saturated Fat | 8.3 g |
| Trans Fat | 0.0 |
| Cholesterol | 0.0 mg |
| | |
| --- | --- |
| Total Carbohydrates | 18.2 g |
| Dietary Fiber | 2.4 g |
| Total Sugars | 15.5 g |
| Sodium | 47.5 mg |
| Protein | 1.8 g |