People Can't Wait For Gordon Ramsay's Facebook Cookalong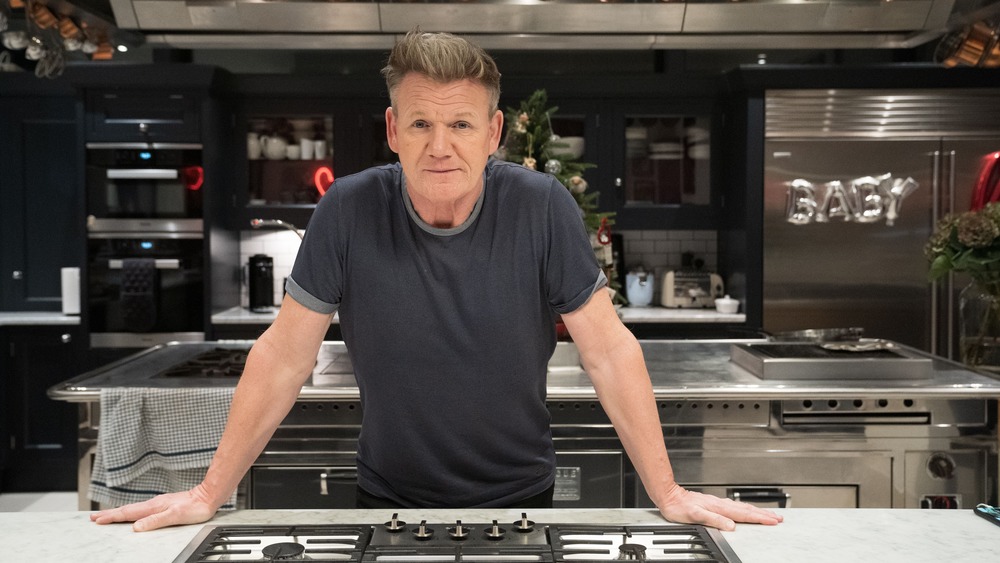 Gordon Ramsay
People really can't wait for 2020 to be over already. But Gordon Ramsay wants to give his fans one more fun thing (or maybe just one fun thing period) to do this year before it ends. And while it is fun, it happens to be supporting a good cause, too.
Ramsay is going live on Facebook, noon EST/9 a.m. PST, on Saturday, Dec. 12, to demonstrate some of the biggest food trends of 2020, according to a statement sent to Mashed. One of his demonstrations actually combines two viral trends that made TikTok's top-10 food list: banana bread and pancake cereal. Ramsay will show how he makes banana bread pancake cereal with winter-spiced milk, which could be fun but will probably be tedious. (If you've watched a TikTok showing how pancake cereal is made, you get what we mean.)
While it might not appear on TikTok's top-10 lists for 2020, Ramsay will also show his Facebook audience on Saturday how to make a Bloody Mary tagliatelle with chili shrimp. This isn't a drink, mind you. But if it's anything like his beautifully prepared Bloody Mary linguine with grilled lobster, which has been available online for a few years now (via Dailymotion), then it should be a crowd-pleaser.
Finally, the press release sent to Mashed promises a surprise finale: a "dish to set fire to the year that was 2020." The year 2020 burning evokes the image of a trash fire, but Ramsay promises "elevated" versions of viral dishes, so we're sure he'll do better than that.
Fans can ask Gordon Ramsay questions during the live cooking class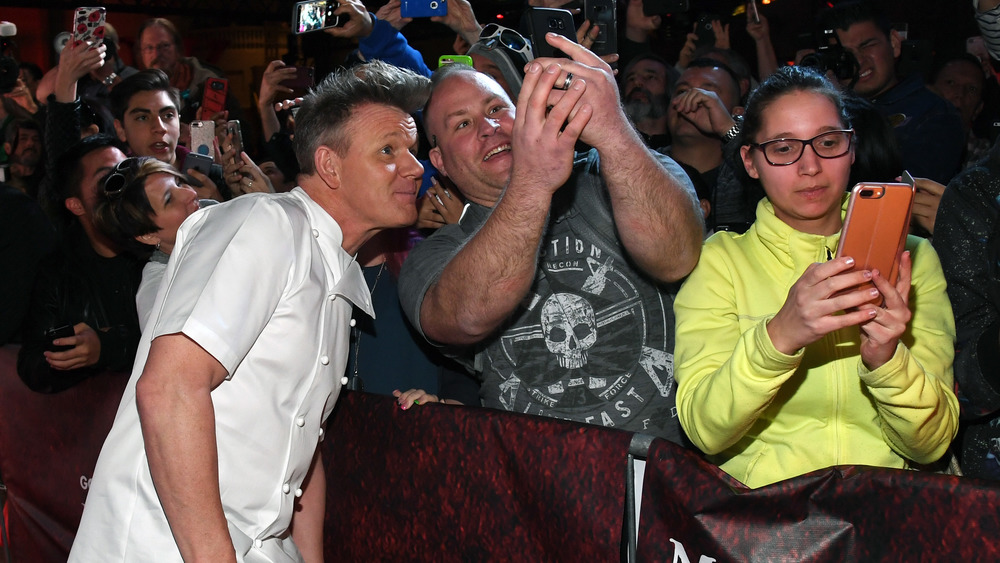 Ethan Miller/Getty Images
To join Gordon Ramsay's Facebook cookalong, go to the event page and click "Purchase." The cooking class will cost you $6.99, with Ramsay directing the proceeds to the Great Ormond Street children's hospital in London. Once you sign up and pay, you'll get the full menu and the ingredient list you need to cook alongside Gordon Ramsay — virtually, of course. After all, it is still 2020.
Ramsay says he'll answer questions posted in the comments during the class, so this is a great opportunity to get advice on your upcoming holiday meal from a top celebrity chef. If you can't make the designated time, you can still pay in advance, or even afterward, and watch the video stream after it airs. However and whenever you end up watching Ramsay's cookalong on Facebook, you never know — it might inspire you to create the viral food trend of 2021. And hopefully, it's something you'll be able to share up close and personal with many, many friends and family.