The Truth About Gordon Ramsay's Hilarious New Hard Seltzers
Gordon Ramsay is one hell of a cook, to be sure, but he's even better as an all-around entertainer. His personality may be a tad abrasive, but there's no denying that he was made for media stardom. We can't get enough of him in Hell's Kitchen and Kitchen Nightmares, we'd love to see him return as a guest judge on Masked Singer, and we'd even be thrilled to see him join the legions of other celebs who've played the late, great Colonel Sanders. Of course we're all eagerly awaiting the next gen of Ramsays to join dad onscreen, too.
To date Gordo's brand has extended beyond TV shows to a number of restaurants and several lines of kitchenware (via Gordon Ramsay), but come next year, everyone's favorite angry chef is branching out in a whole new direction by offering his very first Gordon Ramsay-branded drink. Yes, it's an adult beverage, but he didn't go the Snoop Dogg/Post Malone route by releasing his own wine, nor did he emulate Bruno Mars or any of the other zillion or so celebs with their own brands of booze. And while he has endorsed a beer brand in the past (via The Korea Herald), it's not that, either. Instead, it's time for White Claw to be very afraid: According to Insider, Hell's Seltzer will be hitting the shelves early in 2021.
Hell's Seltzer might be pretty damn good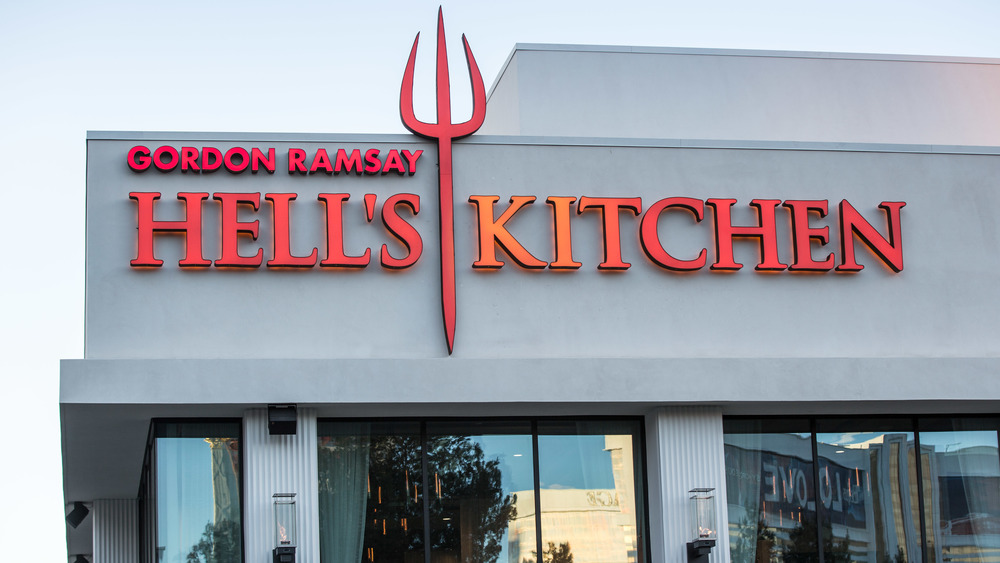 George Rose/Getty Images
As Gordon Ramsay explained in a press release (via Insider), "Even I enjoy a hard seltzer after a long day, so I decided to toss the devil horns into the ring and heat things up!" This "f***ing sinsational" seltzer, according to the product's website, will come in four different, and, of course, "unapologetically bold" flavors said to be inspired by the menus of Hell's Kitchen: Berry Inferno, which is a peach/blueberry/raspberry blend; Knicker Twist, which mixes pineapple, passionfruit, and orange; Mean Green, with kiwi, lime, pineapple, and mint; and That's Forked, with key lime, vanilla, and graham flavors. Well, those all sound less than hellish. More like a little taste of the Other Place, in fact.
This seltzer, which was developed by Brew Pipeline and Global Brews of London, has an ABV of 5.5 percent. It will be sold in 12-packs consisting of three cans of each flavor and should be priced about $16 per pack, which is actually not that bad, considering that a dining experience in one of Ramsay's restaurants could cost you quite a bit more. Plus, should worst come to worst (heaven forbid!) and we have another summer from hell, at least we'll have an appropriate beverage with which to endure it.