The 5-Ingredient Chicken Tikka Masala You Can Make With Aldi's Simmer Sauce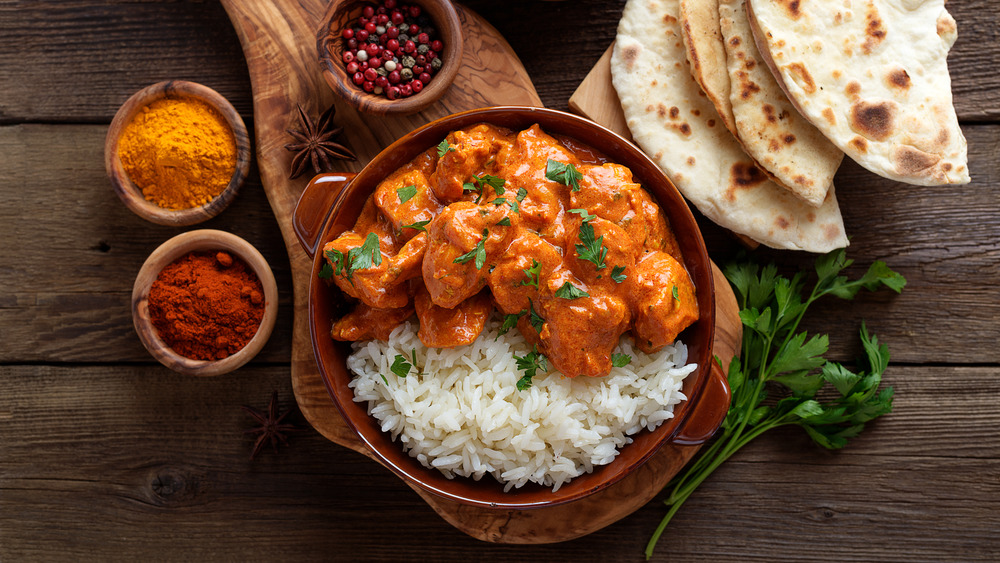 Shutterstock
Have you been following along with Aldi's tikka masala simmer sauce saga? It seems to have started about a year ago when Aldi began tinkering with the ingredients and sending the fan-favorite sauce through more than a few revamps. Aldi Reviewer reported on a delicious 70-calorie version with coconut creme and garam masala, a less flavorful 45-calorie version, and a mediocre 60-calorie version, all under Aldi's Journey to India label, plus the latest iteration – Aldi's Cook House brand simmer sauce. A Reddit thread entitled "The Deterioration of the Tikka Masala Sauce" seemed to pick apart the tweaks to no end, although other tasters seem quite pleased with the latest formula, like Facebook user Bill Cesavice who commented, "This stuff is pretty damn fire."
Perhaps it's what you do with the simmer sauce that matters most, though, right? A kitchen-savvy Redditor recently raved about a simple five-ingredient chicken tikka masala they whipped up using Aldi's simmer sauce and it has definitely stirred up the appetites of several followers. Here's how they did it.
Add chicken and veggies to Aldi's simmer sauce for a simple supper
Chicken tikka masala is an Indian dish with British roots consisting of marinated boneless chicken cooked in a tandoor oven, served in a lightly-spiced tomato-cream sauce (per Britannica). With the help of Aldi's simmer sauce, a few simple ingredients, and a slow cooker, Reddit user kindahealthy simplified this dish and posted a photo of it online. The caption announced, "Love the tikka masala simmer sauce! I actually put it in the crock pot with cubed chicken breast, bell pepper, yellow onion, and chickpeas! Served over [Aldi's] basmati rice and a side of naan!"
The process couldn't be easier. The home cook behind this recipe said they simply mixed raw chicken, peppers, onions, chickpeas, and Aldi's simmer sauce together in the crockpot and let it cook on high for approximately four hours. Fellow Reddit users seem fully on board and shared comments like, "We love it too!" and "Why have I never thought to do this in the crockpot?! Genius." Others offered suggestions for adding additional flavor, like user Fun_Project who said, "I make something similar. I put the sauce, cubed chicken, and a can of coconut milk in my instant pot. Then I serve over rice or veggies. Lime juice, peanuts, and green onions are great toppings too." If you're in a dinnertime rut or are simply after something tasty and convenient, grab a jar of Aldi's tikka masala simmer sauce and give this recipe a try for yourself.