Pasta E Fagioli Recipe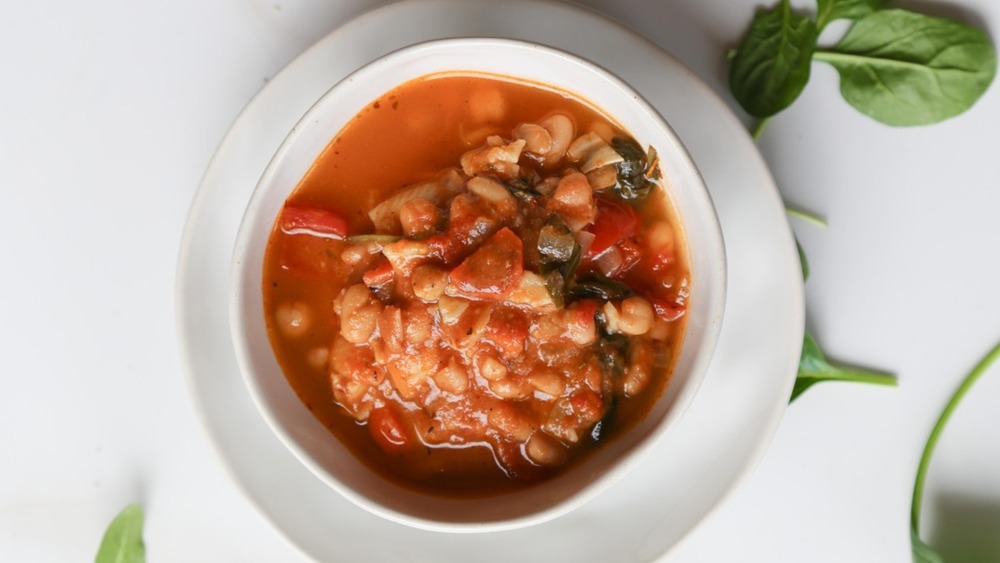 Maren Epstein/Mashed
Pasta e fagioli soup may sound fancy, but don't be intimidated. This flavorful and filling soup is easy to make and will definitely become a favorite once you master the recipe. Healthy eating advocate and professional chef Maren Epstein, who blogs at Eating Works, created this recipe in partnership with Mashed, and says, "I love making this soup over the weekends. It's hearty and so satisfying, making it a great staple to have for cold days at home." She adds, "My daughter loves this soup which makes me happy because it's filled with tons of veggies disguised by flavor." 
We love some of the unique ingredients in Epstein's version of this classic Italian soup — cumin, and three different types of beans, as well as fire roasted tomatoes — and you will too. Don't worry, though — the traditional flavors are here too. "Since pasta e fagioli is a classic Italian staple, I decided not to reinvent the wheel. Oregano, basil, thyme, and rosemary are the building blocks of good Italian flavor and go nicely with tomatoes and beans," Epstein said. 
Meanwhile, as she told Mashed, "Leftovers are the best part of this recipe. Pasta e fagioli always tastes better the next day. I like storing it in single serving containers and leaving them in the fridge. Whenever you're hungry just grab a portion." She notes you can keep the soup in the fridge for up to a week, or freeze it for up to three months. 
Shop for your pasta e fagioli ingredients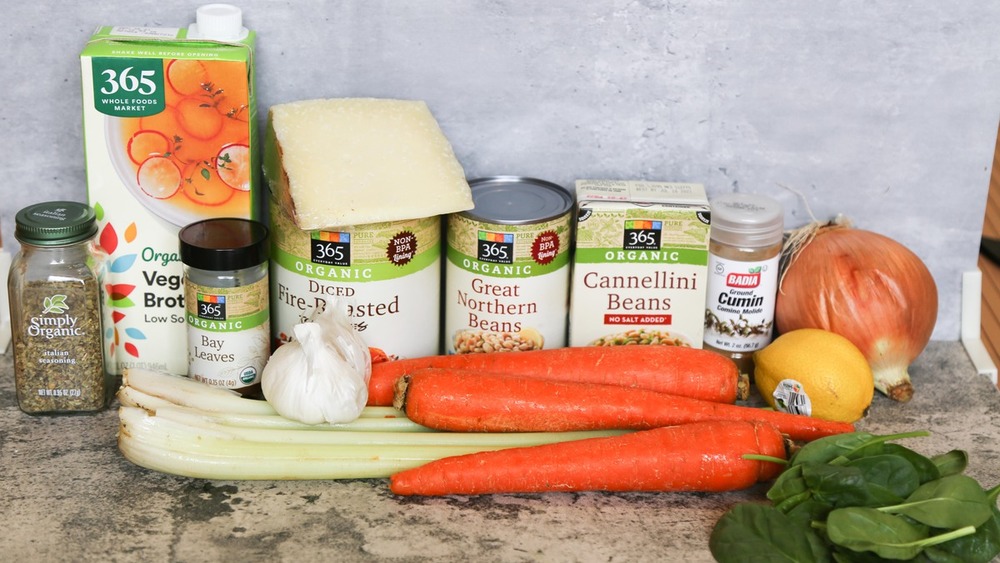 Maren Epstein/Mashed
You're sure to have plenty of the ingredients for pasta e fagioli on hand, like butter, white onions, sea salt, garlic, celery, carrots, oregano, Italian seasoning, pasta, and bay leaves. You'll also shop for a can of fire roasted tomatoes, cumin, veggie stock, as well as cannellini beans, Northern beans, and garbanzo beans. The recipe further calls for a cheese rind and spinach. 
About the fire roasted tomatoes, Epstein assured Mashed, "They are not spicy at all! Anyone can use them." As for why she picked them for this recipe, Epstein explained, "I always use fire roasted canned tomatoes because the roasting process intensifies the flavor of the tomato. Often canned or out-of-season tomatoes are void of flavor." Of course, if you can't find this variety at the store, she advised, "You can use regular canned tomatoes instead."
Meanwhile, she also explained to Mashed, "Using a pecorino or Parmesan cheese rind to flavor soup liquid is an old trick. As the liquid cooks, the heat will soften the rind and infuse the broth with cheesy flavor. This technique is not so different from the way herbs infuse hot water to make tea." And regarding cumin, well, Epstein just loves this spice, noting, "I think I put it in everything! I just added the cumin on instinct." She added, "I love a good tomato-based soup but if the base is not super flavorful, everything will just taste like water. A touch of cumin adds a bit of smokey flavor and complements the beans."
Prep your veggies for the pasta e fagioli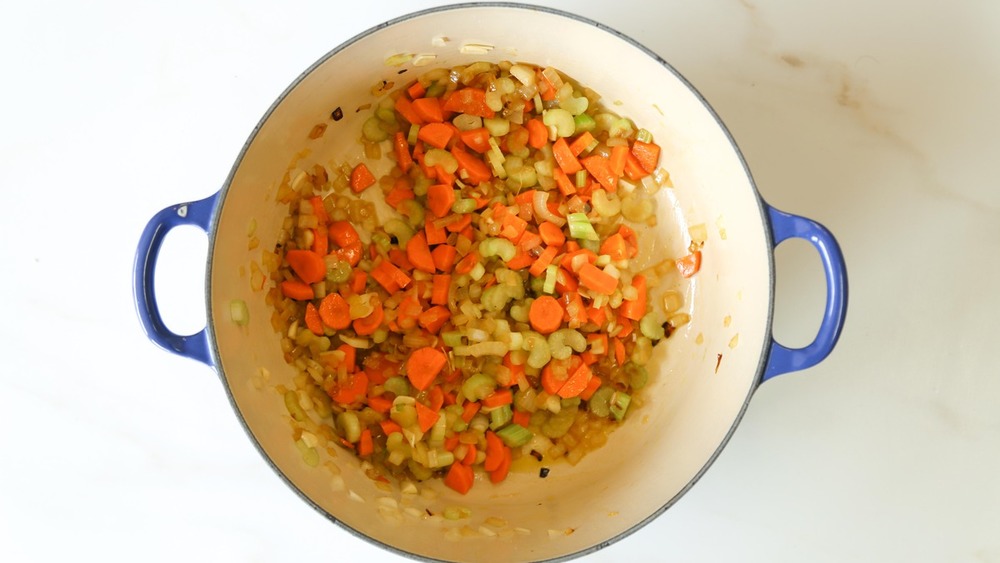 Maren Epstein/Mashed
As you heat butter in your pot, mince your onion. Epstein recommends the white variety for pasta e fagioli, explaining, "I wanted an onion that would add a delicate flavor to the soup without overpowering the tomato base." Add onions and half of the sea salt to the melted butter in the pot. Once the onions are translucent, the garlic goes in next. Then add your chopped carrots and celery. Advises Epstein on this step, "Since we don't blend this entire soup, you want to cut your carrots and celery into bite-sized pieces. I like chopping the pieces into small bites — like a quarter of an inch." She adds, "If your knife skills aren't the best and this will take too long, you can use a food processor."
Next, in goes the oregano, Italian seasoning, and bay leaves. About 10 minutes of sautéing later, and you're ready to add your broth ingredients.
Create your broth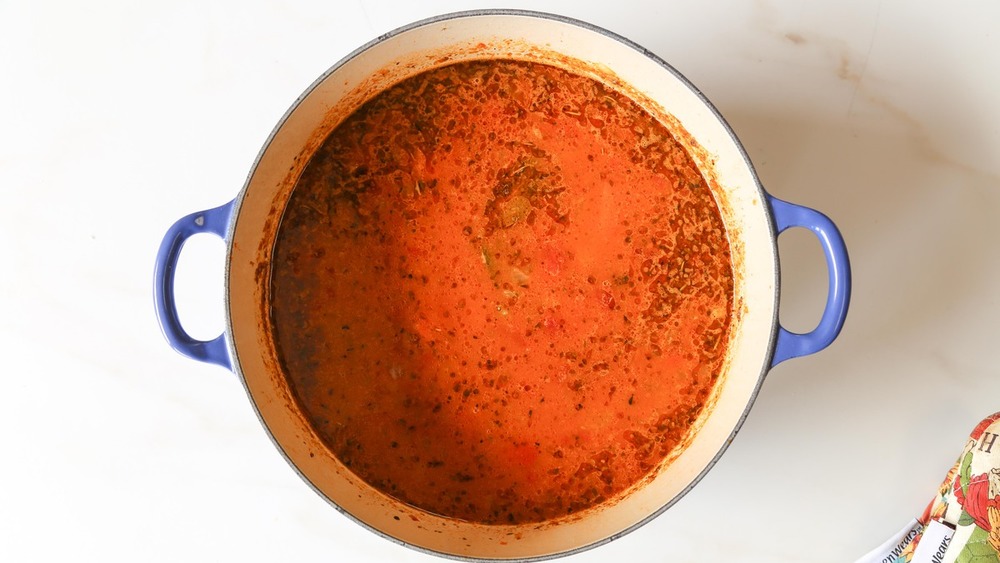 Maren Epstein/Mashed
To your veggies, you'll add your roasted tomatoes, the cheese rind, and the cumin, and bring the mixture to a boil. Now, sprinkle in the remaining salt, vegetable stock, and beans. "I was just having fun," Epstein told Mashed about deciding to use three different types of beans in this pasta e fagioli recipe. She advises home cooks, "You can use any kind of beans you have on hand. I'll use navy beans, cantinelle, chickpeas, or kidney beans. It depends on what I have."
Meanwhile, she noted, "Drain the beans but you don't have to rinse them." Easy! Bring the soup to a boil again, and then simmer the delicious and fragrant mixture for about 15 minutes.
Perfect your soup's consistency for perfect Pasta E Fagioli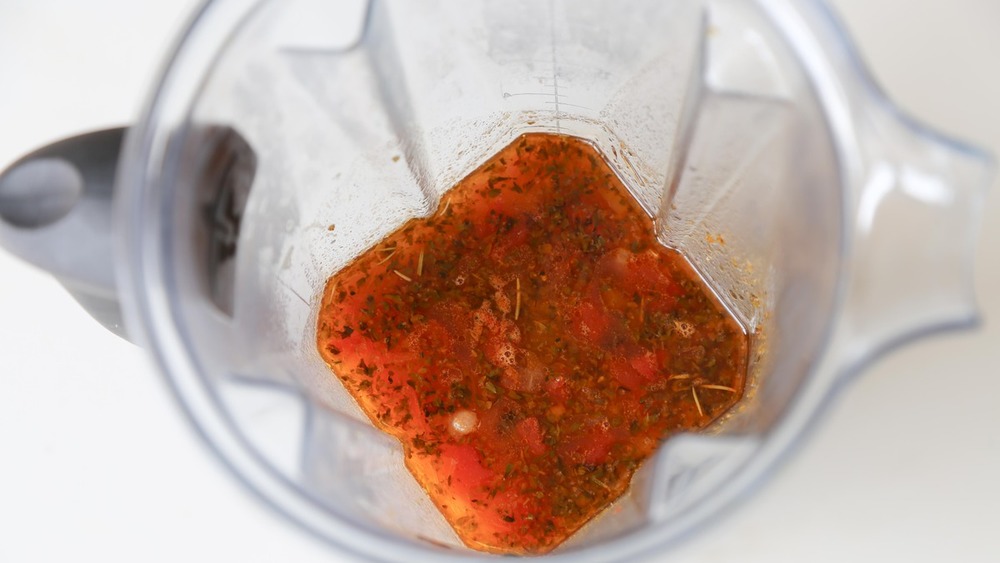 Maren Epstein/Mashed
Now, remove the cheese rind and the bay leaves. "Make sure not to blend the bay leaves in the blender!" Epstein cautions home cooks. Next, remove 2 cups of the solid part of the soup, and blend it to perfect the texture of your pasta e fagioli. As she previously explained about her vegetable soup recipe, "Blending part of the soup makes it thicker. It's a great way to thicken the soup without using any kind of dairy." Meanwhile, an immersion blender works here too. If a blender or immersion blender aren't in your kitchen arsenal, you can skip this step, just know your soup might end up thinner in the end.
Add your pasta to the soup to create pasta e fagioli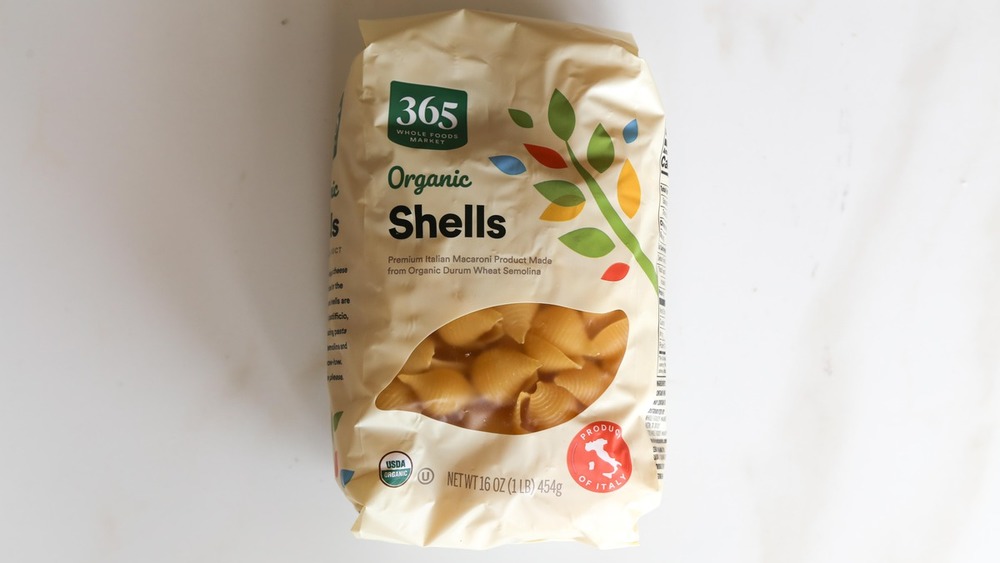 Maren Epstein/Mashed
Finally, add your pasta. If you want this pasta e fagioli to be low-carb, you can omit the noodles, as Epstein told Mashed, "This is a very hearty soup." She added, "I personally don't eat pasta or many beans myself. So if you want to make this soup a bit lower in carbs, use less beans, skip the pasta, and add more vegetables. You can also fish around for the ingredients you like and avoid the pasta if you're making this dish for others."
Go ahead and cook the pasta for 8-10 minutes and then, yes, you are almost ready to enjoy this delicious dish. 
Add in the spinach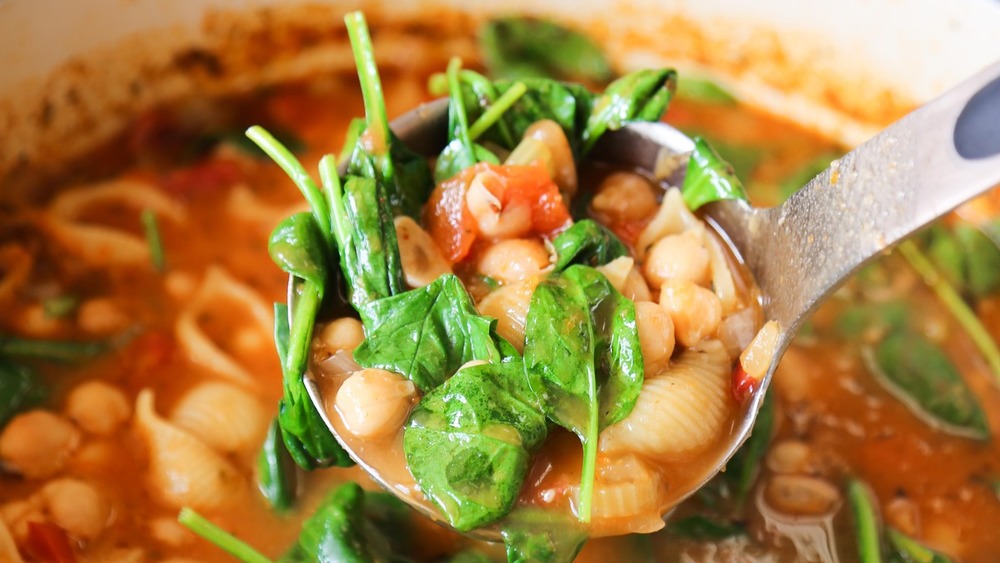 Maren Epstein/Mashed
Okay, your last step before tasting is to add in your spinach, which as Epstein noted, can be frozen or fresh. She simply cautions, "Keep in mind that using frozen spinach will dilute the broth since it containers a lot of water." If you do decide to use frozen spinach, make sure it's thawed and well-drained before adding it to the soup.
You can add a bit of lemon juice to help ease the bitterness of greens. Then, continue to cook your soup until the spinach is wilted, and then, oh yes, it is time to sample your creation. You'll add seasonings to your taste, and then dole out servings for whoever you are kind enough to share this amazing soup with. They will thank you. And we thank you, Maren Epstein!
Pasta E Fagioli Recipe
Pasta e fagioli may sound fancy, but don't be intimidated. This flavorful soup is easy to make and will become a favorite once you master the recipe.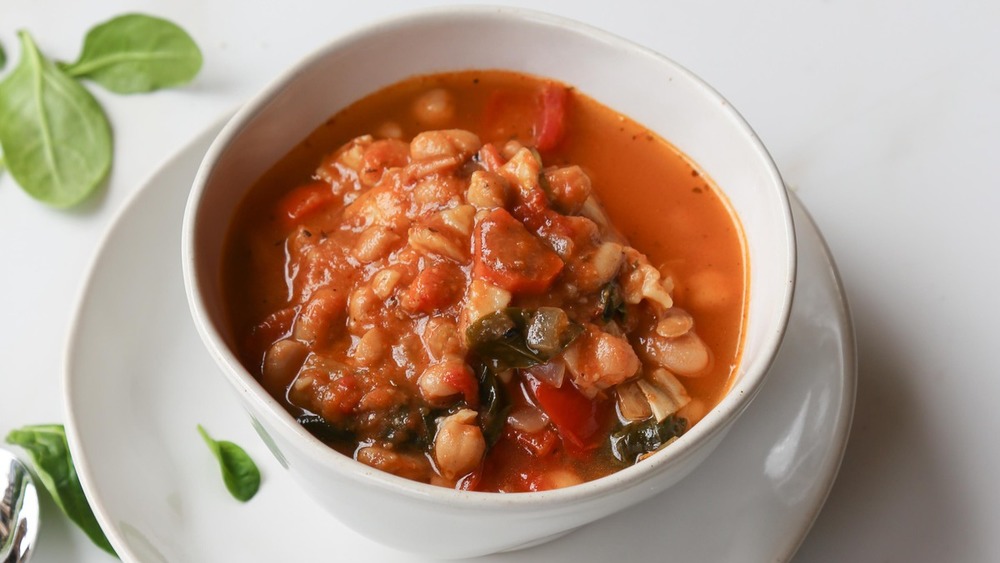 Ingredients
4 tablespoons butter
2 white onions, small dice
½ teaspoon sea salt, divided
3 cloves garlic, minced
3 carrots
2 celery
1 tablespoon oregano
2 tablespoon Italian seasoning
3 bay leaves
1 32-ounce can fire roasted tomatoes
Cheese rind
½ teaspoon cumin
8 cups veggie stock
2 15-ounce can cannellini beans
1 5-ounce can Northern beans
1 5-ounce can garbanzo beans
1 cup pasta
4 cups spinach
Directions
Heat butter in a 4-quart soup pot. Add onions and half of the sea salt. Sauté until translucent.
garlic and sauté for another minute.
Add carrots, celery, oregano, Italian seasoning and bay leaves. Sauté for another 10 minutes.
Add the fire roasted tomatoes, cheese rind, and cumin. Cook until boiling.
Once boiling, add remaining salt, vegetable stock, and beans. Bring back to a boil.
Once boiling again, reduce to a simmer and leave partially covered for 15 minutes.
Remove 2 cups of the soup's solid contents and blend them until smooth. Pour back into the pot.
Add the pasta and allow to cook for another 8-10 minutes, until pasta reaches desired consistency. Turn off the heat and add the spinach and lemon juice, and stir until the spinach is wilted. Adjust seasonings and enjoy!
Nutrition
| | |
| --- | --- |
| Calories per Serving | 397 |
| Total Fat | 10.2 g |
| Saturated Fat | 4.7 g |
| Trans Fat | 0.2 g |
| Cholesterol | 22.5 mg |
| | |
| --- | --- |
| Total Carbohydrates | 58.5 g |
| Dietary Fiber | 11.6 g |
| Total Sugars | 10.2 g |
| Sodium | 673.8 mg |
| Protein | 20.1 g |