These Festive Cookie Trays From Costco Are A Total Steal
Now that the holidays have arrived, it's time to break out the seasonal recipes, hot chocolate, and prepare to eat all the cookies we can handle! Even if you might not do a cookie swap with friends and family this year, don't think for a second you shouldn't celebrate the season without a tray of these festive favorites! If you just feel too tired to bake like you used to or want to sample a selection of something new, Costco has given us the answer in one of their hot, new — dare we say sweet? — products.
According to Instagrammer @costcobuys' latest post, Costco has a brand new seasonal cookie assortment that's guaranteed to put us in the mood to celebrate. The post comes with the caption "Costco's holiday cookies are $3 off through 12/25! They actually taste really good too! ($5.99 after $3 off)," and has so far accrued over 2,000 likes. Commenters can't get enough of these treats, with responses coming in that range from "They are soooo good. I definitely have to go to Costco after work!!!" to "I bought some today and they are simply delicious!!" (via @costcobuys). If you love the taste of these seasonal cookies, it's clear that the only thing better than the flavor is the value.
How much value is in the holiday cookie tray?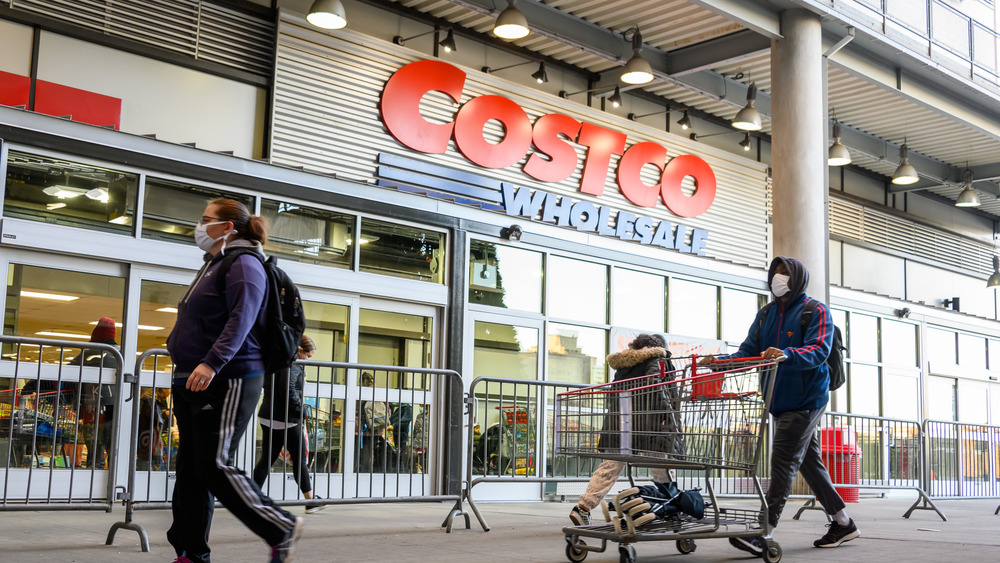 Noam Galai/Getty Images
If you want to pick up a holiday cookie tray, get ready to enjoy saving a few bucks, too. According to Instacart, the tray comes with five different types of cookies, totaling 42 treats. This tray normally comes priced at $8.99, but if you pick up the cookies before Christmas, you can get a $3 rebate and grab the cookies for $5.99, making them a true steal (via @costcobuys). This smaller tray comes on the heels of a massive Costco cookie tray that could feed an army, with 84 of the same types of cookies (via Delish). If you want to have a socially-distanced holiday and don't think you can make it through a whopping 84 cookies on your own, this new tray makes perfect sense for anyone looking to indulge in the holiday spirit without gaining all the holiday weight.
This new cookie tray presents the perfect opportunity to celebrate the season. For those of us wanting to keep spirits high, make sure to grab a tray before the 25th to rake in the $3 savings, and make sure to stock up if you love the flavors found in this tray. Once the holidays end, who knows how long Costco plans to keep this great deal alive, and you don't want to miss out on the savings and a tasty baked glimmer of festive cheer found in each bite of these cookies.