How Bobby Flay Thinks You Should Cook Christmas Dinner For 2020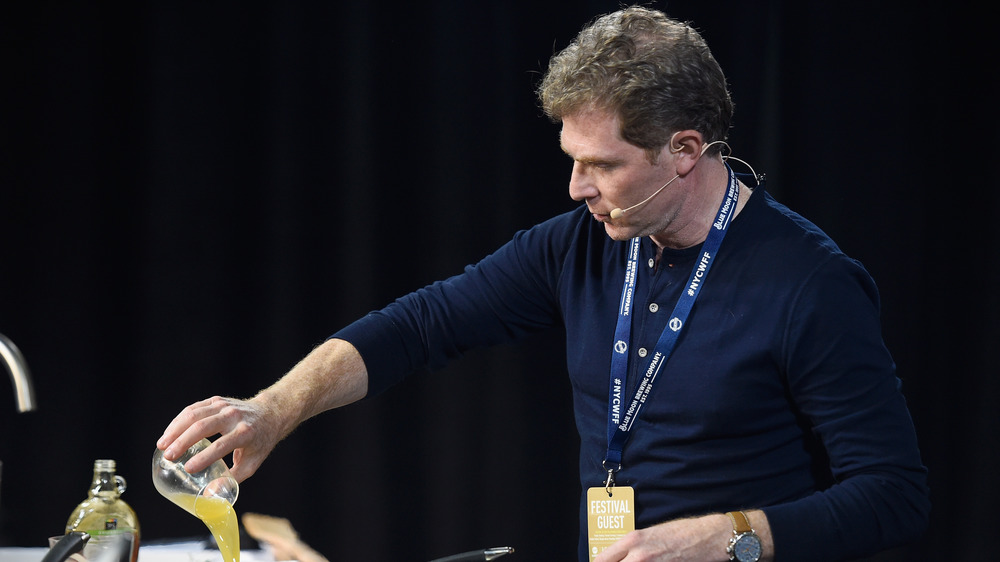 Gustavo Caballero/Getty Images
Maybe you went small for Thanksgiving 2020, but Bobby Flay doesn't think you should for Christmas. We've had, as Flay points out in a CBS News piece, "a year of scary moments." And 2020's holiday dinner deserves something special in recognition of it.
Because, as presidential historian Michael Beschloss will tell you, even in Alcatraz they used to serve up roast turkeys with giblet gravy and cranberry sauce, candied sweet potatoes with raisin nut dressings, french peas, whipped potatoes, and hot apple pie with ice creams. And if a high-security federal penitentiary on a fortified island can serve a feast like that up for the United States' most-dangerous criminals, we can do it for ourselves this holiday season. Or, as Flay puts it, "let's will our way back to the road of normalcy by way of our stoves."
Here are Flay's key 2020 Christmas dinner suggestions. On the 24th, the chef suggests Italian: the Feast of Seven Fishes, with a "roast a tuna steak or a swordfish steak with lemon and capers," as a centerpiece. For the 25th, on the other hand, go traditional: a baked ham (with a "creative glaze," and in Flay's case apricot jam, brown sugar, and mustard), a roast turkey (roasted, of course, on low), or a prime rib beef ("I roast it in a crust of kosher salt and stud it with fresh garlic cloves," says Flay).
What else is on Flay's holiday dinner must-list?
The key to 2020 Christmas side dishes, according to Bobby Flay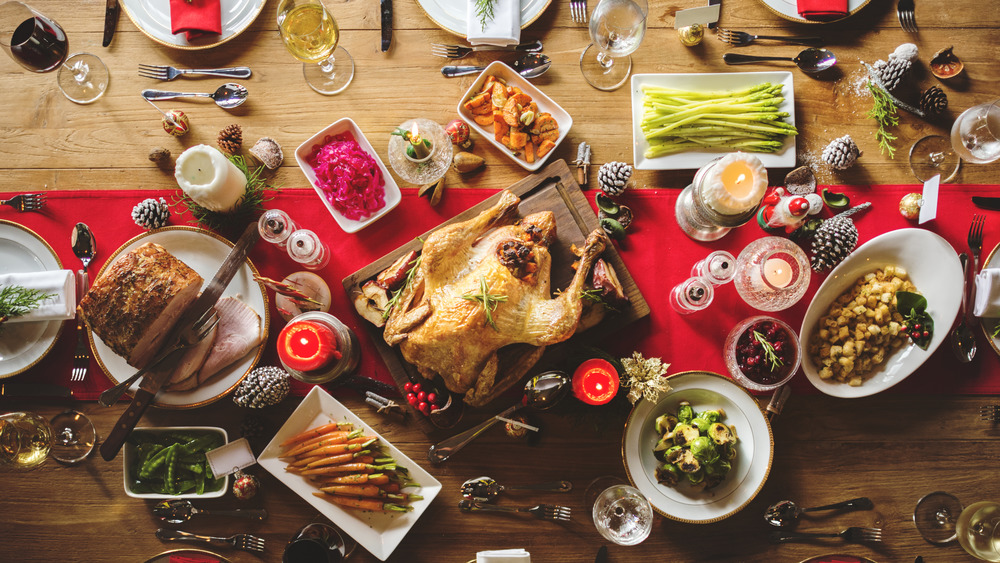 Shutterstock
Ready to plan (or not to have to plan) your side dishes? These, Bobby Flay suggests, are the perfect opportunity to recognize the trying times we are living in. "It's very well documented that my brothers and sisters in the restaurant business are struggling without exception from coast to coast," Flay writes for CBS News, "to help them out, order your side dishes and desserts from your local places."
Not that we don't enjoy baking pumpkin pies, gingerbread cheesecakes, mashed and roasted potatoes, creamed Brussels sprouts, and all that jazz, but we'd be lying if we didn't admit to being thankful for the suggestion. Finishing 2020 off with a little R&R sounds not only fair, but also exceedingly necessary.
Finally, if you find yourself a need of a quick fix, select supermarkets and fast-food chains are open on Christmas Day 2020, although we strongly suggest researching where will be open when beforehand.