Instagram Is Furious With This Top Chef Champion. Here's Why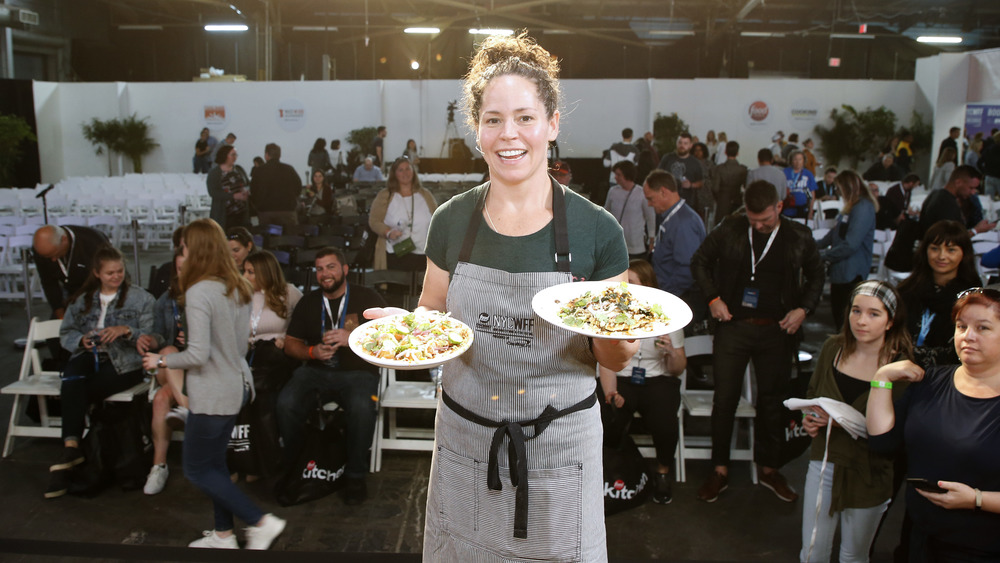 John Lamparski/Getty Images
Stephanie Izard, who won season 4 of Top Chef in 2008 (via Boka Restaurant Group) admits she made a mistake when she promoted her recipe for a Japanese and Korean-inspired dish on social media. Izard's Instagram post from December 16 links to an eight-minute video on the New Zealand Beef and Lamb website that shows Izard demonstrating her recipe for a "strip steak rice bowl." The post was an advertisement for New Zealand beef.
"I'm so excited to be making you one of my favorite recipes today," Izard says in the video, "taking the idea of a Japanese beef rice bowl and a Korean bibimbap which has a little bit of pickled veggies and such, putting those together, taking some beautiful New Zealand New York strip steak," and adding a marinade, pickled Fresno chiles and red onions, bok choy, and mushrooms. All of this is topped off with fresh mint and cilantro.
Wait, Izard's bibimbap has cilantro and mint?
Not only did Stephanie Izard "take the idea" of traditional Japanese and Korean rice dishes, she mangled them, according to some of the commenters on her Instagram post. The post, which remains online, has received more than 900 comments so far, most of them calling Izard out for awkward cultural appropriation.
"When was the last time you've seen mint or cilantro on bibimbap??" @kendycakes12 commented. "I've always been a big fan of yours but I'm very disappointed by this," @whatdoesmichelleeat wrote in the comments. "Bibimbap is a traditional Korean dish and while there is some variation in what goes in it, this is clearly not bibimbap."
This being social media, there was some backlash to the backlash. Many of the people on that side of the debate were less interested in defending Izard than they were in questioning cultural sensitivity. But the offense runs deeper than that. Korean-American chef Won Kim explained how, in a response he posted on Facebook that has since been deleted (via Eater Chicago).
Izard has opened restaurants inspired by other cultures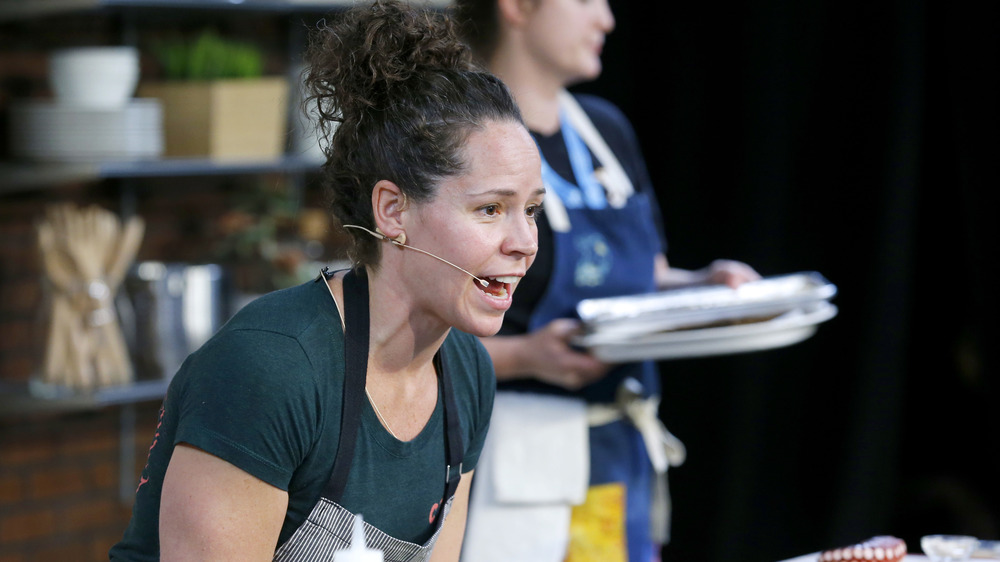 John Lamparski/Getty Images
In responding to Izard's Instagram post, Chef Kim pointed out that white chefs get to play fast and loose with dishes from other cultures and even profit from them, as Izard does with her paid endorsement of New Zealand beef. As Kim and Eater note, nonwhite chefs don't have the same opportunities to open restaurants based on their own culture's food, while white chefs seem to have no problem opening restaurants with a cultural theme — think Gordon Ramsay's Lucky Cat and even some of Izard's Chicago restaurants.
Izard was criticized last year for opening a Peruvian restaurant and for opening a taco stand in the United Center, where Chicago's professional basketball and hockey teams play. She also opened a Chinese restaurant in 2016, one of four restaurants she operates in Chicago. As for Izard's rice bowl, inspired by Korea and Japan, and paid for by New Zealand, the chef confessed to Eater Chicago that she had made a mistake.
"This was a misstep on my part that spun out of control and I am sorry," she said. "When I was originally brainstorming recipe ideas for this project, I thought of bibimbap as an inspiration and jotted the recipe idea down as that. From there the recipe went through many variations and channels, and ended up very far from traditional [bibimbap]. I should have made sure the name was changed before it went out to the public, and I apologize that it wasn't."