This Is Why The Pioneer Woman's Hot Chocolate Board Looks So Festive
Ree Drummond — aka The Pioneer Woman — has been gifting her fans with festive recipes on her website all season long. From the classic Yule Log to her festive Marshmallow Pops, she has posted plenty of treats to put everyone in the Christmas spirit. But her festive hot chocolate board, that she recently shared on her website, might just be the best one yet. After all, who doesn't love a cozy mug of hot chocolate? And Drummond's hot chocolate board not only delivers chocolatey goodness, it's also beautiful enough to serve as a festive holiday centerpiece.
To begin with, Drummond recommends placing an anchor item, such as the hot chocolate mix, inside your favorite mug and centering it in the middle of the board. The anchor item can then be accented with small decorations, like wrapped candies, although at this early stage she advises selecting items that can be easily rearranged if you change your mind later in the process. One the anchor item is set, more well-contained items and bowls of ingredients, like caramels, wafer cookies, or foil-wrapped chocolates, can be distributed around the board.
White foods give the board a snowy appearance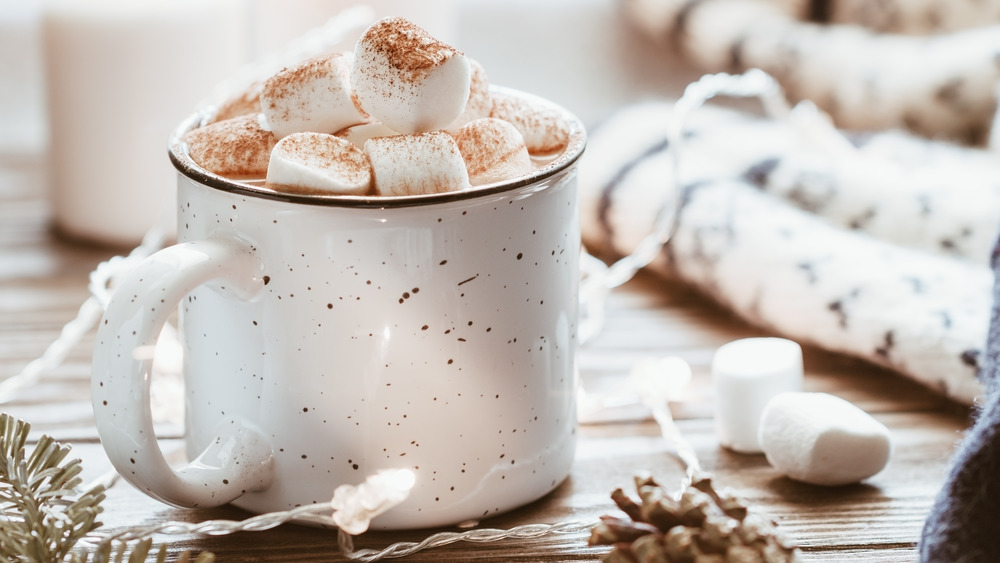 Shutterstock
At this point, the focal pieces, like mugs and bowls, should have found their place on the board. Once you are satisfied with the arrangement of these larger items, it's time to decorate the board with smaller, festive additions, like candy canes and chocolate bars. You can also add the more crumbly, messy items, like cookies and whipped cream, at this time. These finishing touches can be distributed across the board, or even wrapped around the bowls and mugs to create a pleasing pattern.
But that's not all. Drummond's recipe calls for an additional, extra-festive touch. She recommends adding white foods that mimic the look of snow. Sweetened coconut flakes, nonpareil chocolates, and, of course, marshmallows will make the whole board look like a winter wonderland. Fill in any leftover gaps on the board with Christmas cookies and your favorite holiday-themed trinkets, and you've got a sweet, festive board that's sure to delight both the eyes and the taste buds.