The Most Popular Candy Cane Shape On Amazon Is Not What You'd Expect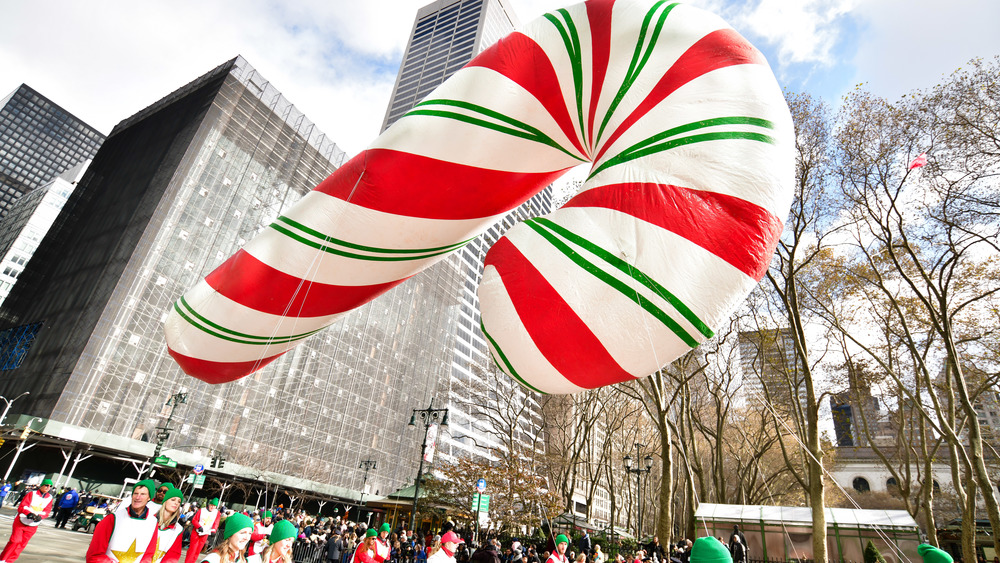 James Devaney/Getty Images
We may receive a commission on purchases made from links.
What's the hottest thing in candy canes this year? According to live sales figures at Amazon, the bestselling candy cane as we write this is not even a cane. The distinctive hook or "J" shape has been an ongoing trend for candy peppermint sticks for almost 400 years now (via Gourmet Gift Baskets), but a new shape might be taking over. The bestselling candy cane on Amazon right now is a red-and-white striped candy spoon.
Now we know what you're thinking. How can I hang a spoon on my Christmas tree? While the candy cane's shape is said to resemble a shepherd's staff – shepherds play a prominent role in the Biblical Christmas story, after all – the Gourmet Gift Baskets blog speculates that the candies were shaped like that for the specific purpose of hanging them on Christmas trees.
Candy cane spoons aren't for trimming your tree. They actually have a practical purpose. Use them to stir your coffee, tea, or hot chocolate, and you're infusing your favorite hot beverage with a little bit of extra holiday spirit.
Some reviews are bad, but most people love their candy cane spoons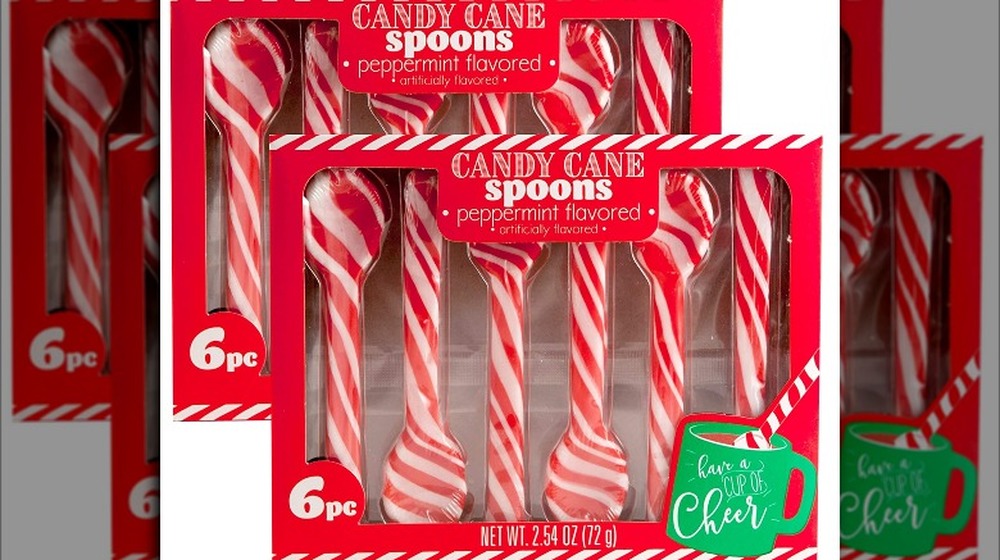 Amazon
The particular brand of candy cane spoons popular on Amazon right now is not even a brand. Amazon labels it as generic, and one reviewer was disappointed to learn the candy cane spoons are made in China. Another reviewer was upset that the spoons tasted like mentholated cough drops, not peppermint. Someone on the product's Q&A page noted that the exact same spoons could be found at Dollar Tree - last year, at least. (If the candy cane spoons are still at dollar stores, they'll be a lot cheaper there.)
Despite some negativity, the candy cane spoons received an overall Amazon rating of 4.2 stars out of 5. Tonja Drecker, who was labeled as a top reviewer on Amazon, gave the spoons five stars. "The taste is as expected, and they do offer a bit of silly fun when drinking hot chocolate. So, thumbs up!" In her review, Deidra Kovach wrote, "Will definitely buy again. Dipped them in chocolate for an extra treat."
Candy cane spoons have been a DIY trend during the holidays for several years now, with recipes available from the Food Network, Princess Pinky Girl, and elsewhere. To make candy cane spoons happen at home, however, you'll need to buy silicone spoon molds or soften candy canes in your oven and press them onto actual spoons to reshape them.
No wonder those generic candy spoons from China are bestsellers.