You Should Think Twice About Ordering Panera's Turkey Sandwich. Here's Why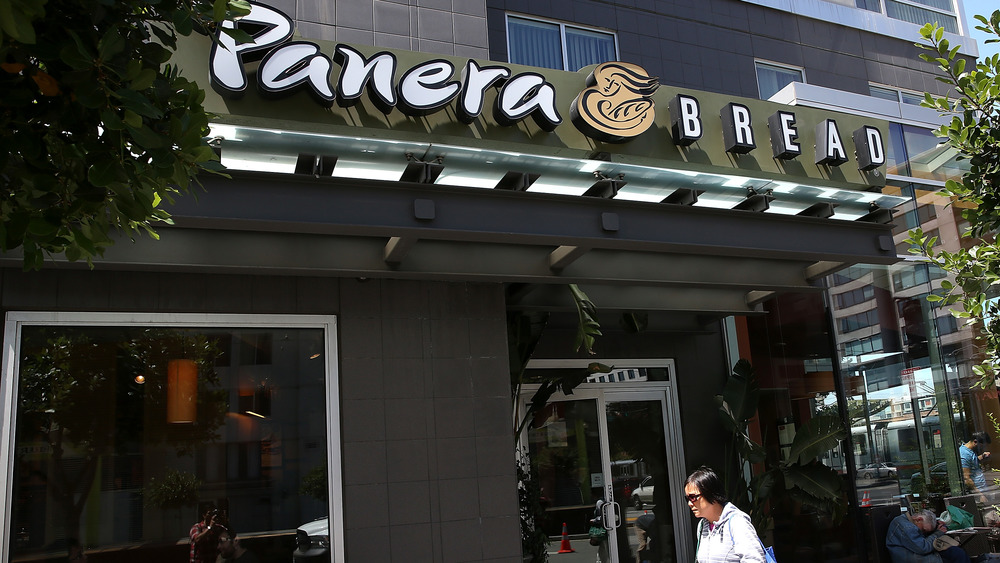 Justin Sullivan/Getty Images
When it comes to dining out (or ordering takeout), choice is a good thing. That's why Chick-fil-A offers a chicken sandwich, a deluxe chicken sandwich, and a spicy chicken sandwich. But if you really want options, you'll want to graduate from fast food to fast casual. Panera Bread occasionally adds and subtracts from its menu, but currently the chain offers 13 sandwiches, including three different types of turkey sandwich.
You might think it's none of our business, but we're making it our business! With all the creative options available at Panera, why would you choose the basic, boring turkey sandwich?
We understand the turkey sandwich is a classic that's probably been around ever since humans learned how to bake bread and figured out that turkeys are easy to catch. But what about expanding your horizons a little bit, if not for your sake, then for humankind's sake? Panera offers a chipotle bacon melt — three words you maybe never, ever used in the same sentence before — and is giving you an opportunity to eat it. Panera also has a toasted frontega chicken sandwich and a modern caprese sandwich. You'd not only be expanding your palate, but you'd also be expanding your vocabulary after looking up "frontega" and "caprese."
Panera's sandwiches have awesome sauces — just not the turkey sandwich
The great thing about many of Panera's sandwiches is the sauces. The chipotle bacon melt and frontega chicken sandwich we championed above both have chipotle sauce. The caprese has a balsamic glaze and a basil-white bean puree. The turkey sandwich comes with mayonnaise and mustard, and we're right back in fast-food territory with those spreads. At the very least, jazz up your turkey a little with Panera's roasted turkey and avocado BLT or the bacon turkey bravo sandwich. The bravo has Panera's signature sauce, with tomato paste, vinegar, green olive puree, and green bell pepper puree, according to its site.
If you need some outside validation for your adventurous decision to go beyond the turkey sandwich, Ranker created a reader-generated list of 48 different Panera menu items. The turkey sandwich lands in 36th place, beating out such mouth-watering delights as oatmeal and the lentil quinoa bowl. The modern caprese sandwich, which really isn't much more than cheese, tomatoes, and basil, is much higher at 18th. The turkey bravo is 10th, the turkey and avocado BLT is sixth, and the frontega chicken is fifth.
You get the idea. You can make yourself a turkey sandwich at home. In fact, you probably had about six of them after Thanksgiving. So next time you're at Panera, go crazy and get something with chipotle sauce. Or at least throw some avocado and bacon in with the turkey.