Everything You Need To Know About Dunkin's New Veggie Breakfast Sandwich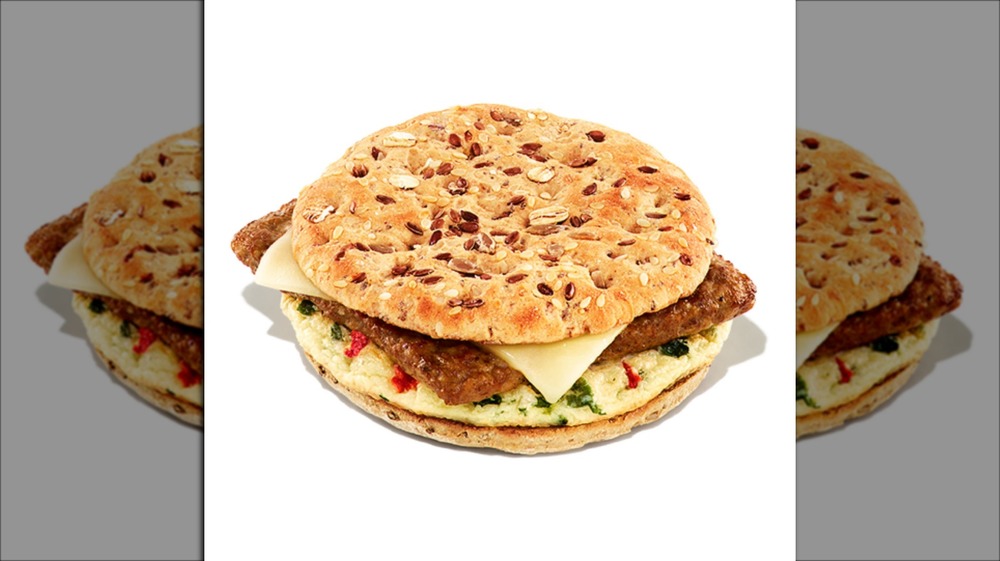 Dunkin'
One of the biggest fast-food trends in recent years has been the addition of meatless menu items. Some of the options come from the labs at Impossible Foods or Beyond Meat. Subway has a Beyond Meatball marinara sub, and Burger King touts the can't-tell-the-difference Impossible Whopper (via UPROXX).
Dunkin' is going with a more old-school veggie patty purveyor. New at the doughnuts-and-coffee chain for 2021 is the Southwest Veggie Power Breakfast Sandwich, with a black bean patty from MorningStar Farms. The company, now owned by Kellogg's, has been providing meat substitutes to vegetarians since 1974. Oh, and "flexitarians" too. More on that later.
Where does the veggie breakfast sandwich fit in Dunkin's lineup? It's the obvious alternative to the chain's Power Breakfast Sandwich: a turkey sausage patty, an egg-white omelet, and white cheddar between two skinny disks of bread called multigrain thins (via Dunkin'). The veggie power sandwich substitutes a MorningStar Farms bean patty for the turkey sausage.
In a press release from Dunkin', a marketing VP said the new sandwich aims to please the "flexitarian and vegetarian" crowd. This sends the message to Dunkin' customers that no one will assume you're anti-meat if you order the veggie breakfast sandwich. (Obviously, the new sandwich is not an option for vegans because of the egg and cheese.) The Southwest Veggie Power Breakfast Sandwich will be available at participating Dunkin' shops for a limited time.
The new veggie sandwich has a black bean patty and a southwest kick
Branded as a southwest-style patty, the veggie power sandwich brings a "kick of heat," according to a MorningStar rep. The patty's "real, recognizable" ingredients include black beans, brown rice, soy protein, onions, green chiles, bell peppers, cilantro, and a little bit of chipotle and jalapeño peppers, according to the Dunkin' ingredient guide. The egg-white omelet, found on certain other Dunkin' sandwiches, includes green and red peppers, and spinach.
Vegetarian options are often considered healthy options, but the nutritional difference between the veggie and the regular Power Breakfast Sandwiches is small (via Dunkin'). The veggie sandwich has 410 calories, 26 grams of protein, 17 grams of fat, and 800 mg of sodium. The version with turkey sausage has 420 calories, 25 grams of protein, 23 grams of fat, and 980 mg of sodium. The veggie sandwich joins the Beyond Sausage breakfast sandwich as a meatless meal option at Dunkin'. The chain also introduced oat milk as a dairy alternative in 2020.
Dunkin' customers who are also DD Perks members will accumulate double points with every order of the new veggie power sandwich, the Beyond Sausage sandwich, or the oat milk latte, through January 26.