The Reason This Football Stadium Has A Chick-Fil-A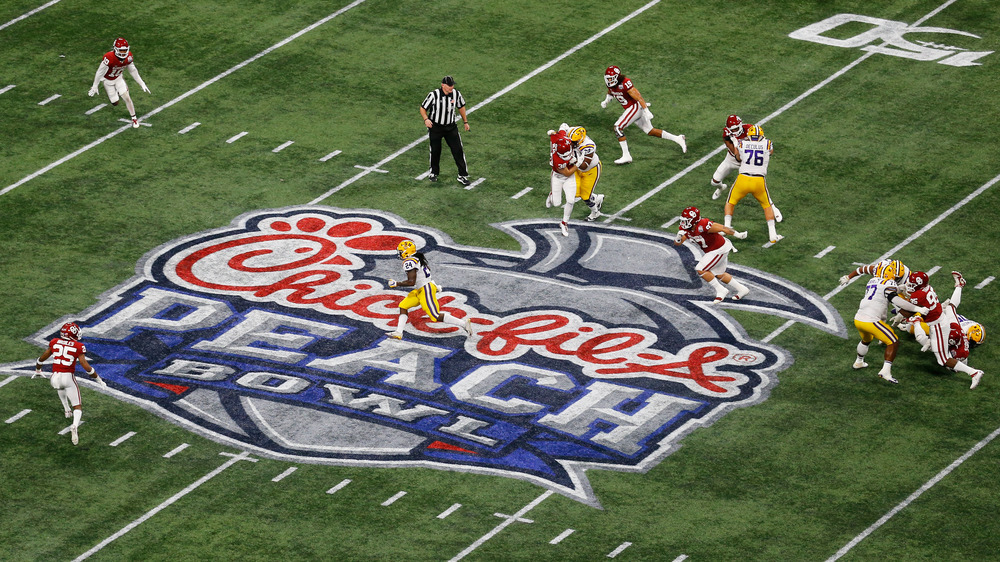 Mike Zarrilli/Getty Images
Chick-fil-A goes with sporting events like peanut butter goes with jelly or carrots with peas or Tostito chips with salsa. Absolutely, perfectly. If you are going to huddle up with friends to watch a football game or join friends to see the game played beautifully, you have got to have some of those iconic waffle fries in one hand, a classic fried chicken sandwich in the other, and a cookies and cream shake at your feet, waiting to slurp it down and obtain the ultimate brain freeze. It just makes sense. Per CBS News, the Atlanta, Georgia-based quick service chicken sandwich chain ranked first among America's favorite fast food restaurants in 2019, receiving a 79 percent loyalty rating. Clearly we love their chicken, so it seems like the right choice to have this eatery housed in the Mercedes-Benz Stadium and home to the likes of the Atlanta Falcons and Atlanta United FC. Or does it? 
Pro football teams play on Sundays and Chick-fil-A has made a name for itself by not opening for business on Sundays. So why does our favorite chicken sandwich shop have a shop in this stadium? To taunt and tease us? To make us long for the "Eat Mor Chikin" food we cannot have? Actually, they have a legit reason that makes perfect sense and has nothing to do with trying to make us feel bad that we cannot order up a Spicy Deluxe Chicken sandwich.
There are other stadium events where you can enjoy Chick-fil-A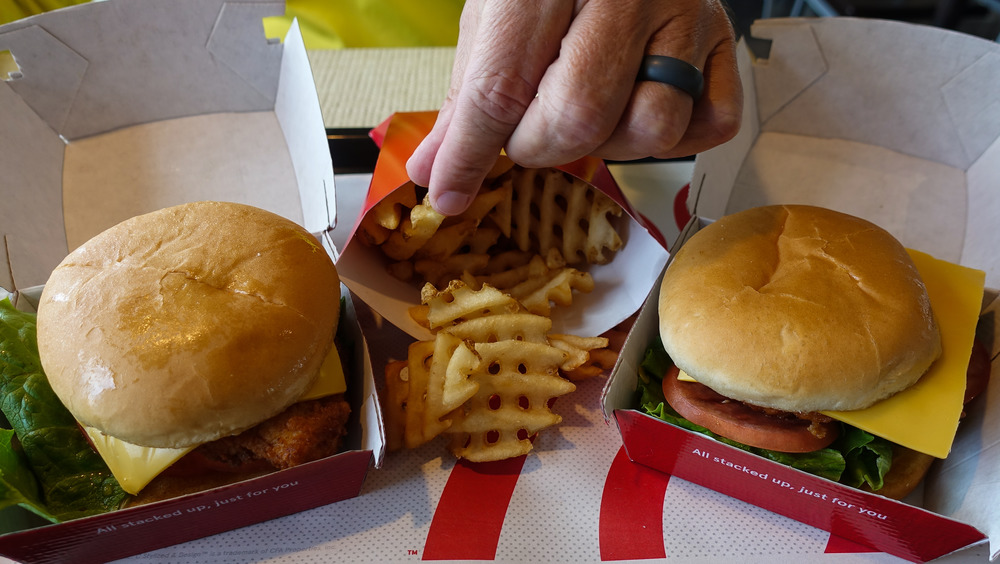 Shutterstock
While there are plenty of people who think of the NFL games as a religion, there are other events that stadiums host, including the Mercedes-Benz Stadium. According to The Chicken Wire, Chick-fil-A's company blog, the franchise operator of the Chick-fil-A at the stadium in question, Jonathan Hollis said, "We're open for about 100 events a year that happen right here at the stadium. We have Atlanta United soccer games, concerts, college football games, high school football games, band competitions and more." And because Chick-fil-A is so beloved, Hollis went on further to share that they have to start preparing the food four hours before the stadium's gates open in order to meet the demand.
However, if you want a Chick-fil-A fix on a Sunday game day, and we certainly understand if you do, you could always order up a reheatable Chick-fil-A chicken nugget tray on Saturday and gobble them up on Sunday at a tailgating party prior to the game. It's not quite the same, but it may be the game day ritual you need to cheer on the Falcons.