Turkey Meatballs You Can Make In Under 30 Minutes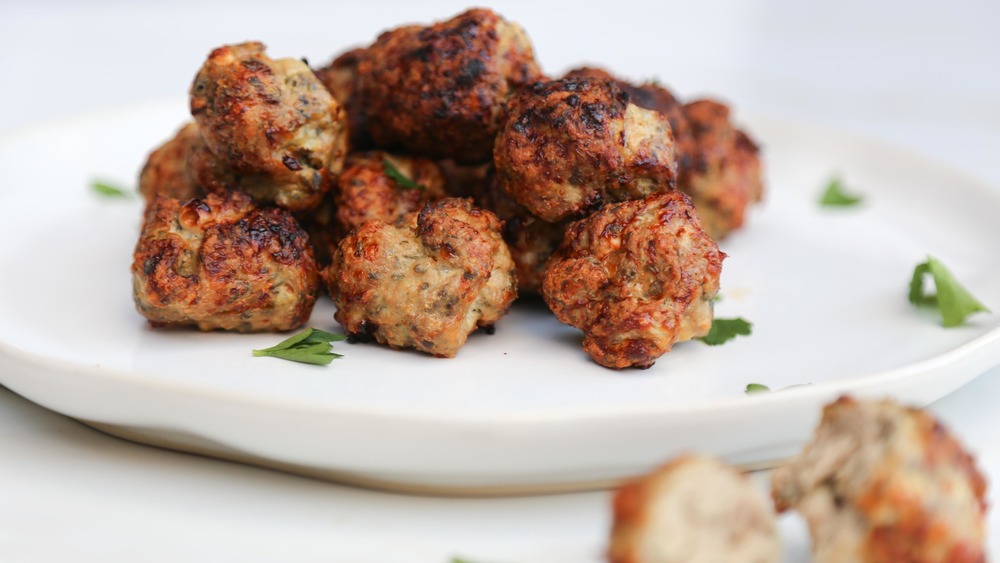 Maren Epstein/Mashed
Let's be honest: "Turkey meat is very bland," says chef and food writer Maren Epstein of Eating Works, "so it needs tons of flavor. You can really use any herbs you like, but rosemary, sage, oregano, thyme, or a blend like Italian seasoning all work well with this recipe." And the meatballs you'll make with this recipe will work well with pasta, in sandwiches, on their own as appetizers, in a stew, or really in any dish you want to add some delicious, savory meat to. 
This turkey meatballs recipe is not only easy, but it's also flexible. "If you don't want breadcrumbs, you can leave them out," says Epstein. "Some people also like to add grated parmesan into their meat balls, and you can leave the butter out or use Earth Balance if you're avoiding dairy." In fact, it's pretty hard to mess up these meatballs. "The one thing you can do to mess up this recipe is to cook the meatballs in the oven without browning them first," as this just won't give you the consistency you want in a meatball.
Gather your ingredients for these turkey meatballs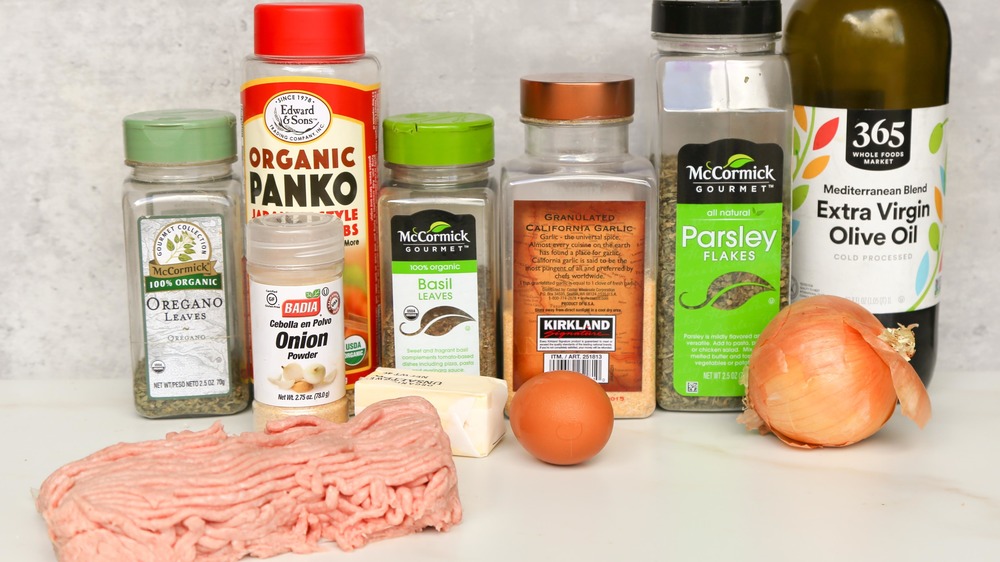 Maren Epstein/Mashed
Keeping in mind that you can be flexible with some of the ingredients for turkey meatballs here, this is what you'll need for a classic take on the meatball:
One pound of turkey meat, ground, a half cup of onion, chopped, one tablespoon of onion powder, one egg, one tablespoon of dried oregano, a teaspoon of salt, an eighth of a teaspoon of pepper, a half cup of butter, melted, a half cup of panko breadcrumbs, a tablespoon of dried parsley, and a tablespoon of fresh parsley to garnish your meatballs (though you can feel free to leave this last item out if you don't have it on hand).
Combine all the ingredients for your turkey meatballs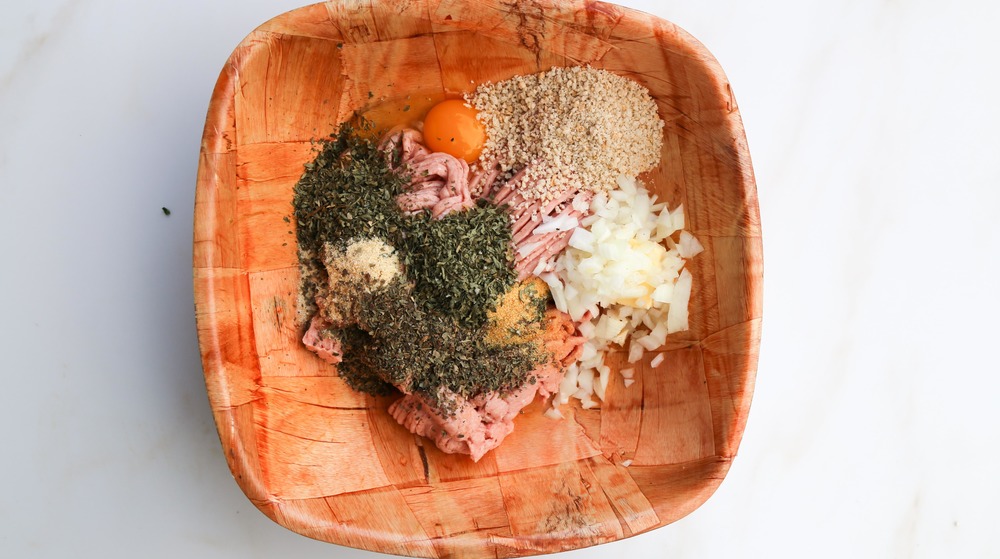 Maren Epstein/Mashed
If you haven't chopped your onion for your turkey meatballs yet, do it now. Then, toss it in a mixing bowl. Now, crack in the egg. At this point, you'll toss in the turkey, salt, and melted butter at once.
Actually, just go ahead and put every single ingredient except for that parsley into your mixing bowl, and mix everything using your fingers. Really dig in there and keep grabbing and squeezing and mixing until everything is quite well blended into a seasoned, meaty mash.
Now is also the time to preheat your oven to 350 degrees Fahrenheit.
Form and brown your turkey meatballs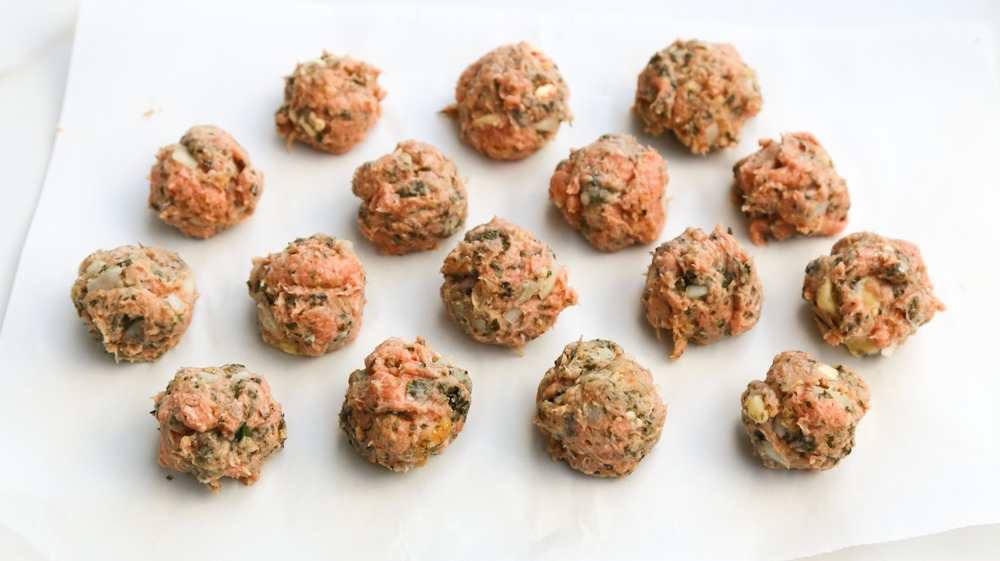 Maren Epstein/Mashed
Using a two-tablespoon measuring spoon or an ice cream scoop (or just eye if it you don't have either), portion out lumps of about two tablespoons of turkey meat each. Roll the turkey in your hands to form a ball, then brown these in a hot pan with a bit of butter or oil. Note you are not actually trying to cook the meatballs all the way through at this point. Instead, you just want to put a fast sear on the exterior.
 Once you've browned them, it's time to bake your turkey meatballs.
Bake the turkey meatballs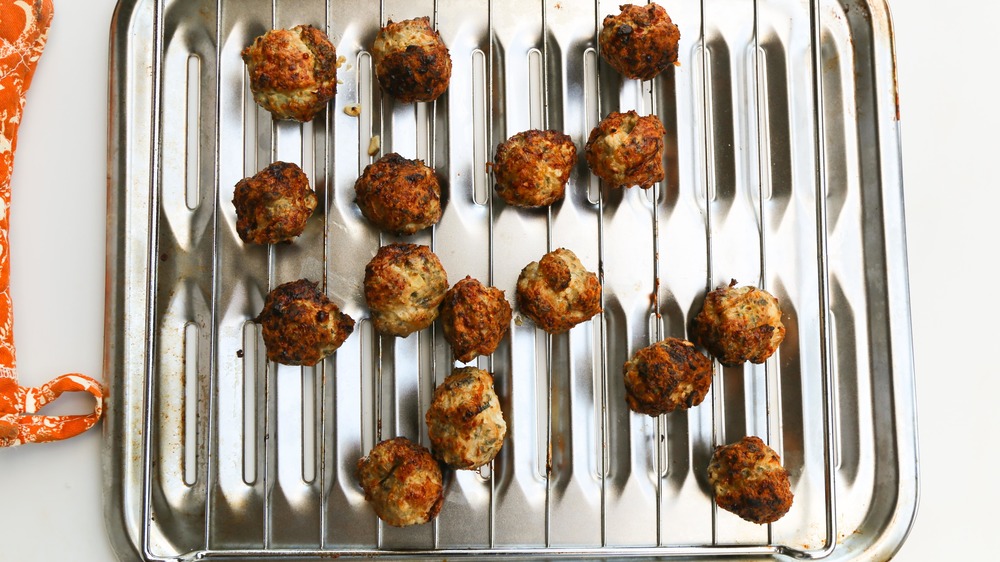 Maren Epstein/Mashed
Line up your turkey meatballs on top of a non-stick rack and place a foil-lined baking tray underneath it, which will make for easier cleanup. Place the meatballs in the pre-heated oven for between 15 and 20 minutes, or until cooked through. This exact timing may depend on your specific oven. 
Now, you can season your meatballs with fresh chopped parsley and serve as you please. And note that these meatballs keep well in the fridge for up to four days if stored in an airtight container. According to Epstein, "If you're looking to increase the storage life, you can freeze them for up to six months wrapped in cling wrap and stored in an airtight container or bag."
Turkey Meatballs You Can Make In Under 30 Minutes
This recipe for turkey meatballs can be used in just about anything, from pastas to soups to anything else you can think of. Learn how to make them!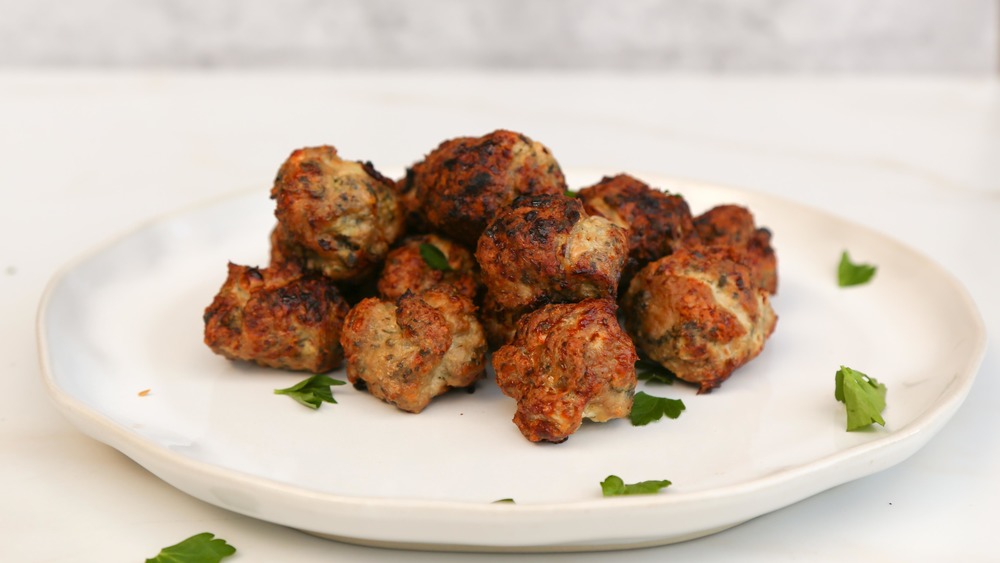 Ingredients
1 pound turkey thighs, ground
½ cup onion, chopped
1 tablespoon onion powder
1 egg
1 tablespoon dried oregano
1 teaspoon salt
⅛ teaspoon pepper
½ cup butter, melted
1 tablespoon dried parsley
½ cup panko bread crumbs
2 tablespoons fresh parsley
Directions
Preheat oven to 350 degrees Fahrenheit. In a medium bowl, combine the turkey, onion, onion powder, egg, oregano, salt, pepper, butter, panko, and parsley. Mix the ingredients together with your fingers until perfectly combined.
Using a 2-tablespoon measuring spoon or ice cream scoop, portion out two tablespoons of turkey meat. Roll the turkey in your hands to form a ball. Once formed, place on parchment paper while you heat a pan.
Quickly brown meatballs in pan in a bit of butter.
Line up the meat balls on top of a non-stick rack and place a foil-lined baking tray underneath it (for easy clean up). Place in the oven for 17 minutes or until cooked through.
Season with fresh parsley and serve.
Nutrition
| | |
| --- | --- |
| Calories per Serving | 107 |
| Total Fat | 8.0 g |
| Saturated Fat | 4.3 g |
| Trans Fat | 0.2 g |
| Cholesterol | 45.4 mg |
| | |
| --- | --- |
| Total Carbohydrates | 2.4 g |
| Dietary Fiber | 0.3 g |
| Total Sugars | 0.3 g |
| Sodium | 107.5 mg |
| Protein | 6.3 g |