Trader Joe's Fans Are So Excited For Their New Za'atar Seasoning Blend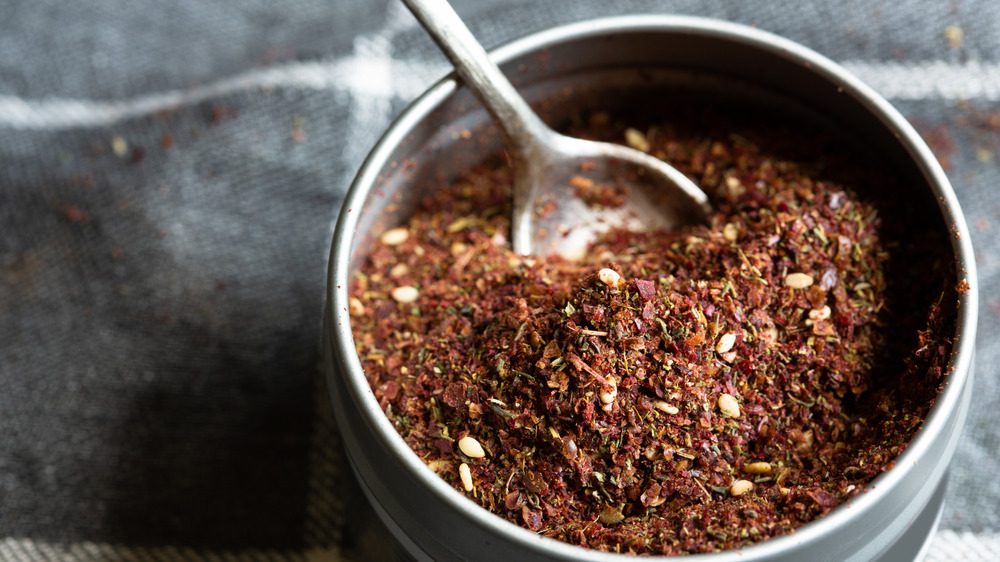 Shutterstock
It's a new day, and that means there's a new seasoning blend that Trader Joe's fans are freaking out about. Apparently, Instagram fan account @traderjoeslist spotted the new za'atar blend and posted a photo on Wednesday, January 13th. The caption read, "So excited to add this spice to my rack! It's perfect for all your Middle Eastern inspired dishes and goes great on meat, fish, veggies and potatoes! How will you use it?!" The post performed remarkably well and gained 24,950 likes in just a day. 
For those who aren't familiar, za'atar seasoning is a blend that's commonly used in Middle Eastern cuisine for all kinds of dishes (via Gimme Some Oven). There are typically three ingredients that are the core components of za'atar: ground thyme, toasted sesame seeds, and sumac, which has a lemon-like flavor, according to Gimme Some Oven. Trader Joe's version of the blend is a little different, though. Trader Joe's blend includes toasted sesame seeds, thyme, marjoram, coriander, oregano, chickpea flour, sea salt, sunflower seed oil, citric acid, and lemon oil, according to the photo of a bottle posted by @traderjoeslist.
Here's what people think about Trader Joe's za'atar
Trader Joe's fans were quick to reply with their thoughts on the new seasoning blend, and they can't wait to get their hands on a bottle or two. One comment read, "Oh I love Zaatar. So happy to see it here. Hope my Trader Joe's has it." Another said, "Can't wait to try it! A lot of bakers use it in the Great British Bake Off!" Another person posted, "OMG!! I love it! I use this stuff all the time."
Followers of the account commented on how they use the seasoning blend. One wrote, "I use it to make dip. I put drizzle olive oil and sprinkle za'atar on top of plain yogurt. It makes a good dip for chips or veggies. You can also use za'atar to make za'atar pizza!" Another said, "I eat whole grain toast with avocado and za'atar seasoning on top. A sprinkle of Himalayan salt and a spray of evoo. THE BEST." Finally, someone expressed something most Trader Joe's shoppers can agree with: "Will they stop putting out new items the day after I visit to get the last set of new items? Hahaha guess I'm off to TJ's again but I ain't that mad." You can relate, right?
So, stop in your local store to pick up the latest must-have item to hit its shelves. You'll find tons of ways to put za'atar to good use. According to Bon Appetit, it's a spice that can "hold its own."