Aldi Shoppers Can't Get Enough Of These Knockoff Twix Bars
As every Aldi shopper knows, one of the ways the chain keeps its prices down is by carrying its own store brands instead of name-brand items. While you will find a few non-Aldi branded items on the shelves, The Virginian-Pilot reports that 95 percent of everything they stock is private label. Since Aldi doesn't want to keep re-inventing the wheel, though, they often create their own versions — okay, knockoffs, if you will — of popular products. One such item is a Twix twin that goes by the not-terribly-creative (yet undeniably descriptive) name of "Cookie & Caramel Candy Bars." This candy, which is manufactured under Aldi's own Choceur label, appears to be a seasonal item that is only available around Halloween, according to comments on a Reddit thread devoted to the product. Instacart appears to back that up, as well, listing the product as "Choceur Halloween Cookie & Caramel Bars."
Many of the Reddit comments were pretty positive, describing the candies as "so yummy," "so good!," "delicious!!! And so cheap!" One commenter even said, "I liked them more them more than the name brand; the chocolate is much much better." There were a few who pondered whether they were Left or Right Twix, until one Redditor supplied the definitive answer: "It's a hybrid mutation resulting from artificial insemination of left Twix with right twix DNA. The new breed is believed to be at least 20% tastier and less susceptible to diseases like chocolate-pox."
Not everyone is a fan of these Twix-like candies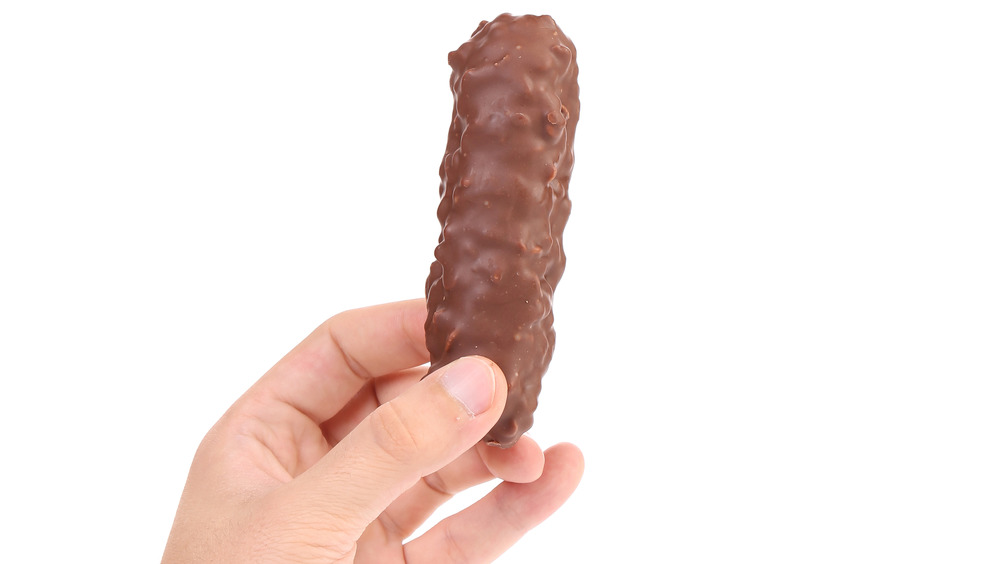 Shutterstock
Some of the Reddit commenters who'd tried these Aldi candies, though, weren't exactly sold on them as a Twix substitute. One said, "They tasted very strange. Like they were made with fake chocolate flavoring instead of actual cocoa?" Another Aldi shopper found them to taste "rancid or like a weird chemical" and speculated that "maybe the palm oil was crappy?" Still another commenter, obviously a chocolate connoisseur, described the Cookie & Caramel Candy Bars in the following unflattering terms: "Chalky texture, waxy chocolate, and overly sweet without any real complexity."
The Aldi Reviewer blog found these candies as a part of something called the Choceur Legends Fun Size Candy Bar Mix, a pre-Halloween release consisting of four different fun-size knockoffs of popular candy bars: pseudo-Snickers, Milky Way, and 3 Musketeers in addition to the not-quite-Twix. Of these four, the reviewer found the Cookie & Caramel bar to be the "weakest" due to the fact that its "cookie portion is much softer than Twix, and not as buttery." So, mixed reviews on the faux Twix overall, but chances are you won't be able to find them out of season anyway. Will they return in time for next Halloween? Maybe so, maybe no, since the mysterious ways of Aldi can be kind of hard to predict. In the meantime, though, there's no shortage of other delicious Aldi chocolates and decadent desserts you could be enjoying instead.