Quick Turkey Chili Recipe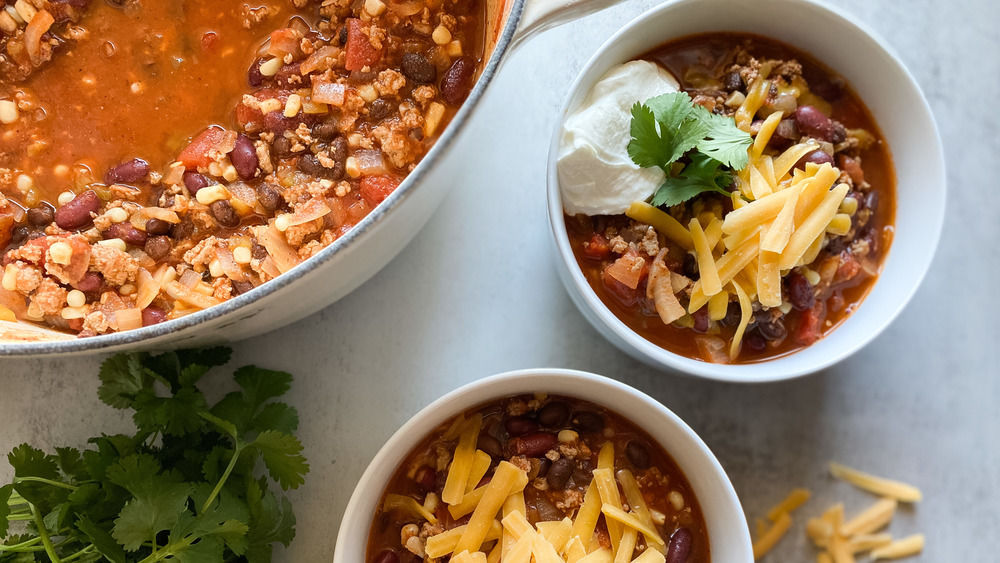 Kristen Carli/Mashed
Sure, there are countless great slow cooker chili recipes that offer a thick, rich chili simmering away for hours, filling your home with amazing aromas and the promise of a wonderful meal to come ... in many hours. For real life, try this really easy, efficient, and tasty turkey chili recipe.
And don't get too hung up on the recipe itself; chili is forgiving. For example, "you can sub any beans you like," says Kristen Carli, chef, food writer, and registered dietician behind Camelback Nutrition & Wellness. "Great northern beans, navy beans, [or] pinto beans would be great substitutes. Also, this isn't a super spicy chili. If you want more spice, add a few dashes of cayenne pepper or even throw in a diced jalapeño."
Go ahead and double the batch and save yourself effort on some other day, as "this chili freezes well," says Carli. "Just remove it from the freezer and defrost the chili in the fridge a day before you plan on eating it."
Gather your turkey chili ingredients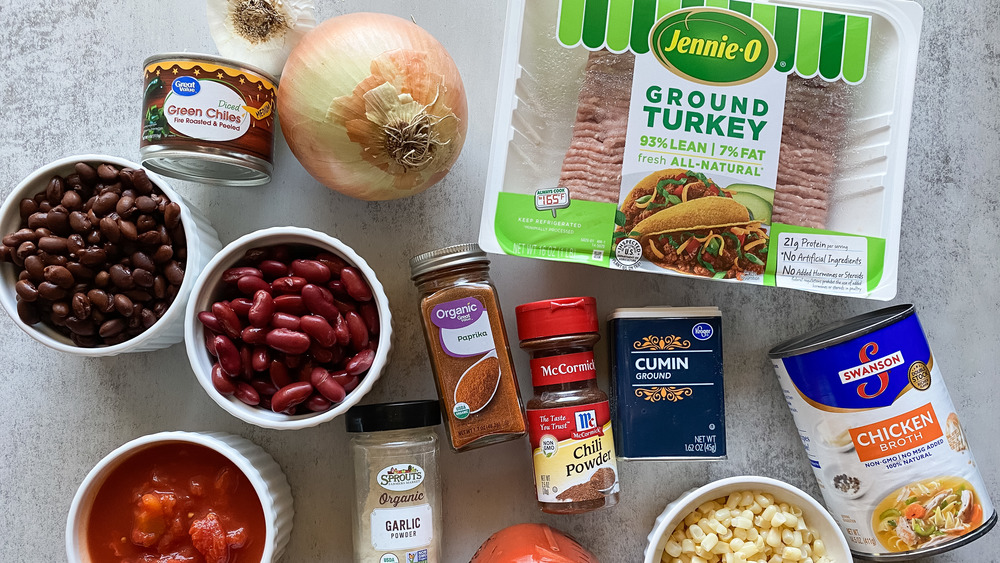 Kristen Carli/Mashed
Again, don't get too hung up on the exact ingredients here: the beans are flexible, you can add more spice or play it down, and frozen or fresh corn is every bit as welcome as canned.
Now, regarding the turkey, onion, tomato sauce and diced tomatoes — those you need! And here's everything you need for a reliably great chili: 1 pound of ground turkey, one yellow onion, two cloves of garlic, one 15-ounce can of tomato sauce, one 14.5-ounce can of diced tomatoes, one 14.5-ounce can of chicken broth, a 15-ounce can of kidney beans, and the same for black beans, 2 tablespoons each of cumin and chili powder, 1 teaspoon of paprika, salt and pepper (to taste), a  7-ounce can of diced green chiles, and half of a can of white corn, drained and rinsed.
Cook the turkey, onion, and garlic for the chili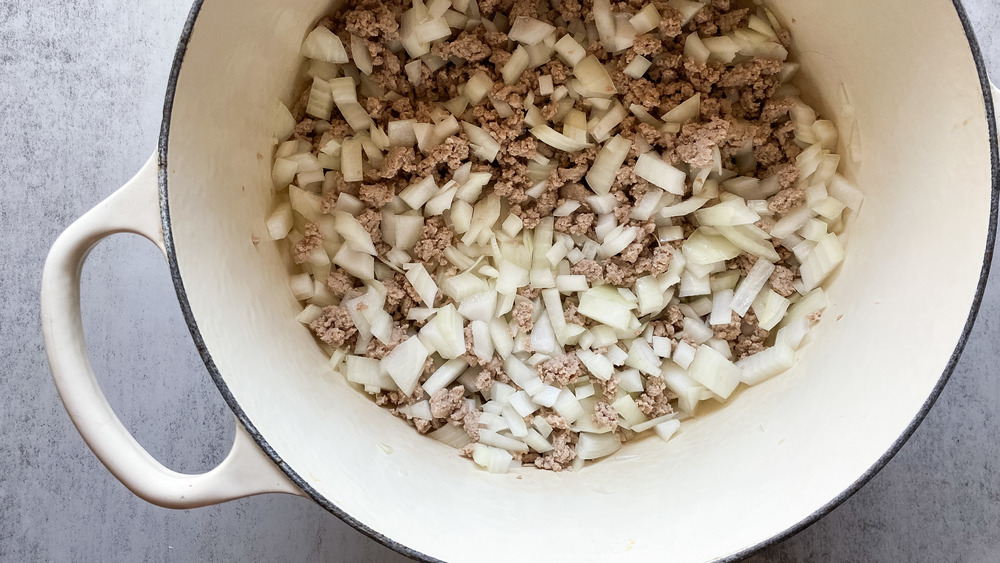 Kristen Carli/Mashed
Lightly oil a large Dutch oven or pot and then put it on the stove over medium heat. Add the ground turkey and cook it until browned. Once the turkey is evenly browned, add in the diced onion. Cook it until the onion is soft, stirring regularly.
Now add the garlic and cook everything together for about another minute, still stirring a few times to keep things mixing evenly. (Yes, it will start to smell amazing in your kitchen.)
Add the turkey chili beans, broth, tomatoes, and spices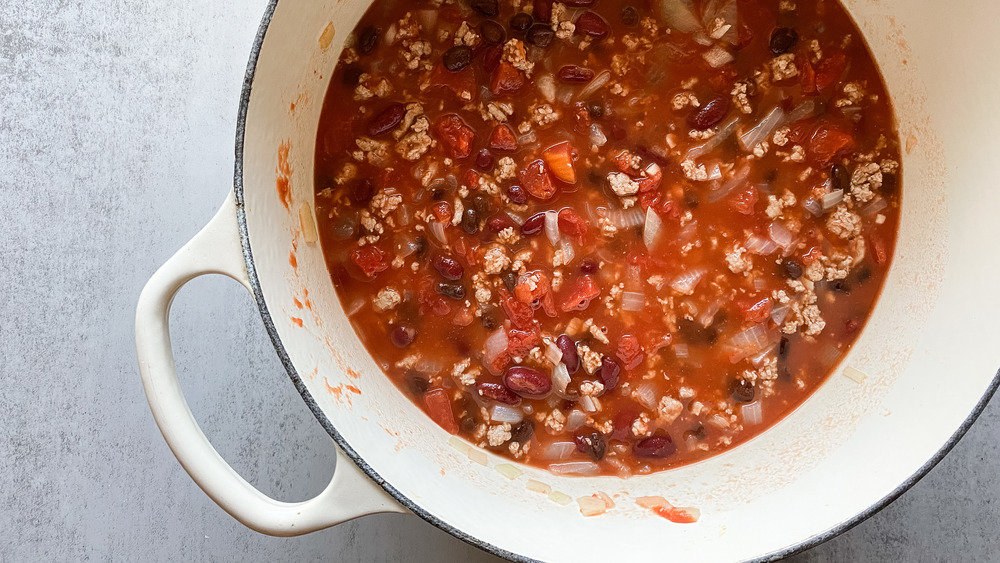 Kristen Carli/Mashed
Be sure to drain and rinse all of your canned beans before adding them into the pot with the diced tomatoes and tomato sauce, the broth, and the spices. Make sure you spread the beans and tomatoes evenly over the surface so they don't clump together before you can start stirring. 
Now stir everything well to combine the ingredients and then bring the chili to a simmer. Allow it to cook for about 15 minutes, keeping an eye to make sure you don't lose too much liquid but also that the chili is thickening.
Add everything else, stir, serve, and add turkey chili toppings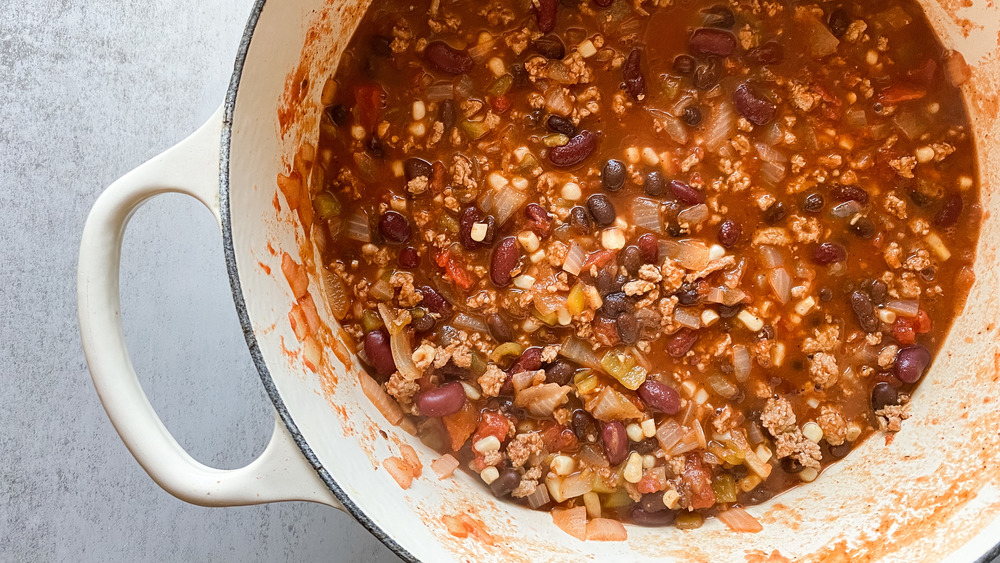 Kristen Carli/Mashed
Add in your corn and green chiles and stir well. You want to be sure that all of the ingredients are warmed evenly in the chili. Your chili is now ready! You can keep it warming for a while or serve it right away. Dish the chili out into bowls and serve it with your favorite chili toppings. 
"Optional toppings are shredded cheddar cheese, sour cream, and cilantro," says Carli, but of course you can customize this chili in all sorts of ways, making each bowl its own little work of culinary art.
Quick Turkey Chili Recipe
This turkey chili recipe couldn't be much simpler. Make no mistake, though, while it's easy to put together, it still delivers a hearty meal full of flavor.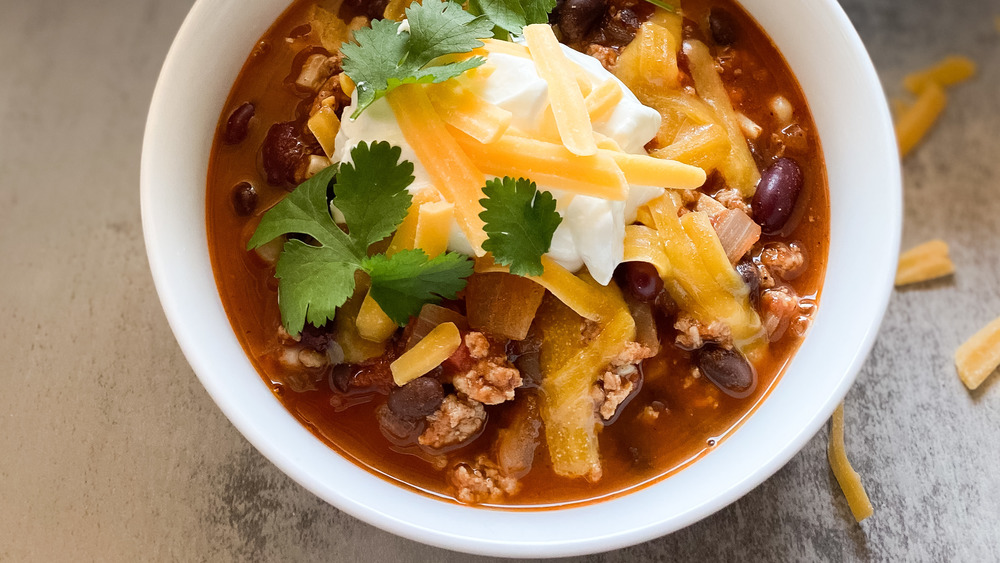 Ingredients
1 pound of ground turkey
1 yellow onion, diced
2 cloves garlic, minced
1 15-oz can tomato sauce
1 14.5-oz can diced tomatoes
1 14.5-oz can chicken broth
1 15-oz can kidney beans, drained & rinsed
1 15-oz can black beans, drained & rinsed
2 tablespoons cumin
2 tablespoons chili powder
1 teaspoon smoked paprika
salt and pepper, to taste
1 7-oz can diced green chiles
½ 14.5-oz can white corn, drained & rinsed
Directions
Add the ground turkey to a large Dutch oven over medium heat. Cook until browned.
Add onion and cook until onion is soft.
Add the garlic and cook for about a minute.
Add beans, tomatoes, broth, and spices. Stir to combine. Bring chili to a simmer and allow to cook for 15 minutes.
Add in corn and green chiles. Warm through.
Serve with your favorite chili toppings.
Nutrition
| | |
| --- | --- |
| Calories per Serving | 329 |
| Total Fat | 8.5 g |
| Saturated Fat | 1.9 g |
| Trans Fat | 0.1 g |
| Cholesterol | 53.5 mg |
| | |
| --- | --- |
| Total Carbohydrates | 40.8 g |
| Dietary Fiber | 13.7 g |
| Total Sugars | 8.0 g |
| Sodium | 1,224.5 mg |
| Protein | 26.9 g |