Aldi Shoppers Are In Love With These Frozen Taquitos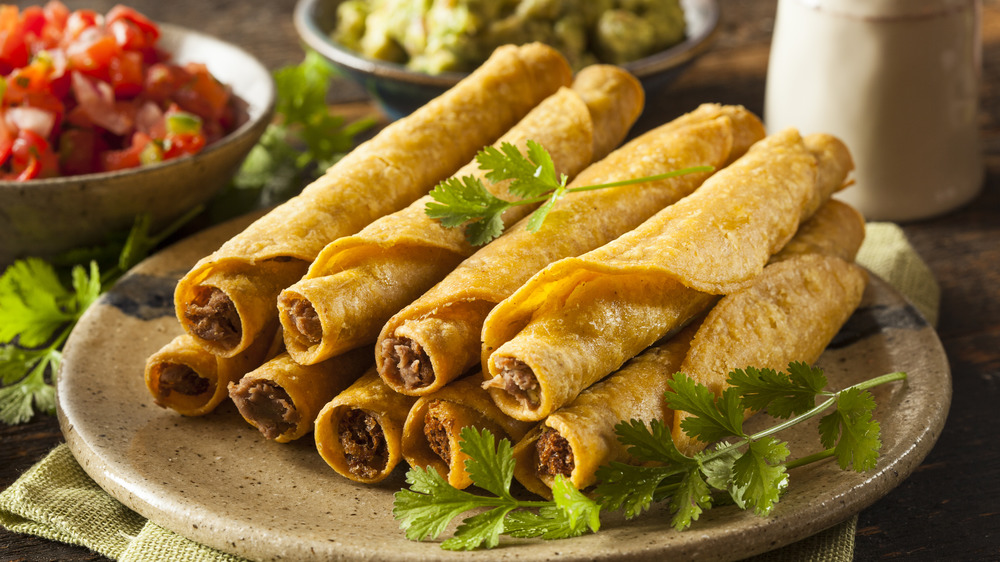 Shutterstock
The Super Bowl is practically upon us, which means food and sports fans alike are preparing for a long night of snacking. Luckily, whether it's the variety of snacks themselves or the plates and napkins you use, Aldi's got you covered. There's even a new snack hitting the shelves that Aldi shoppers are really excited to use for their Super Bowl spread.
According to @theamazingaldi, an Aldi fan Instagram account, there are chicken and beef taquitos by Casa Mamita that are just right for the occasion. The chicken and cheese taquitos come with 15 per box, and they're rolled in flour tortillas. The beef taquitos come in packs of 20 and are rolled up in corn tortillas. The user snapped a photo in their local Aldi and posted it to the account on Tuesday, February 2, and less than a day later, it already has more than 500 likes. The caption read, "another great option for Super Bowl," and Aldi customers couldn't agree more.
Aldi fans are really excited for these easy taquitos
Aldi fans are so ready for these taquitos because this classic Mexican-American dish is easy to make and even easier to enjoy (via Taste Atlas). Not to mention, one box of each will go a long way and please the preferences of most carnivores. One commenter (who definitely has the right idea) said, "My super bowl food is all Aldi frozen appetizers, I don't want to spend all day making food, I just want to kick up my feet this year! Spent 15 bucks vs the 40 plus tip it would have cost us to order snacks. Aldi win!" Another customer, who has clearly already tried the taquitos, said, "You could never go wrong with these taquitos." There were plenty who thought using the snack as a Super Bowl appetizer was a "great idea" too.
But, the overwhelmingly most popular idea for these snacks, be it for the Super Bowl or snacking any other time of the year, was to use the air fryer. One person wrote, "We love these! So quick in the air fryer." Another said, "air fryer easy go-to!" Finally, another commenter said, "air fry, served with Aldi sour cream and Aldi guacamole." That sounds like a winning combo.
Visit your local Aldi to stock up and pick up any last-minute snacks you might need to keep you fueled through the game and halftime show. Even after Sunday, they'll still be delicious.