Padma Lakshmi's Street Food-Inspired Twist On Hasselback Potatoes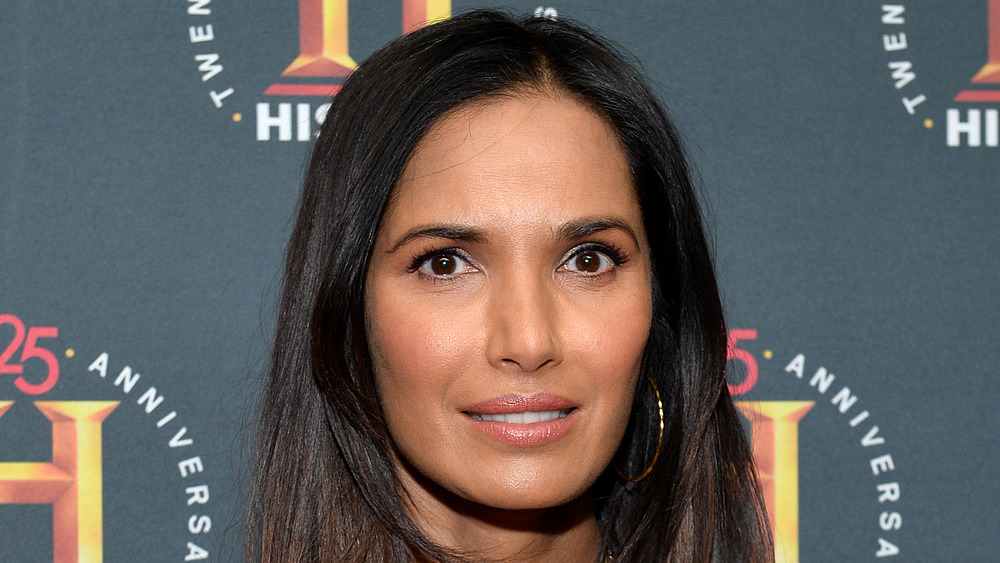 Noam Galai/Getty Images
Hasselback potatoes are all the rage right now, blowing up on Tik Tok (we're particularly drooling over this salty rendition), and peppering Instagram feeds with images of loaded, starchy goodness.
If you're one of the lucky few who can figure out the correct way to slice a hasselback potato, then we have your next challenge: elevating the hasselback potato. Most are topped with the typical cheese, bacon, and chive — hello, they're fried potatoes, after all — and we aren't complaining. But some chefs out there are finding new and flavorful ways to turn this dish from just another baked potato appetizer to a main course, and we aren't exactly complaining about that, either!
Padma Lakshmi, a household name thanks to her extravagant cooking career and line up of hosting gigs on shows like Top Chef and Taste the Nation, has served up something completely out of the box with her take on the dish. Lakshmi shared her street food variation with her Twitter followers, where she combined the hasselback potato trend with a staple Indian food: chaat.
This is how Padma Lakshmi put her own flavorful spin on hasselback potatoes
According to Taste of Home, chaat is not one single food; it's a whole category! Chaat is Indian street food that's defined by its unique textures and flavors that push the envelope. Typically, chaat is made up of a starchy base, topped with a chutney, and sprinkled with a spice blend. It's rich, powerful, and bold, and Lakshmi's chaat potato dish stands up to its name.
In an Instagram video, Lakshmi walks her followers through recreating the recipe at home. You'll need a whole lot of specialty ingredients, like dried mango powder, cumin, and pistachios (the latter two will be roasted over an open flame for an extra sour flavor).
In true chaat fashion, Lakshmi suggests going above and beyond with the chutney. Instead of sticking with one, opt for more! The chef works with two different flavor profiles (like mint, yogurt, and cilantro to create a green sauce, then tamarind and dates to create a hearty brown chutney) to drizzle over the perfectly sliced potatoes.
Lastly, top the picture-perfect dish with a homemade, smoky spice blend and some fruit and fresh yogurt to balance it out. We have to admit: For a potato dish without a single shred of cheese — we're impressed.