These Are All The Times You Can Get Free Doughnuts From Krispy Kreme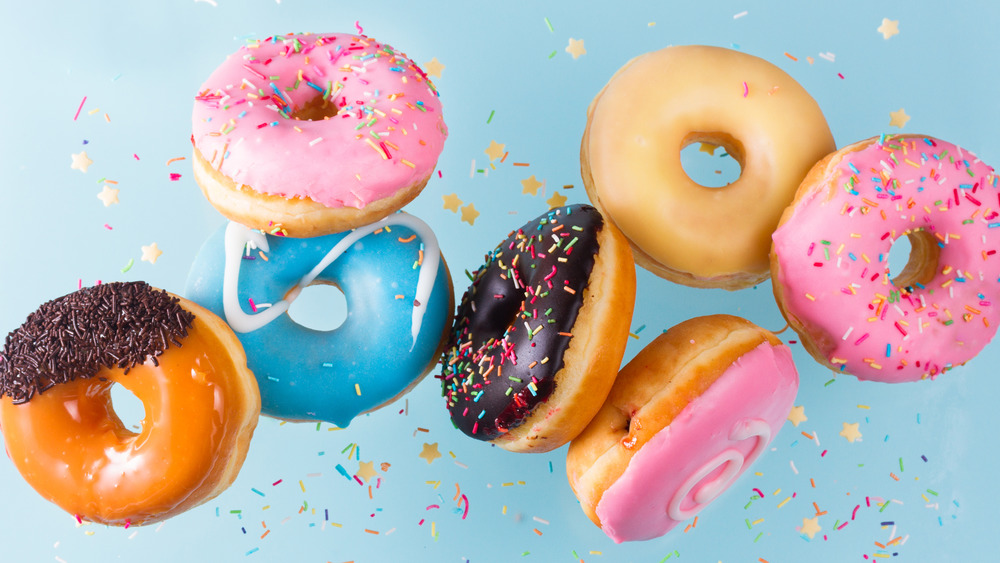 Shutterstock
They say the best things in life are free. And while they may not have been talking about doughnuts specifically, if you play your cards right and maybe set some calendar reminders, Krispy Kreme can definitely be on that list of free, best things.
Krispy Kreme Doughnuts, that krazy kast of kharacters who have been bringing you sweet little inner tubes of delight since 1937, sometimes just makes too many darn doughnuts, bless their little frosted hearts. They are, in fact, so cavalier with their hole-y pastries that you can get two free doughnuts as soon as...right now. Today. This instant. According to The Spruce Eats, signing up for the Krispy Kreme Doughnuts rewards program is good for one free doughnut, while downloading the Krispy Kreme app will get you a second, completely free doughnut. You'll have doughnuts falling into your lap before you can say "baker's dozen!"
But the doughnut drops don't stop there, no no no. In the same article, The Spruce Eats points out that participating Krispy Kreme stores will also make sugary halos of deliciousness rain down on you every Halloween (if you're in costume), Veterans Day (if you're a veteran), and Daylight Savings Day (unless you live in Arizona or Hawaii; and, seriously you guys, how did you get out of Daylight Savings Time??)
More holidays, more free doughnuts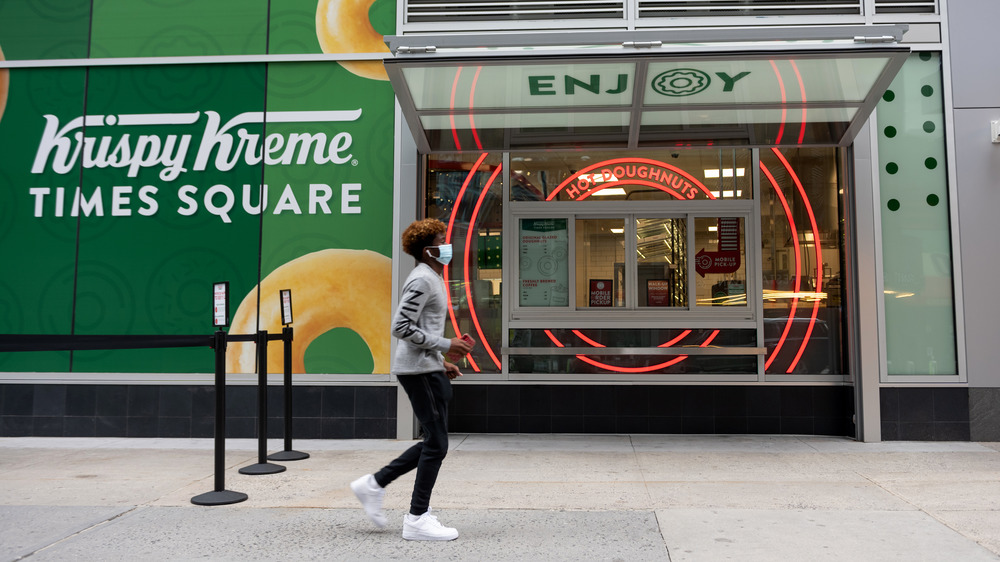 Alexi Rosenfeld/Getty Images
It might go without saying, but you should also stop by a Krispy Kreme Doughnuts shop every National Doughnut Day (celebrated the first Friday in June) and National Coffee Day (Sept. 29th, according to National Today). Krispy Kreme will even throw in a free, 12-ounce coffee on National Coffee Day, and you can't beat that with a cinnamon stick.
If you thought we were done, you were sorely mistaken. Krispy Kreme will give you a free doughnut every year on your birthday, just to honor another (doughnut-shaped) trip around the sun. And if you like happy hour, wait until you try Hotlight Hour, the time when Krispy Kreme fires up the neon "Hot Now" sign, indicating a fresh batch of original glazed doughnuts have just emerged from the oven. Participating stores will frisbee one of those your way, at no charge, because they believe everyone should experience a warm, fluffy, melt-in-your-mouth doughnut hot off the line at least once in their lifetime. Or, in theory, every time you see that the red light is on...though you might need a few disguises (and a few doctor's appointments, to check your insulin levels).