Tyler Florence Is Hosting This Old Food Network Favorite Again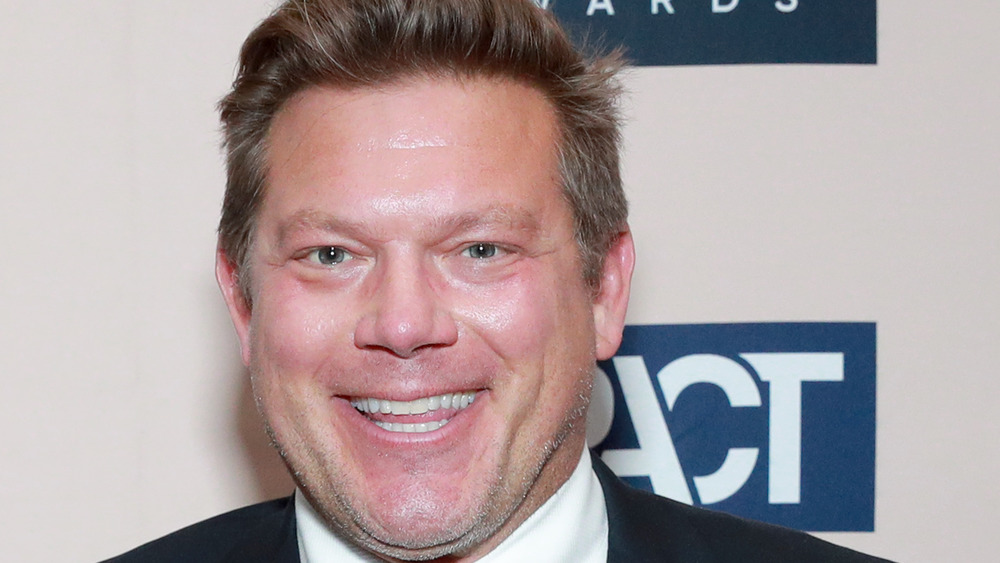 Rich Fury/Getty Images
Did Tyler Florence make someone at the Food Network angry? Showrunners for The Great Food Truck Race shipped Florence north to Alaska, in November, to shoot the newest season of the popular series, which has been on the network since 2010 (via IMDb).
The Great Food Truck Race: Alaska premieres on the Food Network and discovery+ on March 7, according to a statement sent to Mashed. Not only Florence, but food trucks from all over the U.S. had to make the trek to the Last Frontier, hopefully supplied with tire chains and all the cold-weather gear they could get their hands on. One contestant, the tater-tot truck Some Like It Tot, made the trip all the way from their home base in Tecumseh, Oklahoma. "Shoutout to every brand of hand warmer out there," Some Like It Tot posted to Facebook on November 9 from Homer, Alaska. "We've used 'em all."
In what by our count should be the lucky 13th season of The Great Food Truck Race (12 seasons are posted to the Food Network's website), seven trucks must compete against each other, of course, but also must battle the cold, the wind, and the lack of daylight to survive. A winner will be crowned during the sixth and final episode, scheduled to air on April 11.
"Alaska is the most magnificent and most challenging location yet for The Great Food Truck Race," said Food Network President Courtney White, probably from the climate-controlled comfort of a big corner office.
The Great Food Truck Race tours Alaska in newest season
The Great Food Truck Race is a cooking competition on wheels, so the upcoming season has contestants touring the nation's largest and coldest state with stops in Anchorage, Palmer (home to some of the largest vegetables in the world, according to the statement sent to Mashed), the fishing village of Homer, then Seward, and then Talkeetna, which is remote even by Alaskan standards. (Spoiler alert! Some Like It Tot posted to Facebook from Talkeetna, which might mean they made it to the fifth episode at least. Either that, or all the food trucks traveled to all the locations so no one who was watching Facebook could guess the finalists in advance.)
While hot tater tots on a cold November day in Alaska do sound good, they are just the tip of the, er, iceberg as far as food-truck options go in the upcoming The Great Food Truck Race: Alaska. Other contestants include traditional New Mexican food truck Querencia Mia, Staten Island's Metro Chili, and Meatball Mamas out of Danville, California. Two trucks from Texas made the trip: The Oink Mobile and Tasty Balls. Rounding out the competition was BFD from Saint James, New York.
In the very first challenge, set outside Anchorage, food truckers must race to break their keys out of 200-pound blocks of ice. We think we know why Some Like It Tot went through all those hand warmers.