Aldi Shoppers Are Excited To Try This Hallmark Rosé
With Valentine's Day just around the corner, Aldi is now giving customers a way to let their loved ones know they care. The supermarket just posted a collection of cute Valentine's "cards" on Instagram, each depicting new Aldi specialty products, including hot cocoa with mini marshmallows, Barissimo fair-trade K-cups of Arabica coffee, and even an Aldi cabinet (via Instagram). But perhaps the most romantic item in the bunch is the Hallmark rosé wine, which, with its pleasing pink color and flowery label, looks like the perfect addition to any Valentine's Day table setting. 
The official Instagram @aldiusa wrote on Instagram: "They're like cards you got in elementary school, but better because these have wine and cocoa on them. Tag your favorite person in the world and let them know they're loved!" Their followers responded enthusiastically. The post received over 1,700 likes in less than 24 hours, with Aldi shoppers tagging their friends and loved ones, sending sweet messages, and expressing their excitement over the new products.
Aldi's Hallmark rosé makes the perfect addition to a romantic Valentine's dinner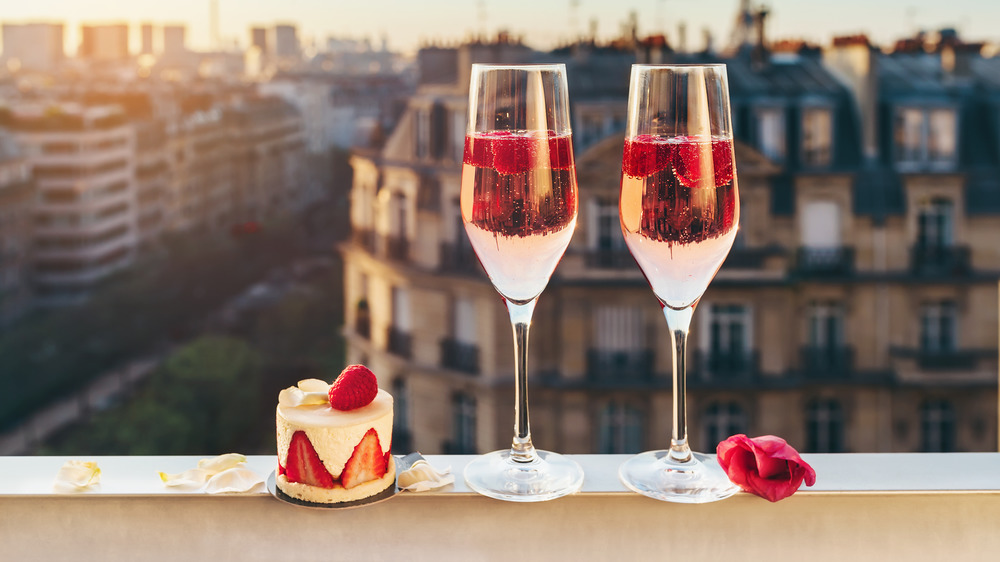 Shutterstock
The Hallmark rosé caught the eye of many Aldi shoppers, who were clearly excited to give the new wine a try. Follower @courtney_yonce replied: "I have tried one before but can't wait to try this one!" According to Hallmark, their Blush rosé is a crisp California wine with hints of strawberry and white peaches. On their site, bottles are selling for $14.
The Hallmark rosé joins Aldi's many other Valentine's offerings that will help you celebrate the romantic day. They have everything you need to plan a romantic night in with your sweetheart. Their Emporium heart-shaped cheeses in three specialty flavors can be paired with their romantic Valentine-themed Gouda and aged cheddar cheese boxes to build a romantic charcuterie board, per Yahoo. 
For the main course, Mama Cozzi's Pizza My Heart heart-shaped cheese pizza, or their heart-shaped pasta (via @aldi.mademedoit) is sure to set the right mood, especially if it is paired with the Hallmark rosé for the perfect finishing touch. So with just a little over a week to go until February 14th, now might be the perfect time to head to Aldi to stock up on all your Valentine's Day needs — and maybe pick up two bottles of the Hallmark rosé, which is sure to be flying off the shelves from now until the big day.