Chimichurri Sauce Recipe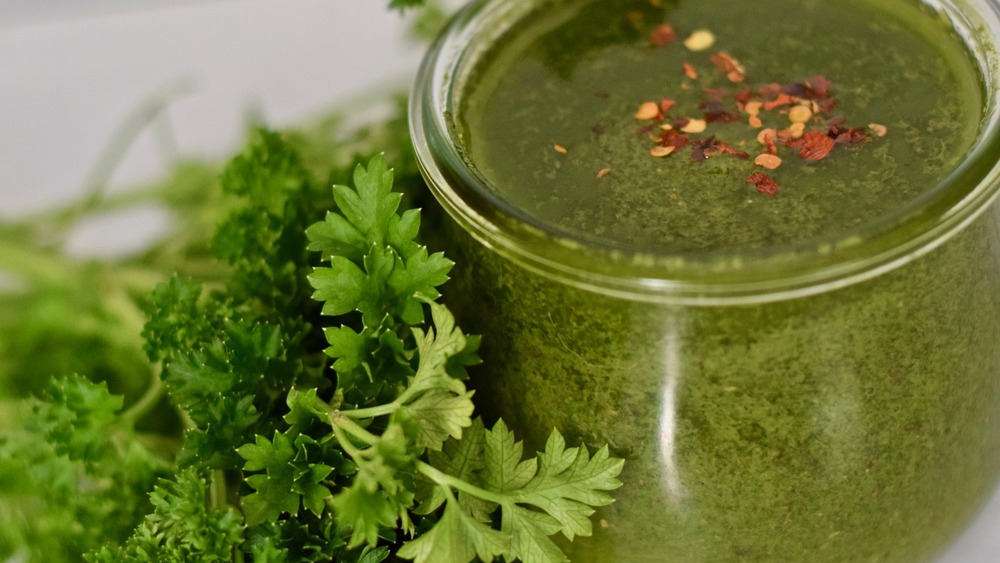 Tara Rylie/Mashed
Chimichurri: fun to say, easy to make, and downright delicious to eat! This Argentinian and Uruguayan herb-based condiment is a culinary delight. Traditionally served atop grilled steak or alongside grilled sausages, it never disappoints. 
There are various stories as to how this sauce got it's name with all its rolling R's, but there's only one that will truly make you smile. There was said to be an English man named Jimmy who joined Argentina's fight for independence, and he had a sauce named "Jimmy's Curry." However, being difficult to pronounce, it morphed into "chimichurri" and became the sauce we know today! Other stories claim it's a mix of English and Spanish, which totally makes sense, just isn't as much fun.
Either way, chimichurri sauce is a must-have recipe for all home chefs. In place of its traditional use, chimichurri works well as an marinade, tastes great on top of both grilled seafood and chicken, works beautifully as a dressing, and is just magic when smothered on top of fried eggs. However you choose to eat it, we guarantee you will love this herb-based sauce.
Chef Tara Rylie, of RylieCakes, walks us through this recipe that is as easy as hitting the "pulse" button on your food processor!
Do you need a blender or food processor to make chimichurri sauce?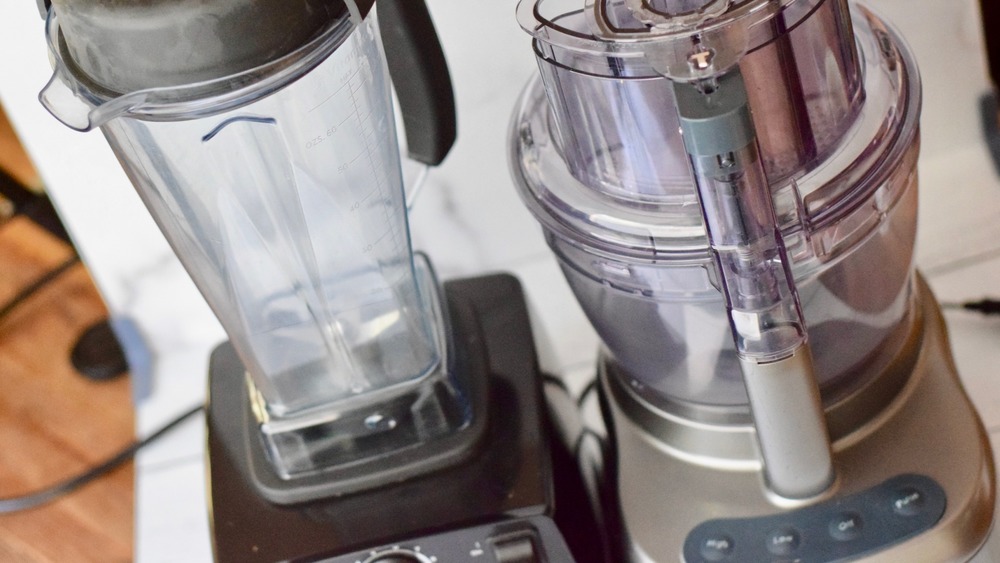 Tara Rylie/Mashed
The best way to make chimichurri sauce is by using a food processor or high-powered blender from a brand like Vitamix, but we understand not all home chefs have one, the other, or both. A food processor also works great for this recipe, as you don't want your sauce totally pureed. By using the "pulse" button, you can make chimichurri to the exact right consistency. And if you have neither, no big deal — just do it by hand!
Simply chop all the ingredients as finely as you possibly can, combine everything except the olive oil, and then slowly whisk in olive oil to slightly emulsify your sauce. No matter which way you choose, it'll take no more than 20 minutes to prepare.
You just need pantry staples and a few fresh ingredients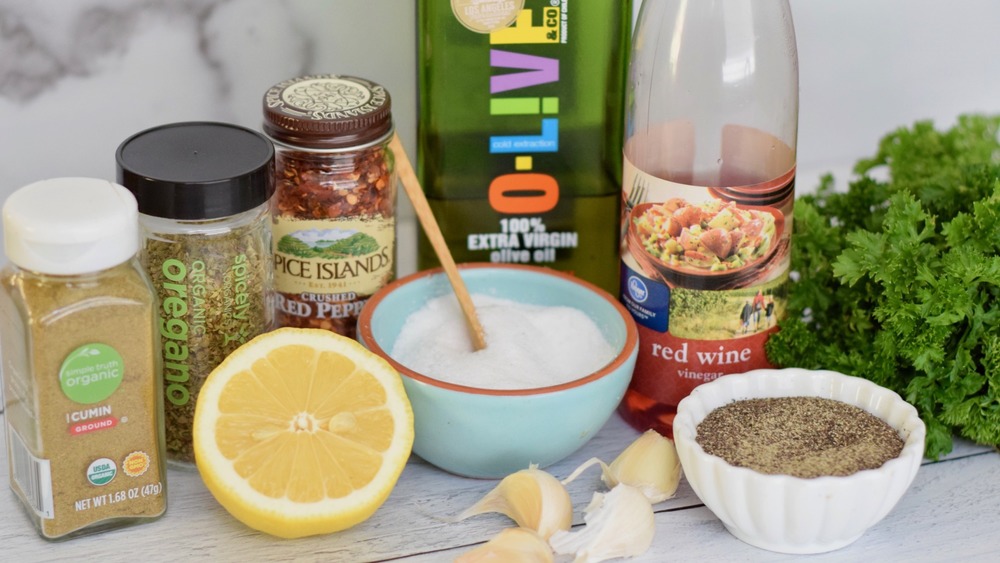 Tara Rylie/Mashed
Chimichurri sauce is made up of mostly pantry staples paired with fresh ingredients like parsley, lemon, and garlic cloves. Like most sauces made from scratch, the ingredients in this recipe can be pretty flexible. White wine vinegar can be substituted for the red and you'll still get that tangy burst of flavor. Cilantro can be added in with the parsley to make this sauce an herb lover's dream come true. And the red pepper flakes are always optional; if you don't like the heat, leave them out.
This chimichurri sauce is as easy as "pulse"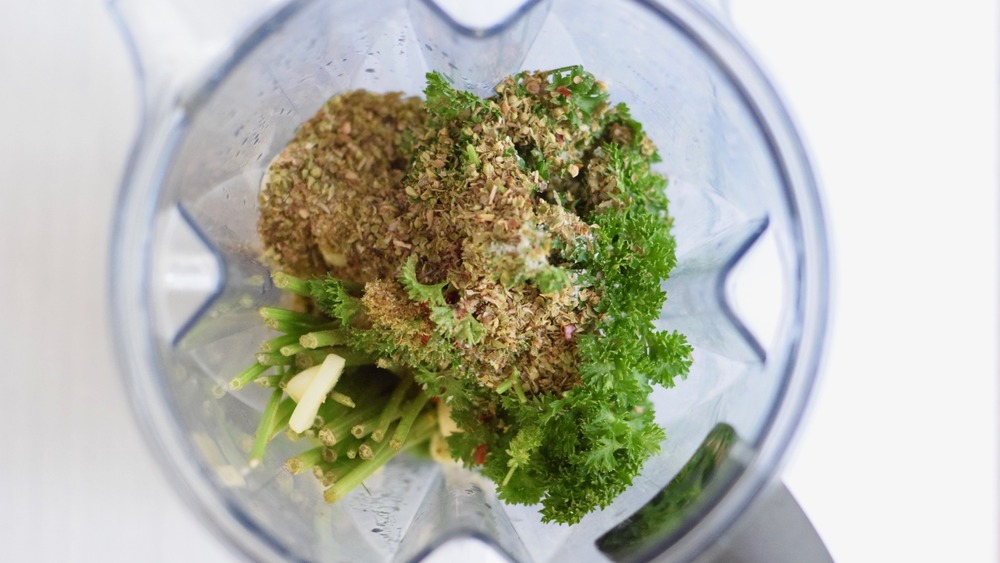 Tara Rylie/Mashed
We chose to use a blender for this batch, but keep in mind that a food processor follows the same process. Place all your ingredients into the blender and turn it on. Seriously, it's that easy. Chimichurri is not an herb puree though, so don't blend forever until it'sthick. Your sauce is ready when the parsley is broken up into small chunks and the ingredients are well combined. When poured into a container, your chimichurri should look oily. If it does, you've got it just right.
Don't forget to taste test your sauce after blending, and season it further with salt and pepper if needed. Add a bit more lemon juice if you feel it's too salty, or perhaps toss in a few more red pepper flakes for some extra heat. Chimichurri can be used immediately or stored in an airtight container in your refrigerator for seven to ten days.
Chimichurri Sauce Recipe
Chimichurri sauce is a must-have recipe for all home chefs. However you choose to eat it, we guarantee you will love this herb-based sauce.
Ingredients
2 cups (2.5 ounces) parsley with stems
4 large fresh garlic cloves, roughly chopped
2 tablespoons dried oregano
1 ½ teaspoons sea salt
1 teaspoon cumin
½ teaspoon black pepper
½ teaspoon crushed red pepper
¼ cup red wine vinegar
¾ cup olive oil
Squeeze of fresh lemon juice
Directions
Place all ingredients into blender. Blend on low speed and slowly increase to high speed. Continue to blend until thoroughly combined and a dressing consistency forms.
Taste test and further season if needed.
Refrigerate in airtight container until ready to use. Lasts 7-10 days in refrigerator.
Nutrition
| | |
| --- | --- |
| Calories per Serving | 383 |
| Total Fat | 40.9 g |
| Saturated Fat | 5.7 g |
| Trans Fat | 0.0 g |
| Cholesterol | 0.0 mg |
| | |
| --- | --- |
| Total Carbohydrates | 4.5 g |
| Dietary Fiber | 1.5 g |
| Total Sugars | 0.3 g |
| Sodium | 190.7 mg |
| Protein | 1.1 g |