Simple Chicken Francese Recipe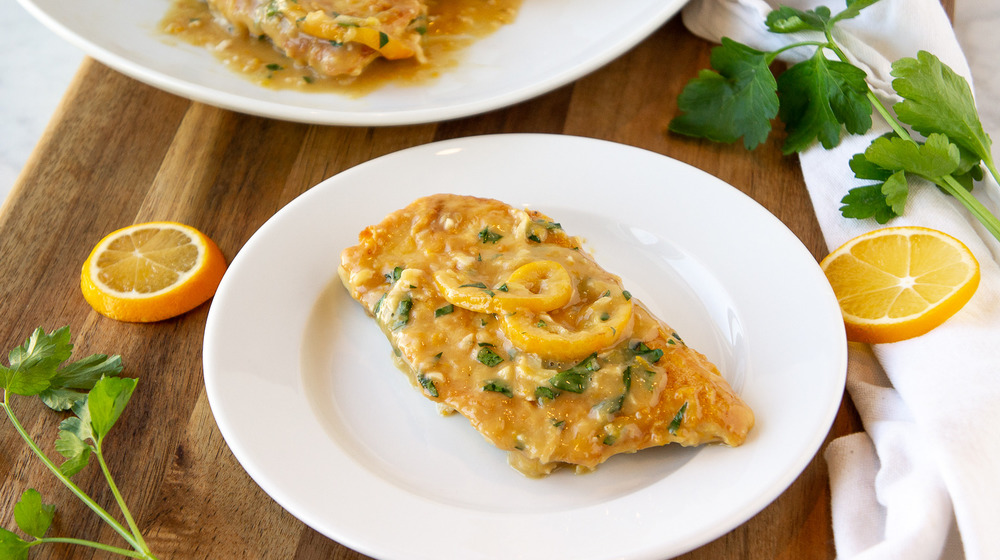 Mikayla Marin/Mashed
We've all been at that nice bistro or cozy corner café serving up classic dishes with beautiful names and wondered ... what exactly is that? Today we're demystifying a classic chicken recipe that we think you'll definitely want to make.
Chicken francese is an Italian-American dish that is thought to have originated with the first Italian immigrants into New York. It's a dish of battered and pan fried chicken that is most known for its assertive lemon flavor and sauce.
Our version takes just a handful of ingredients to make, and we keep the bite of acidic lemon front and center. It's completely addictive, and once you see how simple it is to make, you'll be happy you don't have to wait for your next bistro trip. Read more from Mikayla Marin on her blog The Flour Handprint.
The ingredients we need for chicken francese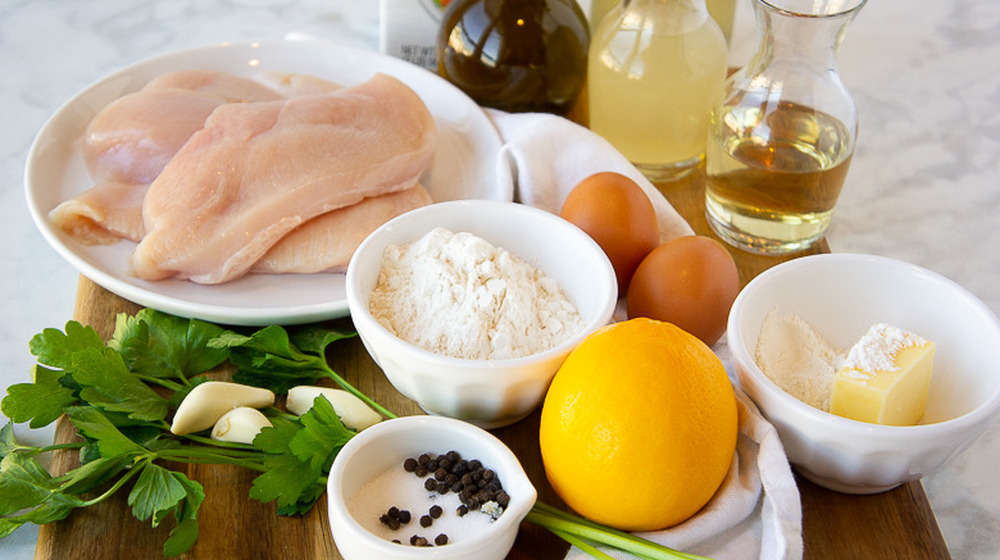 Mikayla Marin/Mashed
Because of how truly simple this recipe is, you need just a handful of easy ingredients to put it together. These are really common pantry staples, making chicken francese ideal for weeknight dinners or busy nights.
We'll be combining chicken, eggs, and flour to create a golden pan fried cutlet that cooks easily on the stovetop. Then it's a simple matter of wine, stock, and lemons to create the base for a flavorful, vibrantly lemon flavored sauce that coats the chicken. When all is said and done, you'll have a pan of perfectly cooked chicken cutlets, juicy and ready to serve over a big bowl of pasta with a healthy spoonful of thick lemon sauce.
First, we'll need chicken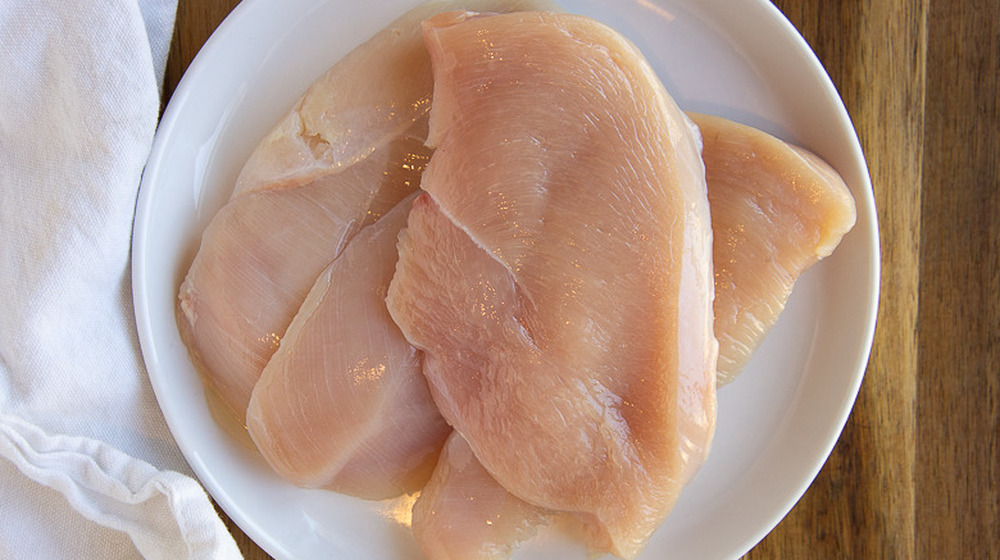 Mikayla Marin/Mashed
It's pretty hard to make chicken francese without chicken (although we're pretty sure a pork cutlet would be equally fantastic in this sauce). The tradition for this recipe is to use chicken breast, boneless and skinless, either pounded thin (which will also tenderize it) or sliced into thin cutlets.
We used thinly sliced breast fillets here, they're ready to cook with no extra effort needed. If you opt for a whole breast, either slice it into cutlets 1/2 to 3/4 inches thick, or slice in half and pound it to the thickness you'll need.
Don't get too hung up on measuring the thickness, so long as the chicken pieces you're cooking are no thicker than about the top knuckle of your pinkie, you're good to go.
Make the coating for chicken francese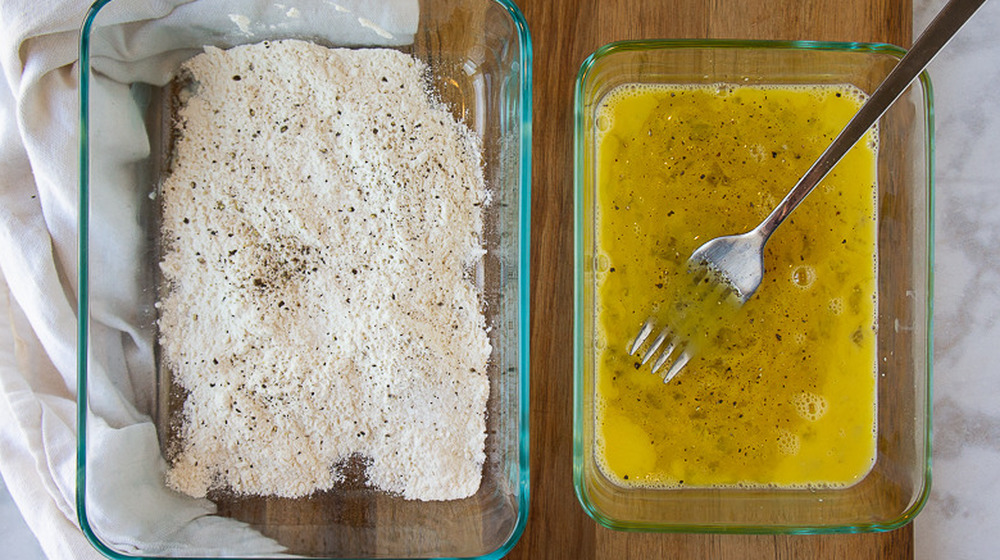 Mikayla Marin/Mashed
Part of what makes chicken francese unique is the golden brown, egg fried chicken. There are no breadcrumbs in sight for this one, just simple flour and eggs.
We're using standard, unbleached all purpose flour here, but any white wheat flour will do. You can also use cornstarch instead, or your favorite gluten free flour blend for a completely gluten free preparation.
Get your flour and well beaten eggs into separate bowls and season both with salt and pepper. Station the bowls nearby the stove so it's easy to batter and drop the chicken in the pan when it's time. Once that's done, you're ready to get your chicken coated and cooked.
The all important lemons for chicken francese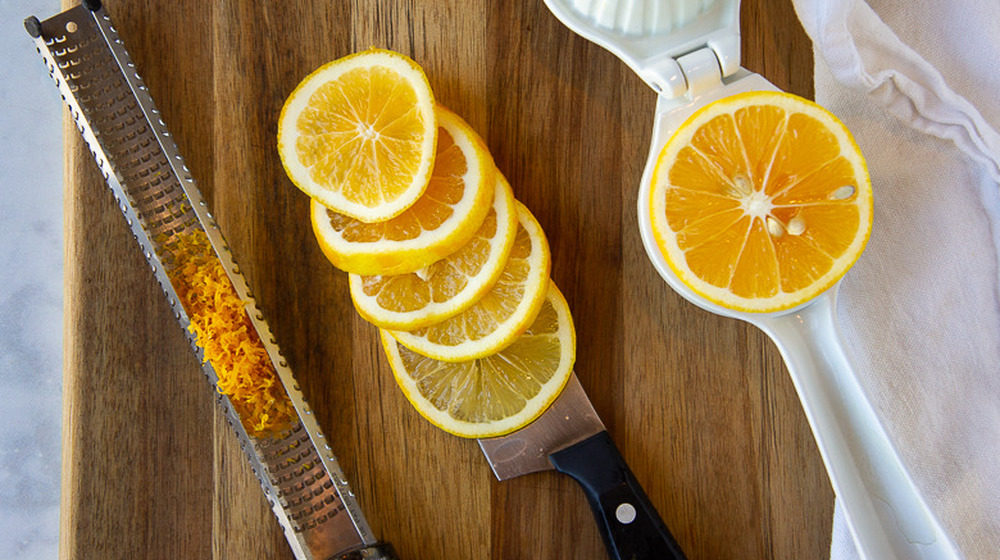 Mikayla Marin/Mashed
If there's one thing no version of chicken francese argues about, it's lemons. They are an absolute must to make this dish, and if you're a lemon lover like we are, the zippy sauce they create will definitely make you happy. All it takes is one lemon, cleverly used in three different ways, to create a vibrant sauce that makes you pucker, smile, and lick your fork clean.
We'll be zesting the entire lemon, and then slicing in half through the thickest part of the middle. From there it's half to the juicer, and half sliced into thin rounds for the pan later.
You can use whatever lemons you have or like, but if possible, Meyer lemons are a fantastic variety for a dish like this. Their subtle sourness makes for a smooth sauce you'll love.
The sauce for chicken francese begins with white wine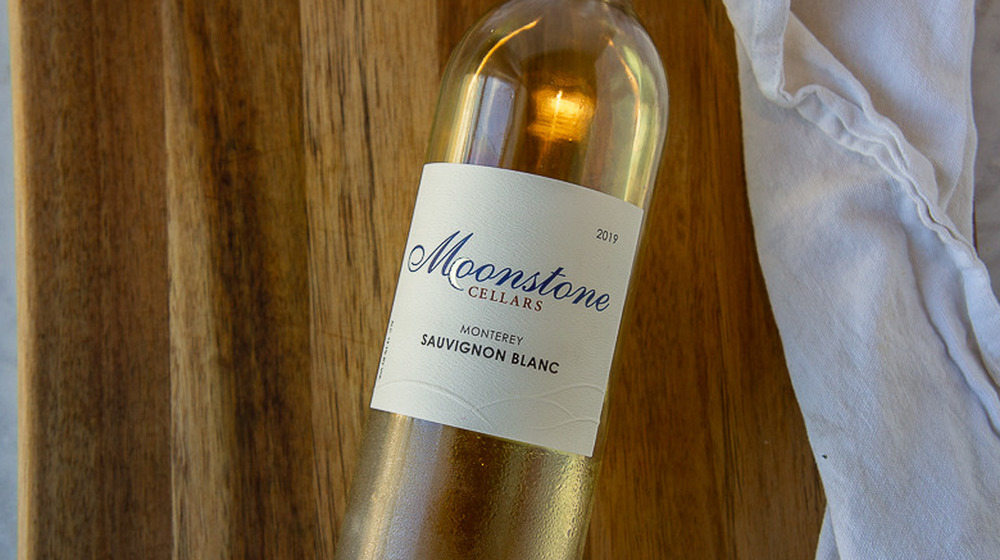 Mikayla Marin/Mashed
Like so many delicious sauces in the cooking world, white wine is a big factor in the flavor of your finished sauce here. It doesn't take much, just a mere third cup, but the flavor of the wine you use will affect your overall dish. No wine on hand? Try a cooking wine substitute. 
We recommend something that pairs well with lemon, a clean and crisp pinot grigio or a bright sauvignon blanc. But really, at the end of the day, what matters most is that you use a wine you like to drink. That usually ensures a sauce that will taste good to you too!
A nice stock builds body and mellow flavor for chicken francese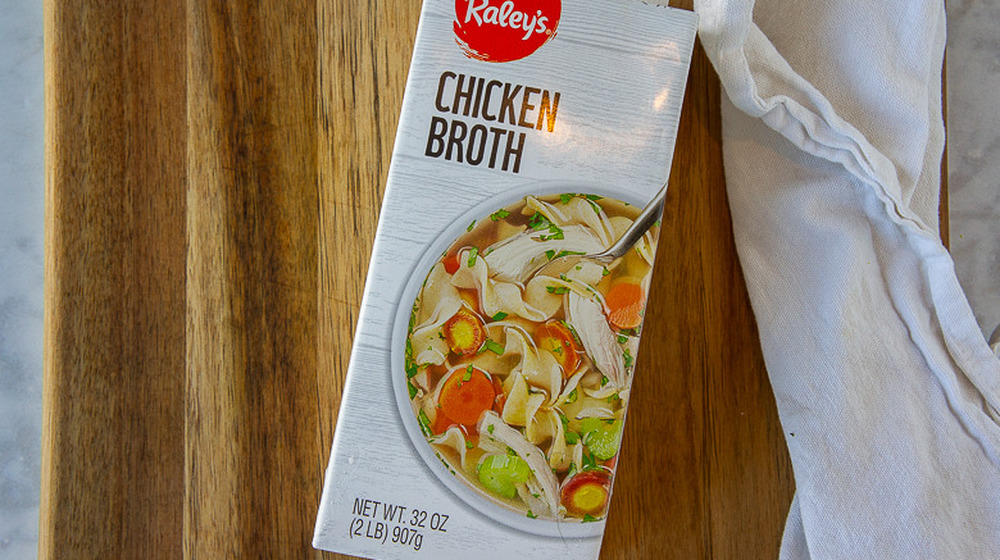 Mikayla Marin/Mashed
We'll be using chicken broth to build bulk in the sauce, and in order to mellow out the flavor of the wine and the lemon, which are both acidic and strong ingredients. 
The goal is to round out the flavor of your sauce, we're using just a standard chicken broth here, but there are several options that will work well. Chicken stock, broth, and bone broth in both it's homemade or store bought varieties are perfect, as is a nice vegetable broth. In order to ensure you can season the sauce to your tastes we recommend using a low sodium or unsalted stock. 
Add subtle layers of flavor to the chicken francese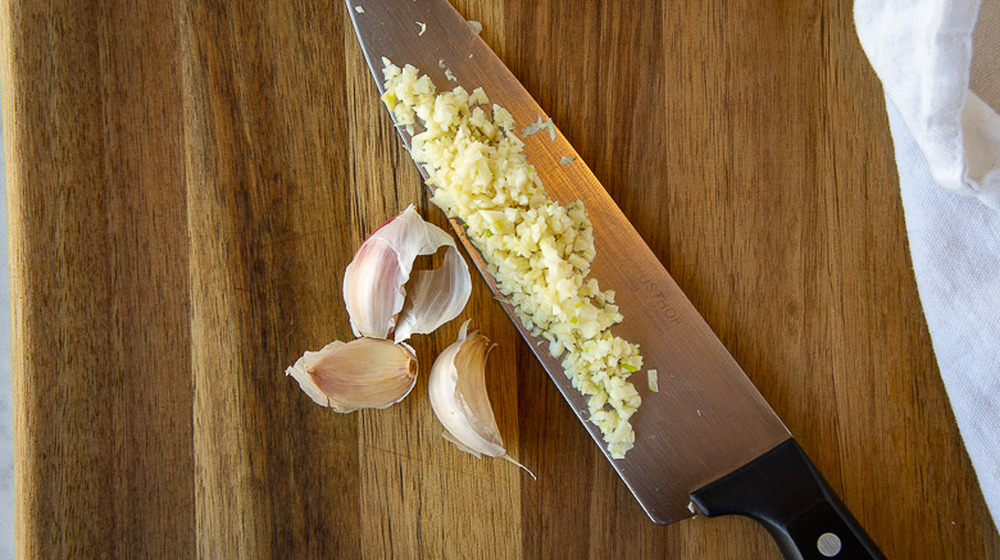 Mikayla Marin/Mashed
The authenticity of garlic in chicken francese is a debated point in the recipe world. Many go lemon, pure and clean, but in our taste tests, we discovered that the simple addition of finely minced garlic developed the sauce into something just that much more delicious.
A few cloves of fresh garlic will do, or use roasted garlic for a deeper, sweeter garlic flavor. If fresh garlic is out of the question, we recommend finely minced shallot or yellow onion in its place. Granulated garlic powders will affect the silkiness of your finished sauce.
Another addition that is less debated, and also less impactful on the flavor, is parsley. A sprinkle of fresh chopped parsley is widely accepted as the perfect finishing touch to chicken francese, and we have to agree. It also makes the dish quite beautiful when serving!
A beurre manié for quick and smooth chicken francese thickening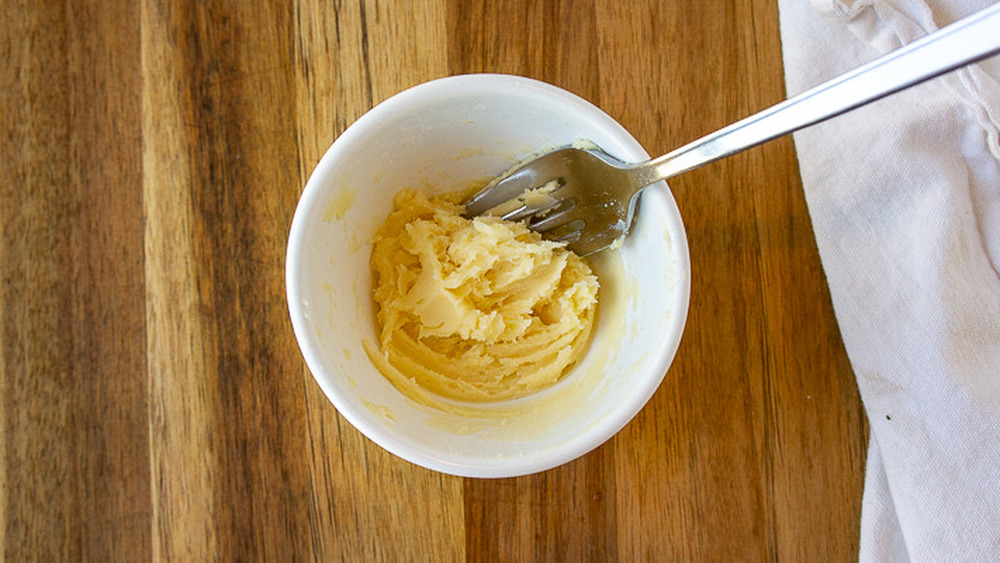 Mikayla Marin/Mashed
To finish the dish and create that silky, lemony sauce we'll be mixing a small amount of slightly softened butter and flour together.
With just a fork and a bowl the flour and butter will eventually come together to form a very smooth paste called a beurre manié. It works essentially the same way that a roux works, in that it will thicken a liquid into a smooth sauce. Unlike a roux which is cooked and combined with cold liquids, a beurre manié allows us to reduce our sauce and thicken hot liquid with the cold butter-flour paste.
While the consistency won't be exactly the same, a cornstarch slurry will also work to thicken the sauce. Just a tablespoon of each water and cornstarch would do.
How to make pan fried chicken francese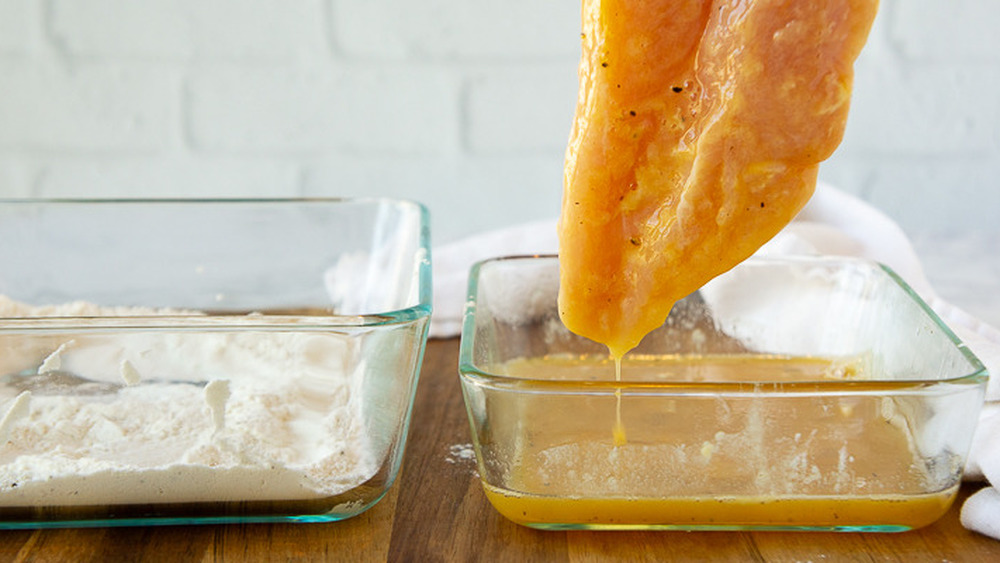 Mikayla Marin/Mashed
With a short prep list and a 15 minute cook time, chicken francese makes a great quick and easy entree. To begin, you'll need a large, rimmed saute pan or skillet over medium high heat. Once it's hot, add the olive oil and begin dredging your chicken.
Unlike most chicken breading recipes, this one is reversed. We'll begin by dipping each chicken piece into flour and pressing it down to thoroughly, but lightly coat it. Gently shake or tap off any excess. Then dip it immediately into the egg.
Let the egg drip off for a few moments, then place the chicken immediately into the hot pan. Repeat until all your chicken is cooking. After 4 to 5 minutes, the chicken should be golden brown. Flip it and cook until golden brown on the second side. Then remove it from the pan and set aside.
Build the chicken francese's big lemony flavor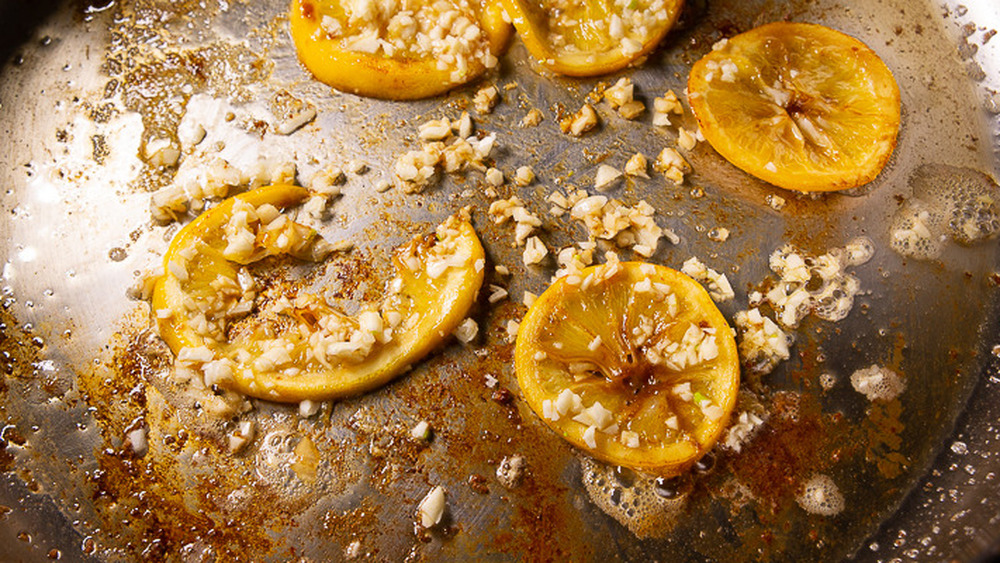 Mikayla Marin/Mashed
Once your chicken is resting take a second to use tongs or a spatula and remove any pieces of chicken or batter that are left in the pan. No need to wipe it clean, we want the brown on the bottom of the pan and the extra oil, but remove any free-moving crispy bits so we can have a uniform sauce.
Then add the lemon slices into the oil and let them sear for just a minute or so. This is the beginning of that intense lemon flavor. Flip them and add the garlic into the pan as well. Stir gently, cooking until the garlic and lemons are very fragrant, just 30 seconds or so.
Simmering the chicken francese sauce for a smooth finish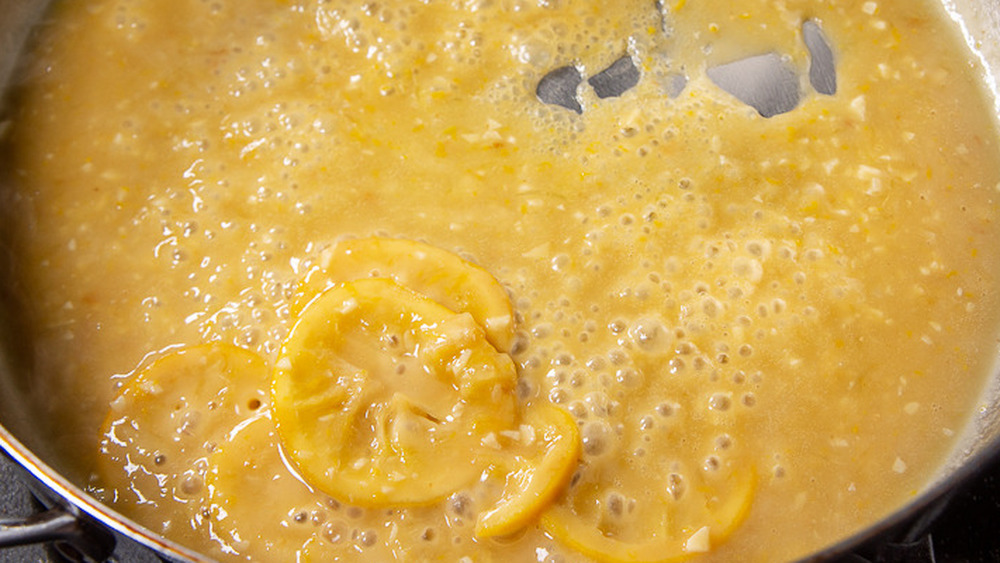 Mikayla Marin/Mashed
Reduce your heat to medium and add the wine to the pan. It will sizzle and steam, so we'll use this opportunity to gently scrape the fond, or the flavorful brown bits, from the bottom of the pan. Add the chicken stock, lemon juice, and zest to the pan and stir.
Bring it to a boil, then reduce it down to a simmer, letting it very gently bubble for just five minutes or so. It'll reduce slightly, and concentrate in flavor.
When the sauce is slightly thickened from reducing, stir in the beurre manié. As it melts and you stir it in, the liquids will thicken into a sauce. If at any point the sauce reaches a thickness you're happy with and any chunks of the beurre manié remain, simply remove it from the pan and discard it.
Season and serve the chicken francese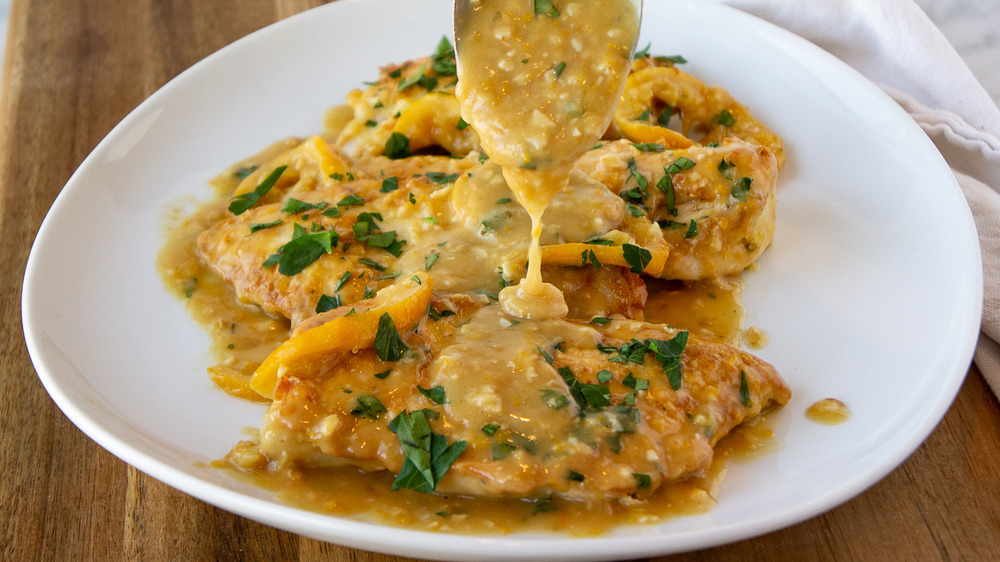 Mikayla Marin/Mashed
Once the sauce is thickened give it a quick taste. Add salt or pepper as you need to and once you're happy with the sauce, return the chicken to the pan. Let it warm thoroughly, flipping once or twice to coat with the sauce.
We like to serve the cutlets together, on a platter with that bright fresh parsley and extra fresh lemon. Drizzle on a healthy spoonful of the sauce and you'll have a showstopper entrée on your hands that took you less than 30 minutes to prepare.
Serve it alongside a bowl of pasta or rice, or even a crusty loaf of bread, and you're in for a bright, tangy meal everyone is sure to enjoy.
Simple Chicken Francese Recipe
Chicken francese is an Italian-American dish that delivers zesty lemon flavor, comes together in under a half hour, and is sure to impress on the plate.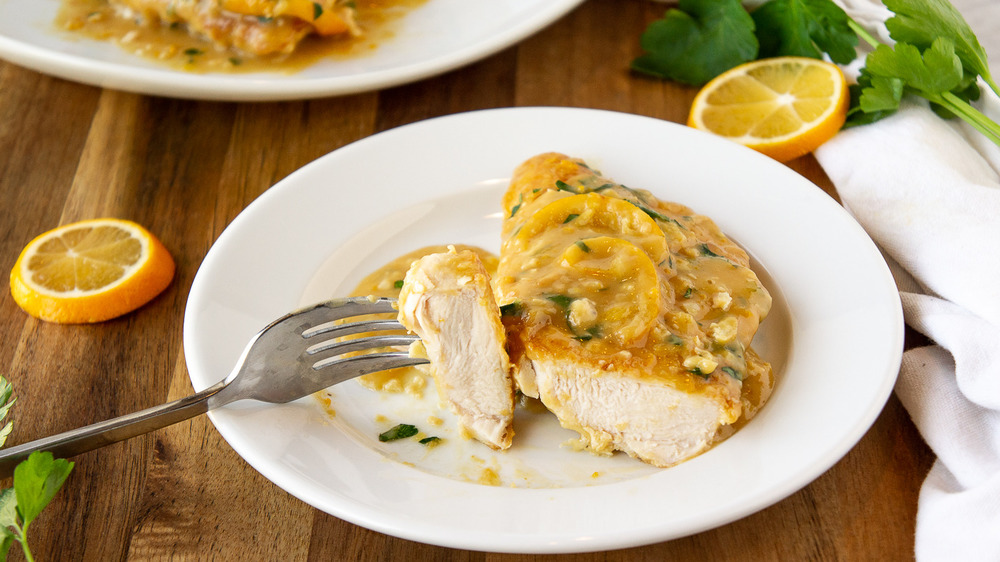 Ingredients
4 chicken breast fillets
½ cup flour + 1 tablespoon, divided
2 large eggs
1 teaspoon salt
1 teaspoon black pepper
3 tablespoons olive oil
3 cloves garlic, minced
1 lemon
⅓ cup white wine
⅔ cups chicken stock
2 tablespoons butter
parsley, chopped
Directions
Zest the lemon then slice in half through the widest point. Slice one half into thin slices, and juice the remaining half.
In a small bowl use a fork to mash the 1 tablespoon of flour and 2 tablespoons of butter into a smooth paste.
Beat the eggs in a wide, shallow bowl and add the flour to a second bowl. Season both with ½ teaspoon salt and pepper each.
Heat olive oil in a large, wide rimmed skillet or sauté pan over medium high heat. When hot, dip the chicken cutlets first into the flour, then the egg. Let the excess drip briefly, then add to the hot oil.
Fry the chicken for 3 to 4 minutes per side, or until golden brown on both sides. Remove from the pan. Use a spoon or tongs to remove any remaining bits of chicken from the pan.
Reduce heat to medium and add the lemon slices into the remaining olive oil. Sauté for 1 minute then flip and add minced garlic to the pan, stir gently until fragrant, about 30 seconds.
Add white wine and stir to remove the brown bits from the bottom of the pan. Then add stock, lemon juice, and zest into the pan and bring to a simmer. Let reduce for 4 to 5 minutes, or until reduced by half.
Add the flour and butter paste into the pan and stir gently as it melts to create a thick, silky pan sauce. Taste and adjust salt and pepper as you like.
Return the chicken to the pan and toss to coat until warmed through. Serve immediately with extra pan sauce and chopped parsley over rice, noodles, or bread.
Nutrition
| | |
| --- | --- |
| Calories per Serving | 573 |
| Total Fat | 35.1 g |
| Saturated Fat | 10.6 g |
| Trans Fat | 0.4 g |
| Cholesterol | 220.8 mg |
| | |
| --- | --- |
| Total Carbohydrates | 16.8 g |
| Dietary Fiber | 1.2 g |
| Total Sugars | 1.4 g |
| Sodium | 725.6 mg |
| Protein | 42.6 g |