The Pioneer Woman's Daughter Just Revealed Who Will Be Baking Her Wedding Cake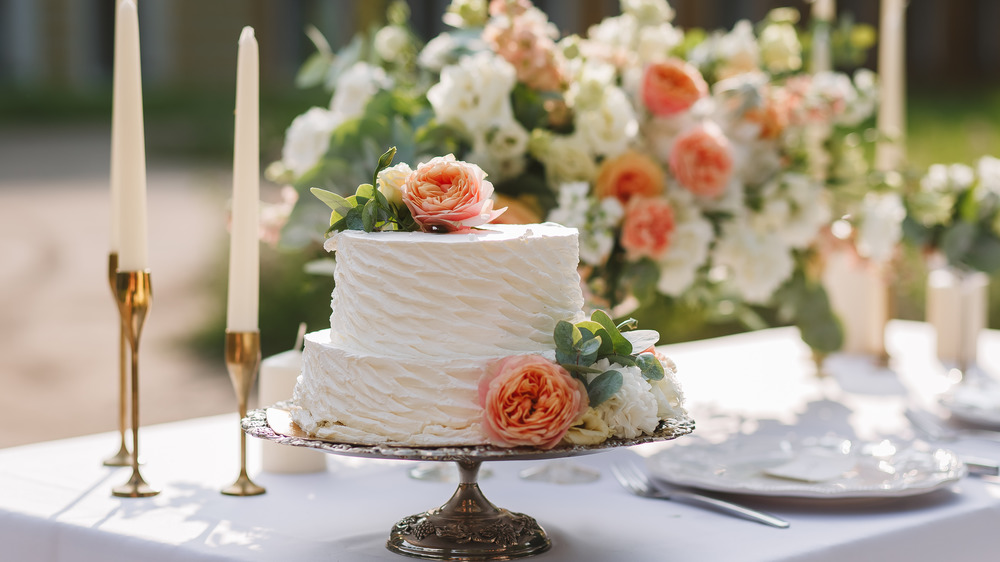 Shutterstock
Ree Drummond has a big wedding to attend on May 1: That of her daughter, Alex Drummond. If you've watched The Pioneer Woman on Food Network for the last 10 years, you've seen Ree cook and bake for Alex and her other children for countless special occasions. But it isn't Ree who will be on cake duty for Alex's wedding — that task is up to a Norman, Oklahoma, bakery called Amy Cakes, Alex shared in an article on the The Pioneer Woman website.
After a thorough sampling of seven different Amy Cakes flavors (via The Pioneer Woman), Alex and her fiancé, Mauricio Scott, decided on having both a groom's cake and a wedding cake. "The wedding cake is just going to be a tall white cake with flowers down it and it's going to be half vanilla, half strawberry," Alex shared. The groom's cake, Scott said, will be football-themed, with half dedicated to his alma mater, Texas A&M University, and half to the Pittsburgh Steelers.
Amy Cakes specializes in wedding cakes
Amy Cullifer opened Amy Cakes in 2005, according to the website, and has since been named among the best wedding cake bakeries in the Oklahoma City area by outlets such as Wedding Wire, Brides of Oklahoma, and Expertise. Alex seems to agree with their accolades, calling Cullifer's cake "amazing." The business' Instagram is full of photos of just the kind of clean, classic, multi-tiered, and flower-flecked wedding cake that the bride described.
Based on Alex's description and the Amy Cakes menu (which includes choices for cake flavors, icing flavors, and fillings), the big day's dessert will likely feature some combination of strawberry, white wedding, or French vanilla cake with buttercream, vanilla fondant, strawberry puree, and vanilla mousse. Besides being decorated with flowers, the cake will probably fit in with the couple's wedding color scheme, which Alex said on her mom's blog, will be bright blues and pinks. And since the bridal and groom's parties alone include 13 people, the couple said it's a good thing there will be two cakes.