This Is The Healthiest Burger You Can Order From Freddy's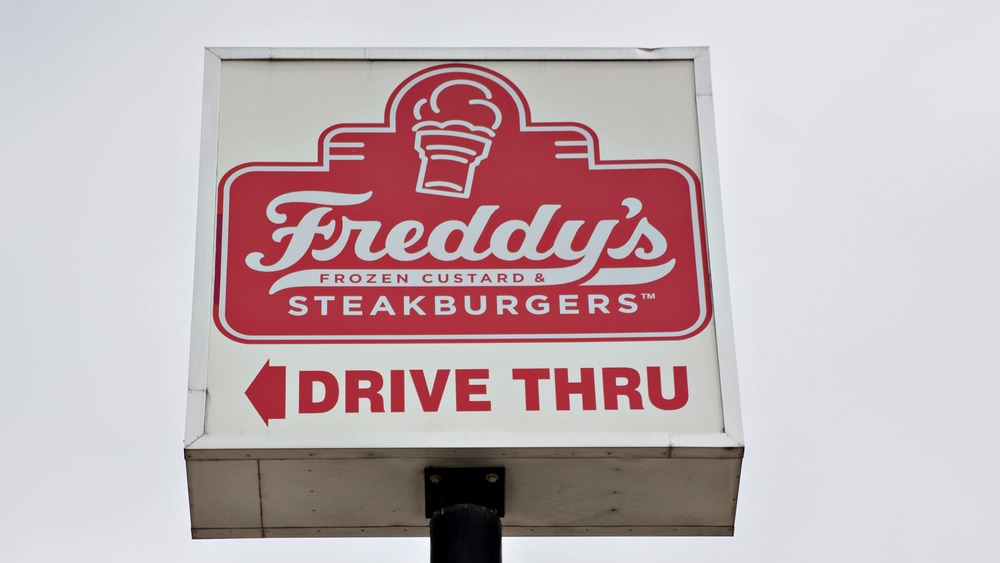 Bloomberg/Getty Images
When trying to watch your food intake or shed a few L-Bs, fast food typically isn't the first, second, or third choice. It's probably not on your radar at all and for good reason as most fast food is riddled with sodium, saturated fat, and lots of carbs. Well, boy do we have good news for you! Whether you're looking to start a new diet, trying to avoid greasy or fried food, or just wanting to eat healthier in general, we have the solution for when that inevitable juicy hamburger craving hits: a California Style Steakburger – sans the cheese – from Freddy's Frozen Custard and Steakburgers.
According to the chain's website, the burger ranks pretty low in the calorie department – 440 calories to be exact. Additionally, it has 22 grams of fat (8 grams of saturated fat), 490 milligrams of sodium, and 35 grams of carbs. This alternative cuts 50 calories from the regular California Style Steakburger with cheese and sauce. Compared to Freddy's other fan favorites like the Single Bacon Steakburger with Cheese (570 calories), Single Patty Melt (500 calories), and Spicy Chicken Sandwich (570 calories), this burger is the perfect indulgence for those seeking a healthier option.
Trade your bun for lettuce to shed a few more calories
Registered dietician Amber Pankonin MS, RD, LMNT, who examines calories from fat, carbs, protein, and sodium content when judging a hamburger's nutrition, tells EatThis,NotThat!, "This burger might have a few more calories, but it's the healthiest burger option at Freddy's when you consider calories and sodium." That may be true, but we did a little investigating of our own and have a few tricks up our sleeve to make Freddy's California Style Steakburger even healthier.
According to Freddy's website, ditching the bun for a lettuce wrap can save you a whopping extra 170 calories! Now, if you choose a lettuce wrap but decide to keep the cheese, you're looking at 320 calories, which is still lower than the original 440. Onto the more saddening part. A regular order of fries will cost you 440 calories. Cheese fries? A whopping 560 calories. Together, an order of fries and California Style Steakburger without cheese tallies 880 calories. So, just remember: everything in moderation.