McDonald's Is Giving Away Free Crispy Chicken Sandwiches. Here's How To Get One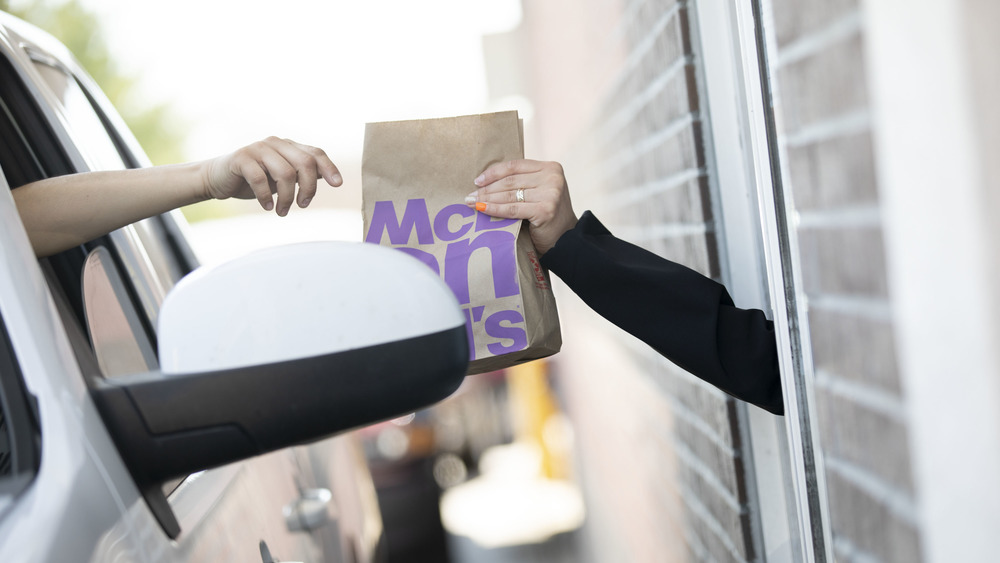 Bloomberg/Getty Images
Fans of chicken sandwiches have no doubt been following the chicken sandwich wars among fast-food joints over the past couple of years. Whether you love a fried chicken sandwich made up with secret sauces, pickles, and a soft bun or a grilled take on the scrumptious meal, there are tons of options out there. From Popeyes and Chick-fil-A to Wendy's and McDonald's, there's no shortage of options. But McDonald's recently expanded those options even further by adding three new chicken sandwiches to their menu on February 24th: the Crispy Chicken Sandwich, Spicy Crispy Chicken, and the Deluxe Crispy Chicken (via Business Insider).
To celebrate, the fast-food chain even announced they would be selling a limited supply of capsules that included early access to the new crispy chicken sandwich along with limited-edition swag. But McDonald's is continuing the celebration now that the sandwich has officially launched. Customers can now get the Crispy Chicken Sandwich through McDelivery with DoorDash for free, according to a press release received by Mashed. So, go ahead and pull your phone out because you know this is going to be a must-have deal.
The fine print on this McDonald's chicken sandwich deal
McDonald's customers can skip a trip to the nearest location because the new Crispy Chicken Sandwich can now be ordered through DoorDash, and it's free for a short time. Those who want to try the new sandwich can use the code CRISPY when they order through DoorDash. The code will be valid from March 1st through the 7th. But there are a few stipulations to be aware of.
The code can only be used with orders reaching a subtotal of $15 or more. It's also only available at participating locations. So, if you try using the code and it does not work, try changing the McDonald's location you are ordering from. Delivery and service fees do apply too. Finally, the last downside to this promo like many others is that there's a limit to one per person.
While you'll have to wait a few more days to take advantage of this deal, there's never a bad time for a free chicken sandwich. So, make a note and plan to order McDonald's sometime during the first week of March. You might even be able to get a Shamrock Shake for St. Patrick's Day with your order.