Here's What You Can Do To Spice Up Cabbage Soup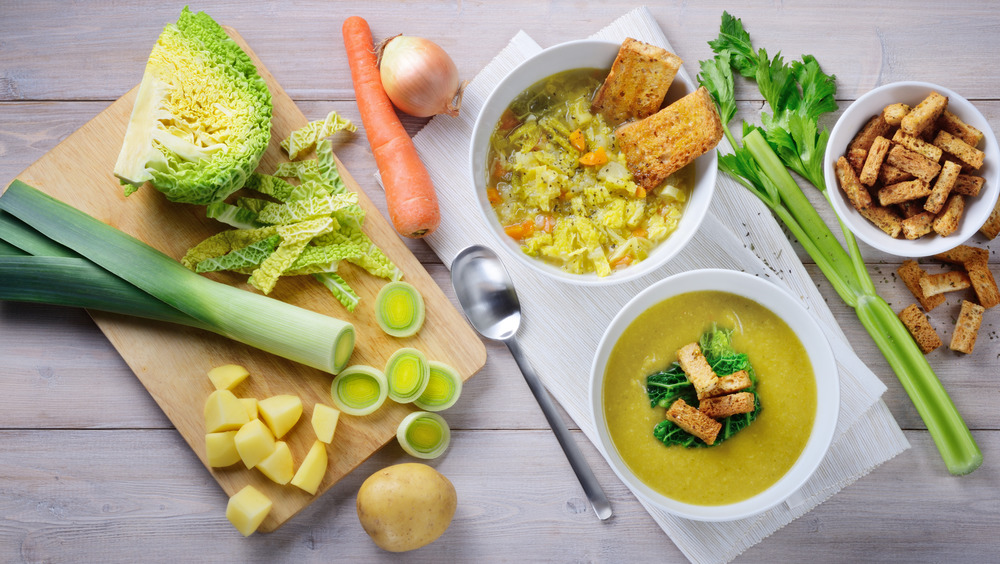 Shutterstock
Cabbage soup or shchi has been intrinsically linked to Russia since the 10th century, according to The Moscow Times. The publication notes that cabbage flourished because of its hardy nature, easy storage, and its ability to be transformed. It could serve as a substantial substitute for meat, which was especially important when the Orthodox Christians were required to fast. Fast forward to the present day and we are still eating the stuff. In fact, the soup is so trendy there's even a diet centered around cabbage soup.
The Moscow Times cited an old Russian saying that reads, "Your own father can become tedious, but shchi — never!" This saying has some truth. Cabbage soup is so ubiquitous and versatile that you are able to customize it to your own taste. If you like it a little on the sweet side, toss in some apples (via Epicurious). But if you like your cabbage soup on the fiery side, Achtung baby! There are many ways to spice up cabbage soup whether you are looking for just a little heat or a cha-cha for your taste buds. Some of the ingredients you can add to increase that spice intensity may seem intuitive, but there are a few that may also surprise you.
Use jalapeños, black pepper and other spices to heat up your cabbage soup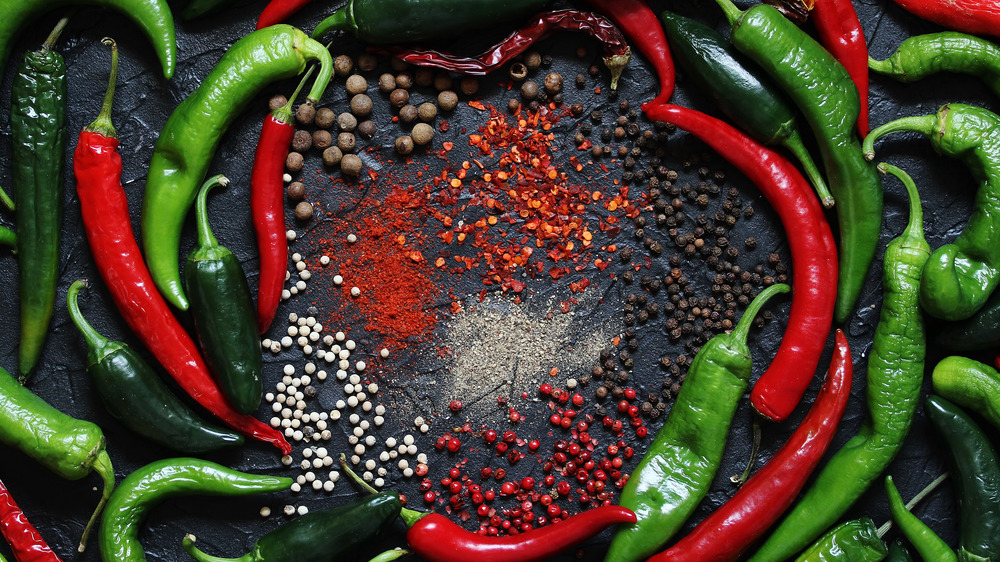 Shutterstock
Cabbage soup is kind of a savory meal to begin with. Per blog Dinner then Dessert, this soup generally consists of carrots, potatoes, celery, onions, cabbage, some tomatoes, and then is spiced to your taste. But to help up the flavor and give it a little kick, you could add a little horseradish as this blogger at Sweet Recipeas does. Horseradish is sure to give your taste buds a punch, but not the kind where you need to grab a glass of milk before you take the next bite. According to Taste of Home, your reaction to the spiciness of horseradish is fleeting, lasting just long enough to make you want more with the next spoonful.
But if horseradish isn't your heat muse, then perhaps, the simple addition of red pepper flakes will drive-up the heat for you. Gimme Some Oven uses this spice addition in her vegetarian cabbage soup, noting the more you add, the more likely it is that your sinuses will clear, along with an increased need to have some Kleenex nearby. And, of course, if you want to cause a 5-alarm fire to go off in your mouth, we recommend trying the Pepper Scale's recipe for spicy cabbage soup. The source for your heat is the much-beloved jalapeño. However, if you want just a mild kick, Damn Spicy notes you can achieve an authentic and spicy Russian cabbage soup with the simple addition of black pepper.