The Ridiculous Amount Of Sugar That Was In This Cracker Barrel Burger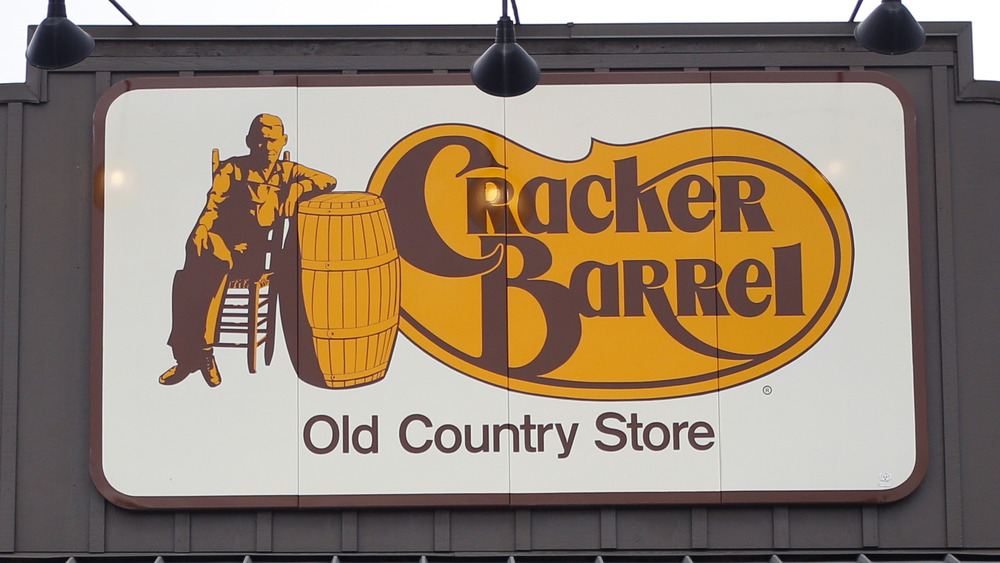 Bloomberg/Getty Images
Let's start by getting this out of the way: If you're headed to Cracker Barrel for breakfast, lunch, or dinner, then chances are, the last thing on your mind is the nutritional information on the delicious meal you're about to enjoy. Cracker Barrel has long been synonymous with hearty, country-fried comfort food, and that is evident on their menus. Hello, a fried chicken salad? Sign us up.
Sit down for a meal at Cracker Barrel and you're in for an artery-clogging treat as delectable and rich as the ones Grandma used to make — and with cooking of that caliber often comes a whole lot of sugar.
The American Heart Association recommends a daily intake of no more than 24 grams of added sugar for women, and 36 grams of sugar for men, reports Harvard. And according to the AHA, there's absolutely zero nutritional benefit from added sugar — but there's undoubtedly a tasty one, and it's clearly made a tempting case with Cracker Barrel's Maple N' Jam Bacon Burger. The now-retired menu item featured it all: sugar-glazed maple bacon, a sweet jam sauce, double the cheese, and two hearty beef patties (via Eat This, Not That!). And for the sake of transparency, we aren't even talking about the giant side of fries. (Besides — everyone knows french fry calories don't count, right?)
Even a Big Mac has nothing on this Cracker Barrel sugar-bomb
Cracker Barrel's Maple N' Jam Bacon Burger clocks in at a whopping 950 calories — that's nearly half of a day's worth of food for the average adult. Even if you manage to squeeze the double cheeseburger in calorie-wise, the sugar in it will shock you. According to Wide Open Eats, the Maple N' Jam Bacon Burger contains 21 grams of sugar — just thinking about that alone is enough to give anyone a toothache.
For comparison's sake, a Big Mac at McDonald's — you know the one, topped with a sweet and tangy (and, well, sugary) secret sauce — contains just nine grams of total sugars. Sure, the Maple N' Jam version from Cracker Barrel was restaurant-quality and probably tastier than the average McD's meal, but for more than double the amount of sugar? We're not sure that's worth it.
But if you ever find yourself at Cracker Barrel with a sweet tooth and a hankering for trying the long-gone Maple N' Jam Bacon Burger, you can always swap it for the entree's chicken counterpart. The Maple Bacon Grilled Chicken is still a hit to any diet at 850 calories, but it boasts some of the same flavor at a somewhat more manageable 14 grams of sugar, according to the company's Nutrition Guide. If you ask us, that sounds like a pretty sweet compromise!